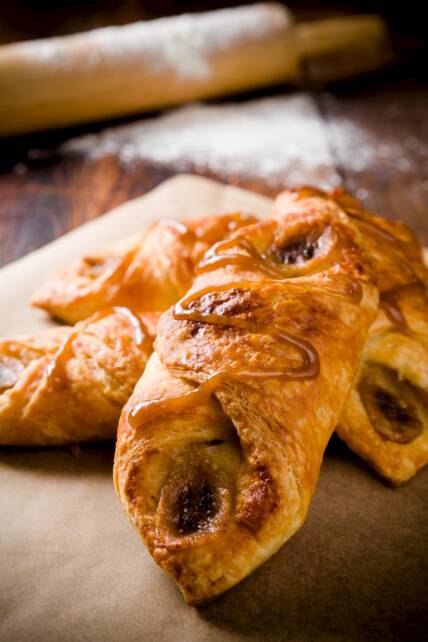 Ripping into a hot Bananas Foster croissant releases a cloud of steam which fills the air with the scent of bananas, rum, and caramel.  Peek through the steam and you'll see layers upon layers of irresistible, flaky pastry.
You can make Bananas Foster croissants with store-bought puff pastry dough, but if you have the time (I'd suggest setting aside a whole day), making croissant dough from scratch is a hugely rewarding endeavor.  These Bananas Foster croissants are the first from-scratch croissants that I've ever made.  I had the confidence to bake them after taking Craftsy's Classic Croissants at Home.  Every step of the process is explained in tremendous detail in the course so you'll know just what you are doing.  I had my laptop right across from me the entire time I was baking and literally baked along with the instructor, Colette Christian, until I veered off her path to create my Bananas Foster variation.
If you've tried this recipe, please RATE THE RECIPE and leave a comment below!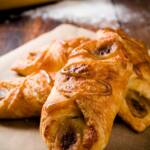 Bananas Foster Croissants
Servings
9
Bananas Foster croissants
Ingredients
2

tablespoons

unsalted butter

1/4

cup

brown sugar

1/4

cup

rum

1

large banana

very thinly sliced

9 4

"x4" squares of unproofed

not yet risen croissant dough or puff pastry dough (proofing does not apply to puff pastry dough)

1

large egg

whipped
Instructions
Filling and Caramel Instructions
In a medium-sized saucepan on medium heat, melt butter.

Add brown sugar and stir gently until just melting.

Slowly and carefully add rum (it can flame and splatter).

When the caramel mixture begins to bubble, add banana slices and reduce heat to low.

Carefully turn banana slices to coat with the mixture and continue to cook for two minutes.

Using a slotted spoon, remove and reserve banana slices for filling the croissants.

Continue to cook until caramel is thickened and coats the back of a spoon.

Remove caramel from heat and cool to room temperature.
Shaping Instructions
Put a few of the prepared bananas in the center of each square of dough. It's tempting to use a lot, but if you overstuff the croissant, the dough will get soggy and the finished product won't be crisp and flaky.

Paint a diagonal line of egg wash across one corner of each dough square.

Fold the opposite corner of each dough square diagonally across the prepared bananas until it touches the egg wash line.

Press folded corner of dough all the way down to the table to ensure that there is a tight seal.

Lightly stretch the corner near where you just pinched and then pull it up and over to the underside of the croissant. The weight of the croissant on top of it will keep that seal closed.

Tuck one cooked banana in each open end of the croissant.

Proof (croissant dough only), lightly brush the top and sides of the croissant with egg wash, and bake the dough according to the instructions for your croissant or puff pastry dough.

Drizzle a small amount of reserved caramel sauce over each croissant.

Serve warm.

If you can't eat immediately, store in the refrigerator for up to a week. Reheat in the oven at 350 F for 3-4 minutes.
Recipe Notes
If you take the Craftsy croissant class, you'll see that this is the folding style that Colette uses for her spinach and feta croissants.