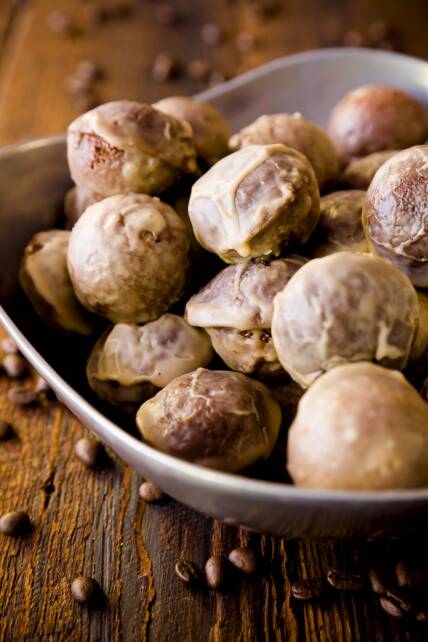 Is it just me, or is half of your Instagram feed filled with images of cups of coffee?  We are obsessed with coffee – and it's been that way for a long time.  Before I dig into my mocha donut holes with coffee glaze (and trust me, they are fabulous), I want to have a little coffee talk.
Here's something crazy I just learned about coffee history: Back in 1920, the St. Louis Chamber of Commerce boasted that St. Louis was THE coffee capital of the United States (who knew?).  In the 18th century, French settlers introduced coffee to St. Louis and St. Louis fell in love.  The city's location, unique population, and dedication to commerce formed the ideal atmosphere for the growth of the coffee trade.
Now though January 3, the St. Louis History museum is running a special exhibit titled "Coffee: The World in Your Cup & St. Louis in Your Cup".  The exhibit highlights how coffee affects cultures, economies, and environments around the world.  It also shares the little-known story of St. Louis's 200-year love affair with coffee and the city's past as the nation's leading coffee producer.
Although I know just a small fraction of my readers are from St. Louis, I also know that a high percentage of you are coffee lovers.  So, please join me on Thursday night (10/15) from 6-8pm CDT, as I live tweet my visit to the exhibit and share what I learn about the drink you adore.  To participate, follow me as well as the other Twitter party participants:
We'll be tweeting using the hashtags #MyMugSTL and #STLCoffee.
Baked Mocha Donut Holes with Coffee Glaze Recipe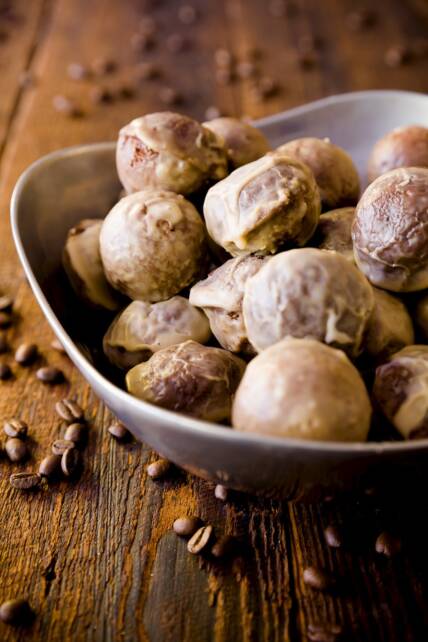 Let's return to my delicious mocha donut holes.  These mocha donut holes with a coffee glaze are a cup of joe in donut hole form.  Unlike some mocha desserts that are more chocolate than coffee, mine tastes like coffee with a touch of chocolate.  The glaze is really what pushes these donut holes over the top – it's just coffee and powdered sugar!
Like my spiced apple cider donut holes, these mocha donut holes are baked, not fried, so they are super easy to make.  They work well as a breakfast treat, but equally well as a party snack or afternoon pick-me-up.  In fact, I'm running down to the kitchen to grab one now because I can't look at the photo any longer without eating one.
OK, I'm back and brushing away the crumbs.
If you like coffee desserts…
If you like coffee desserts, you'll also love my coffee cookies! They don't just go well with coffee, they have coffee-flavored butter in the batter!
If you've tried this recipe, please RATE THE RECIPE and leave a comment below!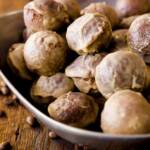 Baked Mocha Donut Holes with Coffee Glaze
Ingredients
Donut Hole Ingredients
2

cups

all-purpose flour

1 1/4

cups

sugar

1/4

cup

+ 2 tablespoons cocoa powder

1 1/2

teaspoons

baking powder

1/4

teaspoon

baking soda

1/2

teaspoon

salt

2

large eggs

1/4

cup

whole milk

3

tablespoons

unsalted butter

melted and cooled slightly

1/2

cup

brewed coffee

room temperature

1/2

teaspoon

vanilla extract
Coffee Glaze Ingredients
3

cups

powdered sugar

5

tablespoons

brewed coffee
Instructions
Donut Hole Instructions
Preheat oven to 325 F.

In a small mixing bowl, whisk together flour, sugar, cocoa powder, baking powder, baking soda, and salt.

In a medium-sized mixing bowl, whisk together eggs, milk, butter, coffee, and vanilla.

Mix dry ingredients into wet ingredients a little at a time until just combined.

Spray wells of donut hole pans with non stick cooking spray. Fill wells 3/4 full with batter.

Bake for 15 minutes or until donut holes bounce back when lightly touched.

Turn out onto cooling rack.
Coffee Glaze Instructions
In a small mixing bowl, mix powdered sugar and coffee. If necessary, add more coffee or powdered sugar to achieve a thick but still liquid consistency. Although the mental image is totally unappealing, look for a texture like Elmer's glue.

Dip donut holes into the glaze and return to the cooling rack (you may want to put something under the rack to catch the dripping glaze).

Dip donut holes a second or third time if you prefer a thicker glaze.

Eat immediately or cover and eat within two days.
Recipe Notes
If you don't have a donut hole pan, you can make these in a mini-muffin pan. They just won't be as round.
Disclaimer:  I'm working with the Missouri History Museum on their Twitter party.  They did not ask me to write a blog post, but I love the History Museum and wanted to show them as much support as I could.