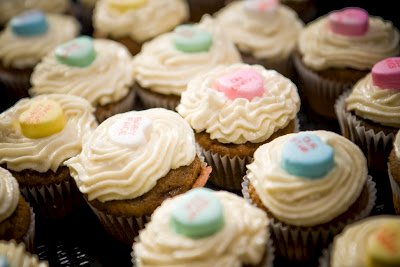 What Makes My Cupcakes Baby Shower Cupcakes?
The baby shower cupcakes used an ingredient that is often found in baby food – bananas.
The baby shower cupcakes are mini cupcakes – baby-sized.
The baby shower cupcakes are topped with baby talk candy by Wilton (conversation hearts with baby shower themed words on them).
The Baby Shower Themed Non-Broadcast Talk Show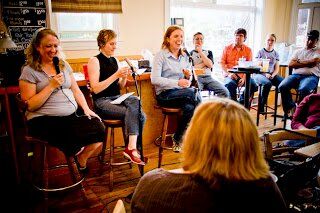 Last Sunday, I was a guest on St. Louis' only live non-broadcast talk show, "
Free Candy
" (I'm the one on the right). Free Candy is held in a coffee shop, complete with hosts, a theme song, a rotating band, and local guests. Why the name? They give out free candy at the shows!
I was brought on the show because one of the hosts, Amanda (on the left), is a fan of this blog and wanted to interview me about it. She is also pregnant, hence the baby shower themed cupcakes.
Note: You can't get information about future shows on their website. It's totally out of date. You can, however, contact Amanda via the
Free Candy site
to get on their mailing list.
Interview Number Two
This was my second time being interviewed about Cupcake Project. The first was by a student who was writing a paper about the popularity of cupcakes.
It was also the second time I'd been interviewed on Free Candy. The first time, I was talking about my now defunct group, Zipit Events – St. Louis' only silent happy hour. I've still got the website, but the event listed on May 25th was May 25th of many years ago. You never know when I might want to have a Zipit reunion.
Jonathan's been on Free Candy too. He was crowned as the banana king due to his passion for bananas.
More About the Show, Plus Photos
Like I said, the show was not broadcast or recorded so you can't watch it. However,
J. Pollack Photography
was on the scene. Type in code "FreeCandyMay42008" on his site to see all the pics. The other guest on the show was Sylvester Brown, St. Louis Post-Dispatch columnist.
After the break, cupcake reviews and the recipe!
You Were Interviewed, La Dee Da, Tell Me More About the Cupcakes
I don't like to make more cupcakes until my old ones are all gone. Usually after cupcakes have been sitting around for a few days, I'm happy to be rid of them. These cupcakes, however, I'll miss. They were the perfect mid-morning snack. They were not very sweet, extremely moist, and I even made some that were very lightly frosted especially for me. I don't like eating lots of frosting even if I love the frosting.
What Did The Pregnant Lady Think of the Cupcakes?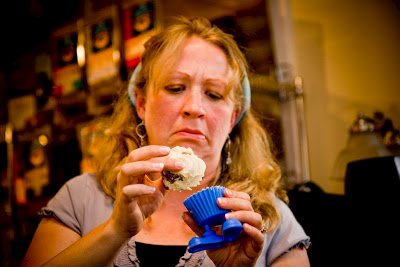 I made Amanda a special mama cupcake. It was full-sized among all the minis and in a Wilton silly feet cupcake holder. Her look in the picture is not of disgust at the cupcake flavor, it's in confusion as to how to eat the cupcake in the silly feet. When she tried to get at the cupcake, the whole top came off. Does anyone know of a good way to eat a cupcake in the silly feet without using a fork?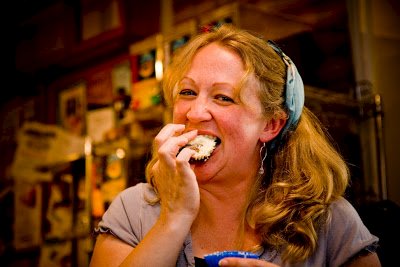 I got an email from Amanda after the event saying: "They truly were magically delicious. Mmmm, macadamia nut: totally the right call." Another friend told me the frosting was heavenly. I like those words! Overall, they were a hit!
What Did Bride and Groom 2.0 Think?
Groom 2.0 has been asking me to make a banana, chocolate, and peanut butter cupcake. Since I don't like peanut butter, this is the closest he's going to get. Both he and Bride 2.0 said that they couldn't taste the banana flavor in these cupcakes. It should be noted that they were the ONLY ones who couldn't taste the banana. These cupcakes had a STRONG banana flavor. Finally, Groom 1.0 pointed out the banana flavor was akin to that of banana bread. Suddenly, Couple 2.0 could taste it.
Fresh bananas do taste different than cooked bananas. I had just assumed a baked banana flavor was what they were going for. I may try another variation that involves chocolate chips (a stronger chocolate flavor), banana pudding (more of a fresh banana flavor) and cashew butter (Groom 2.0 said he'd prefer that over macadamia nut butter). Cashew butter is cheaper and I can buy it already made at Whole Foods so that's fine by me.
The Chocolate Banana Cupcake Recipe
For the chocolate banana cupcake recipe I used the easy banana cupcake recipe from my Grandma and added chocolate.

If you've tried this recipe, please RATE THE RECIPE and leave a comment below!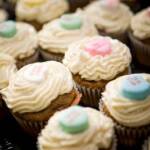 Baby Shower Cupcakes: Banana Chocolate Cupcakes with Macadamia Nut Butter Frosting
Ingredients
Cupcake Ingredients
1

stick butter

1

C

sugar

2

eggs

1/2

C

sour cream

1

t

baking soda

2

C

flour

1

t

vanilla

2

very ripe bananas

mashed

8

oz

dark chocolate

melted
Macadamia Nut Butter Frosting Ingredients
1/2

C

butter

softened

1

C

macadamia nut butter

check out my instructions on how to make nut butters

3

T

milk

or as needed

2

C

confectioners' sugar
Instructions
Cupcake Instructions
Cream butter and sugar.

Add eggs, sour cream, flour, and baking soda.

Add vanilla and mashed bananas.

Stir in melted chocolate.

Fill cupcake liners 3/4 full.

Bake for 20 min at 350 degrees or 10 minutes for minis.
Macadamia Nut Butter Frosting Instructions
Place the butter and macadamia nut butter into a medium bowl and beat with an electric mixer.

Gradually mix in the sugar, and when the frosting starts to get thick, incorporate milk one tablespoon at a time until all of the sugar is mixed in and the frosting is thick and spreadable.

Beat for at least 3 minutes for it to get good and fluffy.
The Macadamia Nut Butter Frosting Recipe
I used the same Allrecipes nut butter recipe that I used on my apricot cupcakes with almond butter frosting. I just subbed macadamia nut butter for almond butter. This recipe would be great with any nut butter.
Another Cupcake Project Baby Shower Cupcake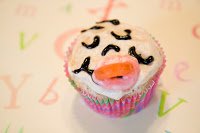 Looking for another baby shower cupcake idea? Try my
Guava Chiffon Baby Shower Cupcakes.