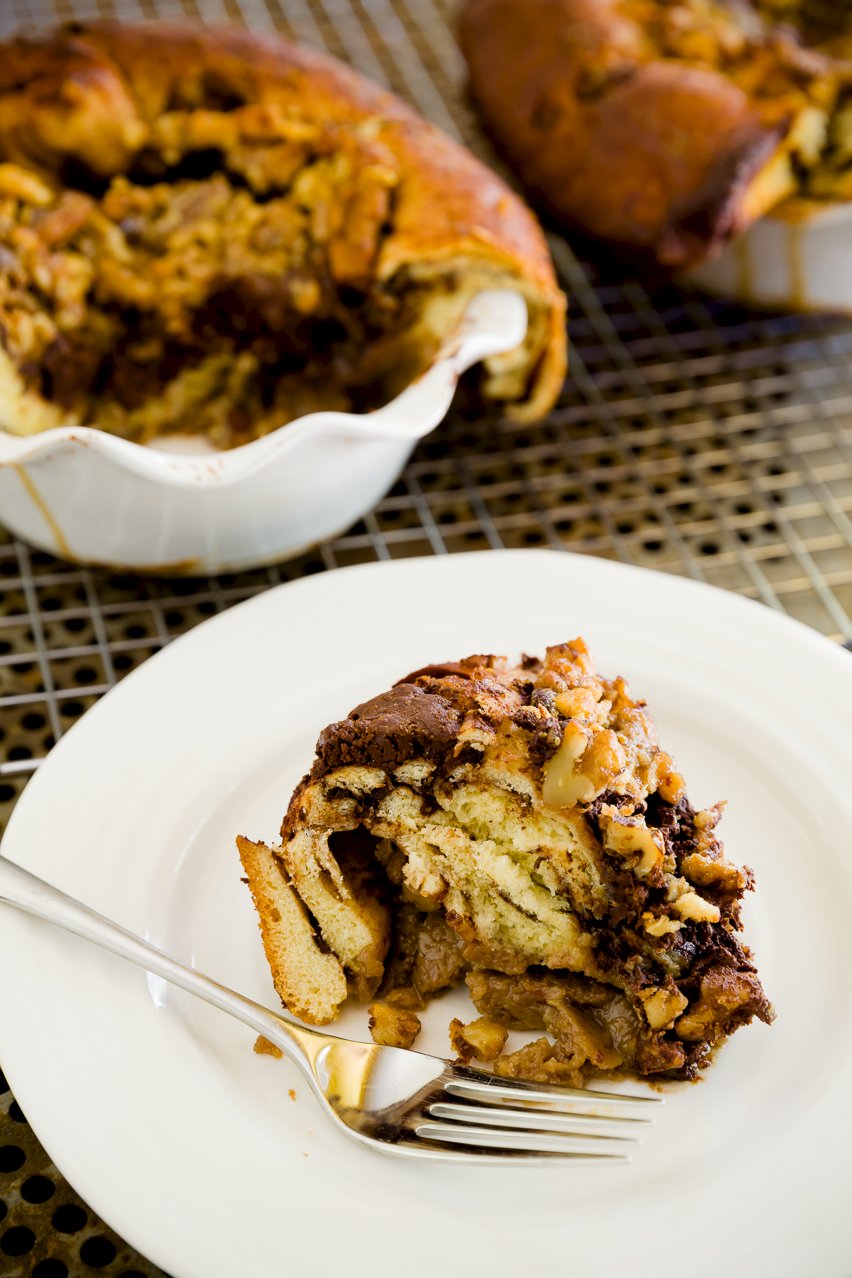 Babka pie grows organically in the oven, climbing up and over the edge of the pie pan. You can't contain its greatness in a neat and tidy package. Inside, you'll find sweet, yeasty bread with flowing swirls of chocolate and a gooey blend of nuts and more chocolate (this time, chips). The filling sometimes finds its way to the bottom of the pie and sometimes prefers to rest on the bread pillow at the top. Babka pie is a pie you can eat with your hands, tearing at the layers like a cinnamon roll, and you'll need to lick your chocolaty fingers clean after your last bite. If you must, you can use a fork to tame the wildness.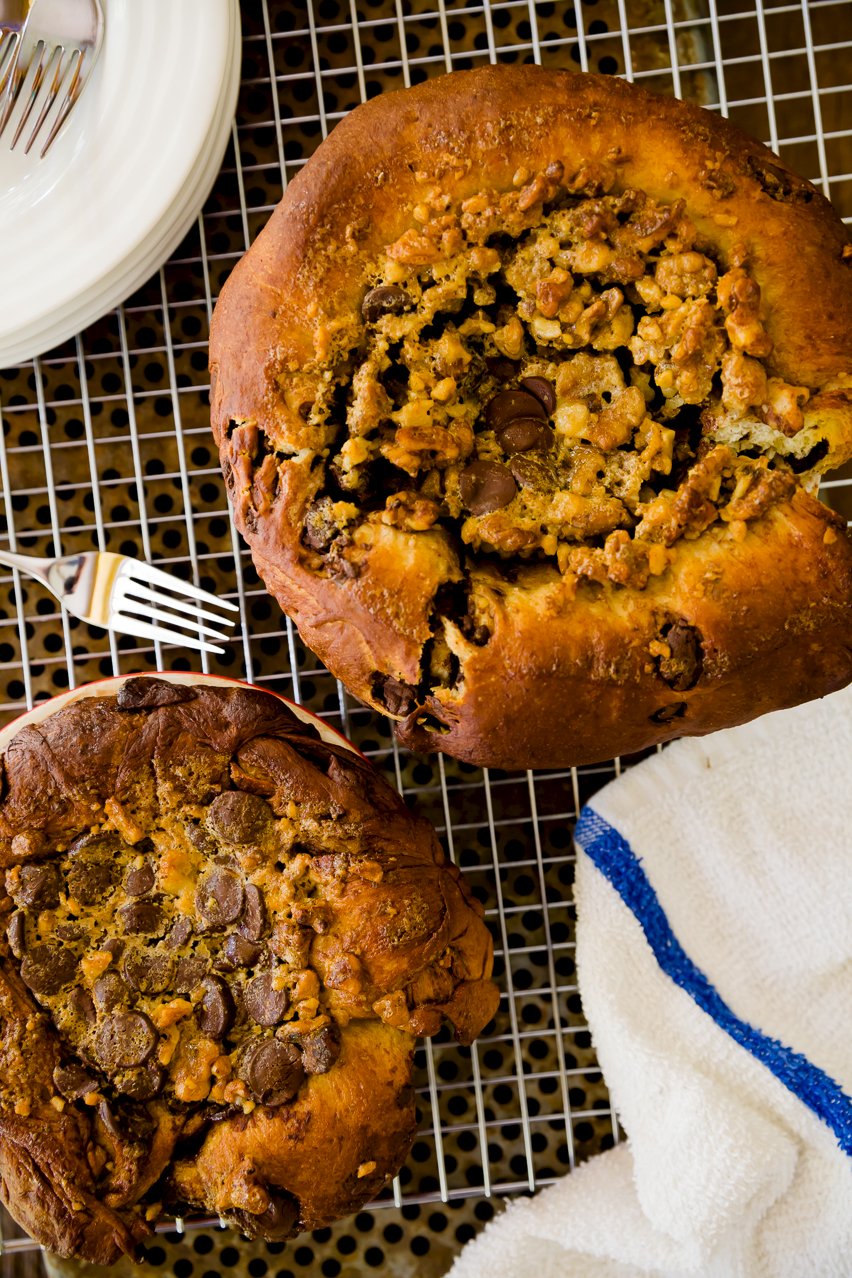 Let's back up… it's possible that this is your first introduction to babka. Babka is an Eastern European sweet bread with a chocolate, nut, or cinnamon swirl. (View on Amazon)
Babka is popular at bakeries in NY and you might remember it from this classic episode of Seinfeld:
The kooky idea of turning babka into a pie was all mine. I used Peter Reinhart's babka recipe from Craftsy's Artisan Bread Baking course for the "crust" of the pie. You can get the recipe from the course (I'd highly suggest that) or use any other babka recipe that you may have. Then, I filled the crust with a Derby Pie-like filling of walnuts and chocolate chips with lots of sugar and butter. Instead of Derby Pie's bourbon, I used a splash of orange juice. Here's what babka pie looks like before it enters the oven: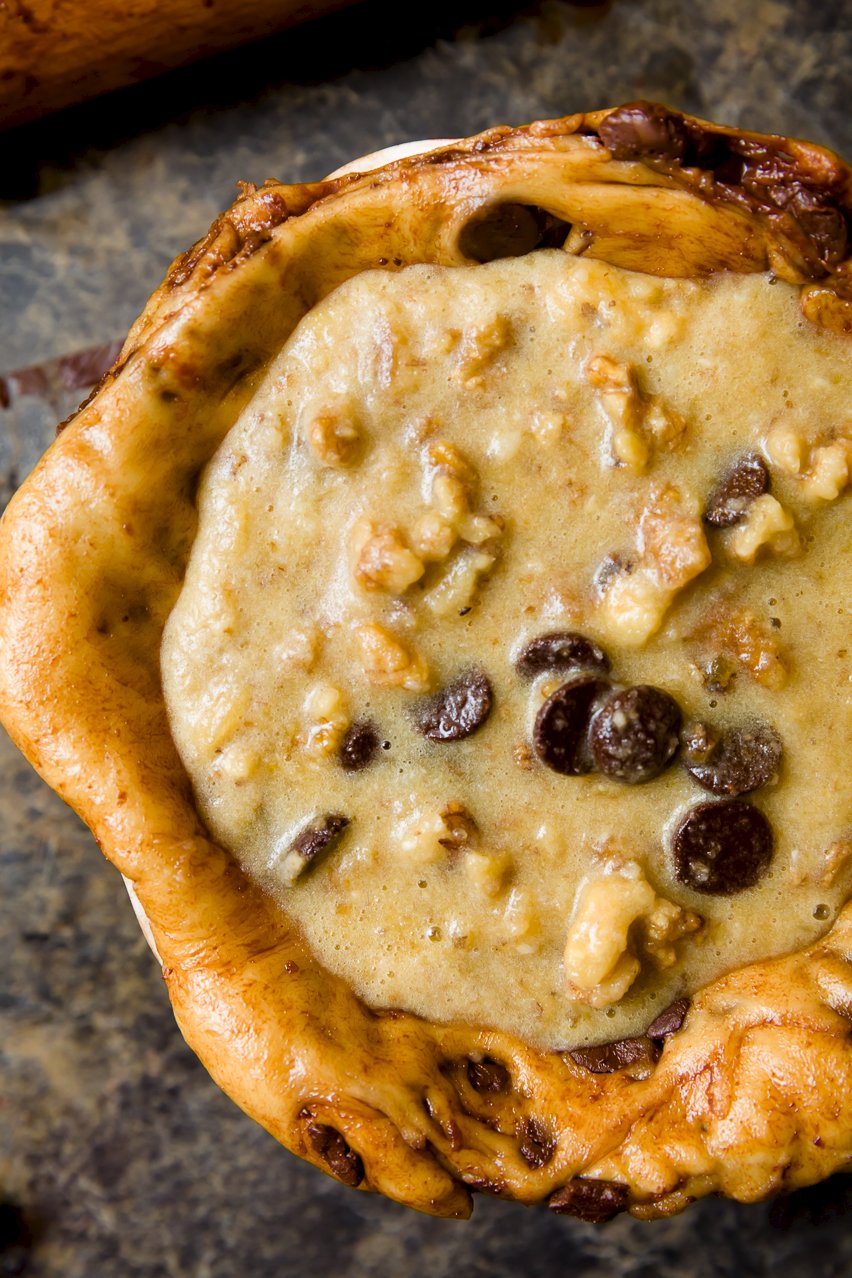 I'm a sucker for mini pies, so I baked my babka pie in mini pie pans like these. If you prefer, you can just make one big pie. (View on Amazon)
I used golden syrup in the pie filling instead of the light corn syrup that is more typical for a Derby Pie. I find that golden syrup has a more multi-dimensional flavor that corn syrup and I use it over corn syrup whenever I can. (View on Amazon)
Babka Pie
Sweet, yeasty bread with flowing swirls of chocolate and a gooey blend of nuts and more chocolate. The filling sometimes finds its way to the bottom of the pie and sometimes rests on top.
Total Time
1
hour
5
minutes
Ingredients
Babka Pie Crust Ingredients
See the recipe in Peter Reinhart's Craftsy class or use the ingredients for any other chocolate babka recipe that you like.
Pie Filling Ingredients
1/2

cup

unsalted butter

melted

3/4

cup

brown sugar

1/4

cup

sugar

1/4

cup

golden syrup or light corn syrup

4

large

large eggs

1/4

cup

orange juice

1 1/4

cups

chopped walnuts

3/4

cup

dark chocolate chips
Instructions
Babka Instructions
Follow the instructions for your babka recipe through the point when the babka is rolled into a log with the chocolate filling.
Pie Filling Instructions
In a medium-sized mixing bowl, whisk together all ingredients except nuts and chips.

Fold in nuts and chips.
Babka Pie Assembly Instructions
Preheat oven to 325 F.

Stretch the log to about 18" and twist it a couple of times (as you would do if you were wringing out a wet t-shirt) to add more chocolate swirls.

Cut the log into three sections. Things were a little messy for me at this point, but it worked just fine.

Press the ends of each log to seal them closed. Roll each log out to a near circle that fits in a 5" pie pan. The chocolate surprisingly stays in the log pretty well at this point since it will have hardened.

Transfer the rolled babka dough to the pie pans - keep in mind that the babka will grow a lot in the oven. If you don't want the edges to be way over the sides of the pie pans, keep them low in the pan in this step.

Divide the pie filling evenly between the pies.

Bake pies on cookie sheets (just in case they overflow a little) for 50 minutes.
Nutrition
Nutrition Facts
Babka Pie
Amount Per Serving
Calories 1291
Calories from Fat 747
% Daily Value*
Fat 83g128%
Cholesterol 329mg110%
Sodium 181mg8%
Potassium 706mg20%
Carbohydrates 127g42%
Protein 19g38%
Vitamin A 1345IU27%
Vitamin C 11mg13%
Calcium 280mg28%
Iron 3.6mg20%
* Percent Daily Values are based on a 2000 calorie diet.