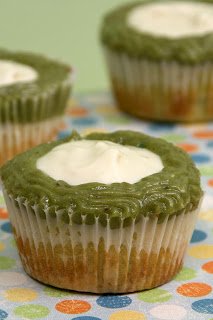 "Cupcakes just shouldn't be that color,"said my friend about my Avocado Lime Cupcakes knowing full well that any statement she made was liable to appear on this blog. She was willing to try them though. In fact, she ate a full three quarters of a cupcake. Yes, she and her boyfriend (of "I injured myself on a margarita cupcake fame") cut the cupcake into quarters because they were just that skeptical that they wouldn't like it.
While it may sound like I am mocking them, and that would be true, I actually have to give them props. Most people wouldn't even go so far as to taste this cupcake. They saw the green color and turned their noses. "Umm… I think I'll pass this time."
For some tasters, I turned it into a game. "Here's a cupcake. Guess the flavor." I actually had the most success with this group; people like a challenge. They couldn't guess that it was avocado lime, but they enjoyed the flavors. One woman insisted it was kiwi. Even after I told her it was avocado she still stood firm on her kiwi stance.
Growing up in NY, avocado was not a part of my diet. Like many Americans, I had tried guacamole, but never made the leap from that to think about the fruit that made the green blob on my plate. As I got more into sushi, avocado became the pretty splash of color in many of my favorite rolls, but again, it wasn't a flavor unto itself.
My largest avocado exposure was on my honeymoon in Ecuador. They know how to treat an avocado right. Every meal contained slices of fresh avocado. Even soup was always served with an avocado on top.
According to Wikipedia, "In Brazil and Vietnam, avocados are considered sweet fruits, so are frequently used for milk-shakes and occasionally added to ice cream and other desserts. In Vietnam, the Philippines and Indonesia, a dessert drink is made with sugar, milk, and pureed avocado." It's fascinating that other parts of the world think of avocados as a sweet dessert item. Why are we so limited in our avocado thinking?
My Seattle carrot cake loving friend actually made an avocado ice cream recently. He said it was quite good and his friends enjoyed it. Perhaps west coast eaters are more open to avocado adventures than Missouri folks. Unfortunately, I didn't get to taste the ice cream. He will get to taste my cupcakes though, since he'll be in MO this weekend. No fair.
Neurobiology experts say it is good for the brain to do things that are different from your daily routine. Since I wasn't sure if using Avocado differently really helped my brain, I decided to switch things up a little bit more by doing all my baking with one arm.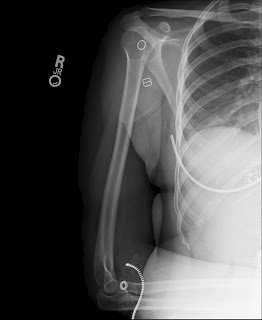 OK, I didn't do this as a neurobic exercise. I actually broke my elbow while on vacation in Colorado (for those that must know, I was riding a horse and the saddle fell off of it). That's me on the left. No, I can't see the break either, but apparently it is there. You can however, as a friend pointed out, see my underwire. Quite the strip tease, huh?
I probably wouldn't have bothered with one armed baking, but I really wanted to enter Quirky Cupcake's Cupcake Hero contest. The theme this month was lime and since I had planned my recipe already, I thought it would be a shame to not follow through. I was able to do the whole thing myself except for zesting. Can anyone think of a way to zest with only one arm? Anyway, not to sway the judging by playing the disability card, but baking with one arm certainly felt like a cupcake hero kind of thing to do.
And finally… it's time for the recipe. I made this recipe up myself based off of my apple and honey one. That recipe contained applesauce and I figured applesauce could easily be replaced by an avocado lime sauce. It worked! I also used two different frostings. The outer ring was an avocado frosting and the inner ring was a lime cream cheese frosting based on my favorite fool proof cream cheese frosting recipe. My favorite bites were the ones that had both frostings and the cake. It all went perfectly together.
Warning: It is a dense cupcake. Don't make it if you want light and fluffy. Also, don't make this if you are scared of green. If you want your friends to eat it, I'd recommend that you make this outside of the US or on the West coast.
The Avocado Lime Cupcake Recipe
Avocado Lime Cupcakes
Food shouldn't be this color haha! But once you get past that, you'll love the taste.
Ingredients
Cupcake Ingredients
2

sticks butter

1

C

+ 2 T sugar

2

C

Flour

4

large eggs

2

avocados

1

t

of strong lime juice

I used Volcano Lime Burst - I found it at Whole Foods. The link is for a 24 pack, I just bought one as I'm not a expecting to have to bunker in my house and survive on lime juice any time soon.

2

limes
Avocado Frosting Ingredients
1

avocado

1

cup

of powdered sugar

1/4

cup

of butter
Lime Cream Cheese Frosting Ingredients
1 8

oz

package of cream cheese

room temperature

1/4

cup

butter

room temperature

4

C

powdered sugar

I recomend that you sift it

1

t

lime extract

I couldn't fine lime extract at Whole Foods so I bought it here.
Instructions
Cupcake Instructions
Cream butter, sugar, flour and eggs

Mash up in a food processor or by hand the avocados and lime juice

Stir avocado mash and zest of the 2 limes into the creamed mixture.

Fill cupcake wrappers. Bake at 350 for 30 min.
Avocado Frosting Instructions
Mash the avocado and mix with the butter and powdered sugar.
Lime Cream Cheese Frosting Instructions
Mix the cream cheese and butter. Add the powdered sugar and lime extract.
Nutrition
Nutrition Facts
Avocado Lime Cupcakes
Amount Per Serving
Calories 436
Calories from Fat 162
% Daily Value*
Fat 18g28%
Cholesterol 73mg24%
Sodium 122mg5%
Potassium 245mg7%
Carbohydrates 66g22%
Protein 4g8%
Vitamin A 510IU10%
Vitamin C 6.3mg8%
Calcium 33mg3%
Iron 1.3mg7%
* Percent Daily Values are based on a 2000 calorie diet.