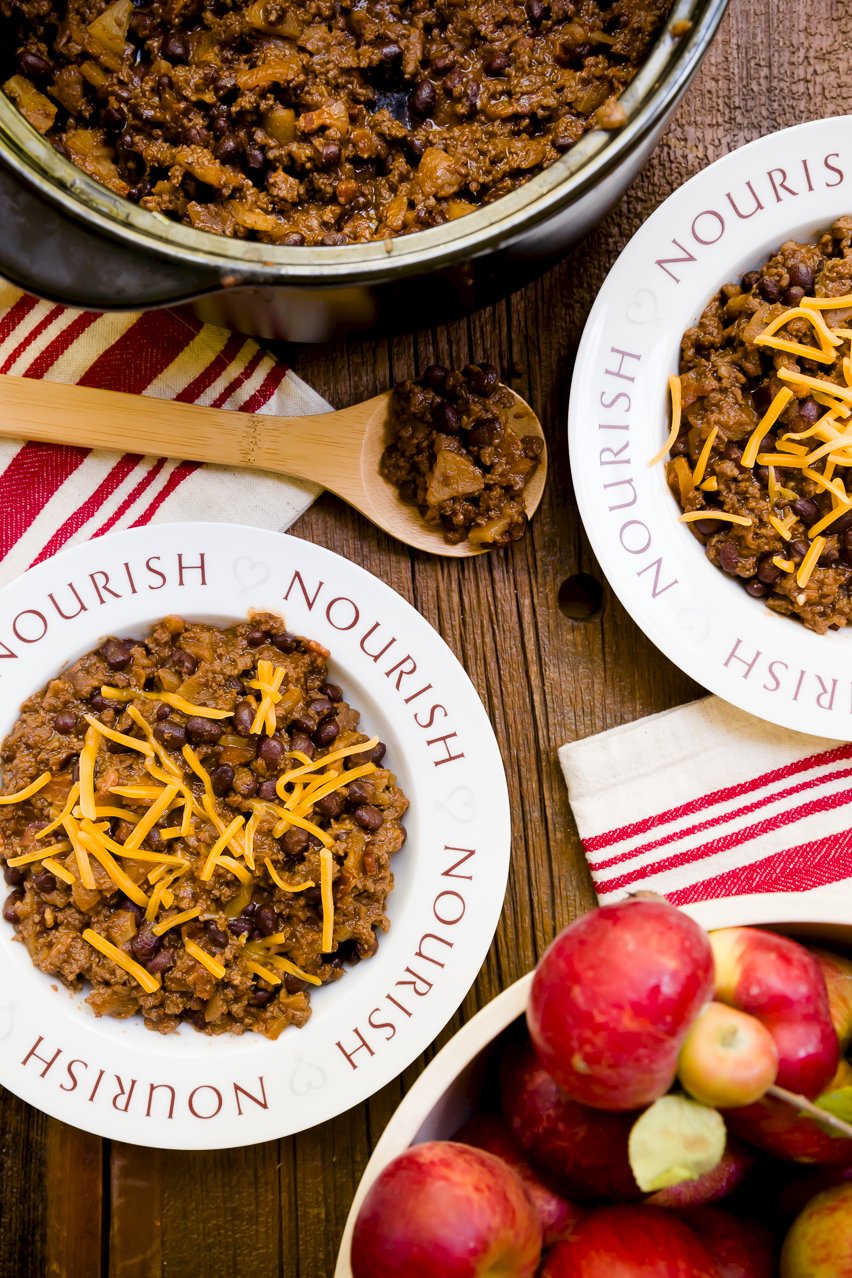 Last night, my family and I sat around the table eating apple pie bison chili and talking about deep things – like how much we liked the chili. We talked about how I made the apple pie bison chili in a similar way to more traditional chilis, but with chopped apples instead of tomatoes and with cinnamon, nutmeg, and cardamom in addition to the chili powder. We debated over whether the chili was spicy enough – Jonathan would make it spicier, but my son and I thought it was perfect. We ruminated on the sweetness – with a touch of brown sugar, this chili is ever so slightly sweet, not dessert sweet. We then moved on to talks of last year's neighborhood chili cookoff and how I really wanted to enter my apple pie bison chili in this year's contest. I believe that it's a winner!
Don't worry, we did get past talking about the chili (it was tough!) and moved on to hearing how my son had picked weeds at his school's garden that day and fielding questions like, "How is how toilet paper made?" and "Why do some trees not lose their leaves?" You can bet that after dinner we spent some time with our friend, Google. Sadly, Mom and Dad don't really know everything.
Nourishing
I love sitting around the table and sharing a meal with my family – it's one of my favorite times of the day. It's nourishing both to my body and to my soul; it serves as a chance to check in, regroup, and connect. It always saddens me to remember that not everyone has food to sit around the table to eat. Hunger in America is a HUGE problem. The Nourish Soup Bowls that I served my apple pie bison chili in are made by The Pampered Chef and, for every bowl purchased, The Pampered Chef contributes two dollars to Feeding America. With just two dollars, Feeding America is able to secure and deliver 18 meals to those in need. A two dollar contribution is a small thing, but not to the people who received those 18 meals.
The Pampered Chef also has a Round-Up from the Heart program that gives you the option to round up your order at checkout to donate that money to Feeding America. Since the start of the Round-Up from the Heart program in 1991, The Pampered Chef has contributed more than $24 million to Feeding America.
Tools for Making Apple Pie Bison Chili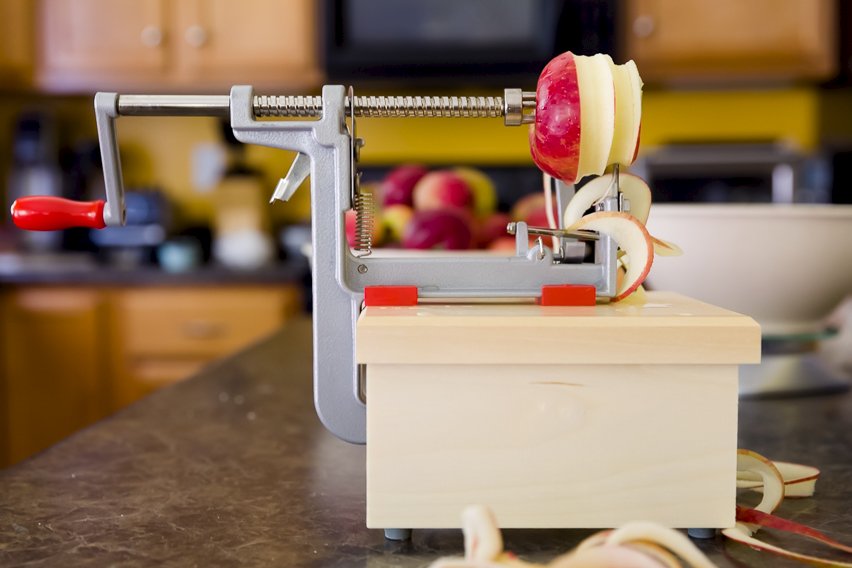 Whenever a recipe calls for a lot of apples (this one uses about 14 little ones), I find it so much easier to use an apple peeler/corer/slicer than to peel and slice by hand. The Pampered Chef"s apple peeler/corer/slicer is really easy to use and I love that they sell a matching stand for it.
True story: Remember when I made homemade spam? I needed to use a meat grinder to make it. Meat grinders work much like this apple peeler/corer/slicer in that they clamp onto a table. When I removed the meat grinder from our table, the table had deep marks on it from the grinder. These marks are still there today. Grrrr. I'm not saying that if you don't have a stand, this apple peeler/corer/slicer will ruin your table; I'm just saying that I now am extra careful about that sort of thing.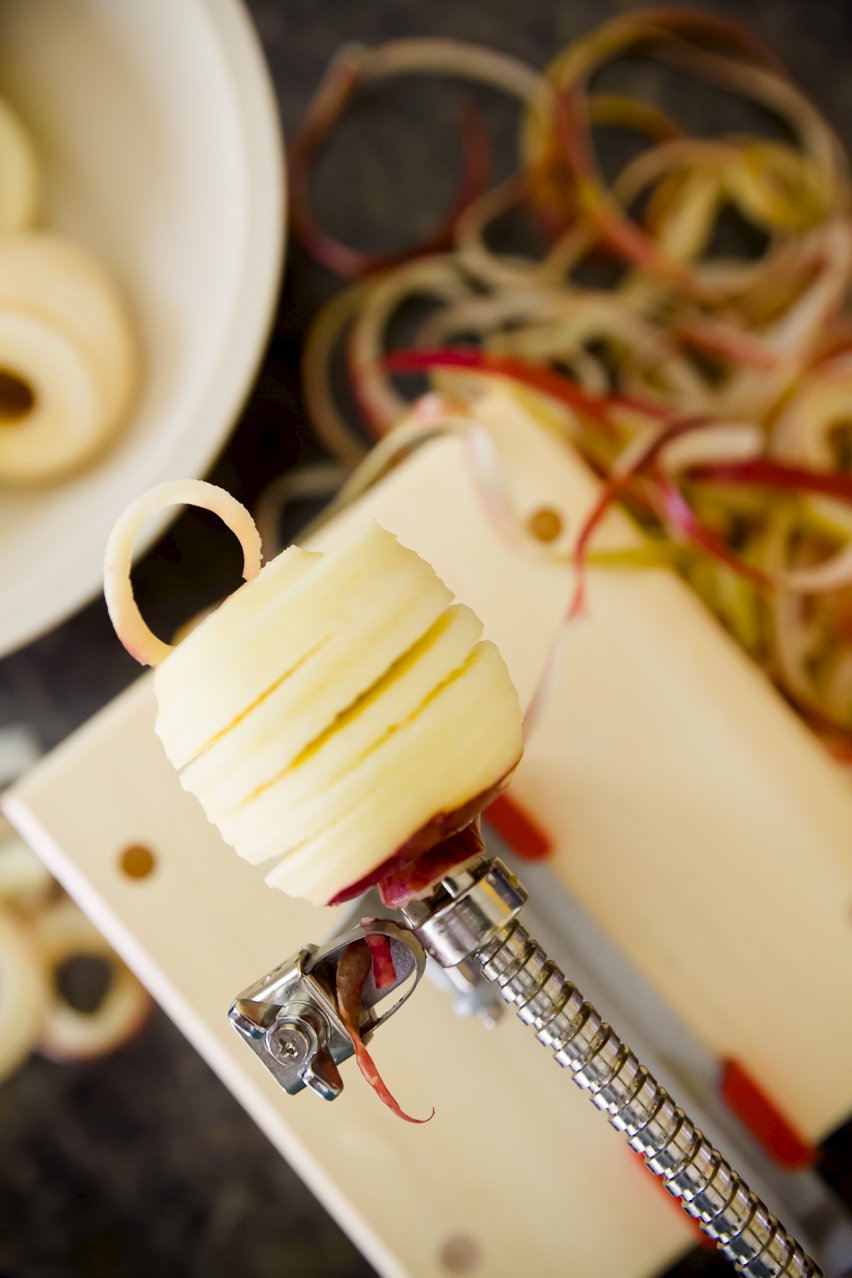 I cooked the chili in The Pampered Chef's Rockcrock Dutch Oven. Rockcrock is ceramic cookware created from a clay that features exceptionally high heat resistance after firing. It's much easier than using a cast iron Dutch oven. My husband swears by cast iron for everything, but it's insanely heavy and seasoning cast iron can be a pain.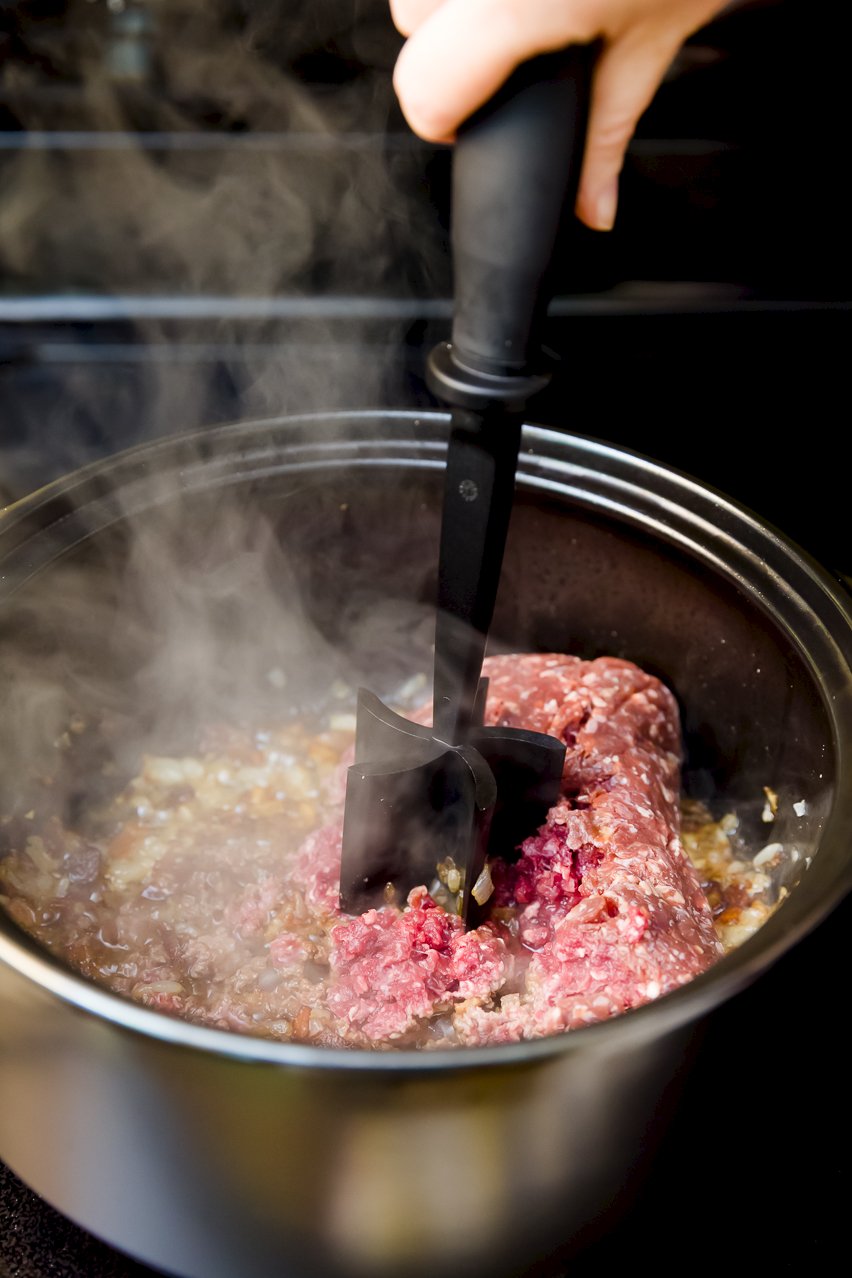 You may wonder what the heck the crazy tool is inside the Rockcrock. It's called a Mix 'N Chop. I saw it in The Pampered Chef's catalog and I was a bit skeptical. (Who needs yet another tool?) The idea is that it breaks up ground meat in your pot without scratching it and it follows the curves of the pot. After using it, I still think that it's not a must-have (you can do this sort of thing with a silicone spatula or wooden spoon), but it turns out that I love it! It's so nice to use the perfect tool for the job. Jonathan laughed as I gushed, "Ooh!!" as it broke up the meat and distributed it around the pot so well.
Apple Pie Bison Chili
Apples and their "pie spices" add a wonderful warmth to this classic bison chili.
Ingredients
4

teaspoons

canola oil

3

slices

thick cut bacon

diced

2

cups

yellow onion

finely chopped

2

cloves

garlic

minced

2

pounds

ground bison

1

teaspoon

salt

4

teaspoons

chili powder

4

teaspoons

cinnamon

1

teaspoon

nutmeg

1

teaspoon

ground cardamom

1

teaspoon

brown sugar

28

ounces

peeled and finely diced apples

I used small Jonathan apples and this was about 14 apples

3

cups

hard apple cider

non-alcoholic cider will also work

30

ounces

black beans, drained

2 cans

1

tablespoon

tomato paste

Shredded cheddar cheese

to taste
Instructions
Heat a Rockcrock or other Dutch oven on medium-high heat.

Add oil and bacon.

Cook until bacon is cooked but not crispy (about 4 minutes).

Add onions, stir, lower heat to medium, cover and cook until onions are translucent (about 7 minutes).

Uncover, add in garlic, and stir for about one minute.

Add ground bison, break up, and cook until browned (about 7 minutes).

Add salt, chili powder, cinnamon, nutmeg, cardamom, and brown sugar.

Add apples and cider and bring to a boil.

Cover and cook for thirty minutes.

Uncover, add the beans and tomato paste, stir, and cook for five to ten more minutes or until the beans are hot.

Serve hot, topped with cheddar cheese.
Nutrition
Nutrition Facts
Apple Pie Bison Chili
Amount Per Serving
Calories 725
Calories from Fat 315
% Daily Value*
Fat 35g54%
Cholesterol 117mg39%
Sodium 1202mg50%
Potassium 1328mg38%
Carbohydrates 63g21%
Protein 40g80%
Vitamin A 505IU10%
Vitamin C 15.8mg19%
Calcium 115mg12%
Iron 7.6mg42%
* Percent Daily Values are based on a 2000 calorie diet.
Disclaimer: This post was sponsored by Pampered Chef.