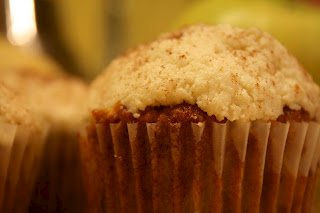 One of my favorite comfort foods is pasta (shells work well or wagon wheels) with cottage cheese, cinnamon, brown sugar, and golden raisins. It's basically an easy version of my mom's noodle pudding which is still pretty easy but takes longer to make.
I could be making a stretch here since this recipe doesn't even involve cottage cheese, but I think if my sweet cottage cheese with raisins sounds nasty to you then you most likely won't enjoy the sweet ricotta topping on these cupcakes. This is definitely a cupcake for a small select subset of the population. Not a guaranteed crowd pleaser. Not a wedding contender.
To be even more frank, no one liked the topping except for me and even I thought the topping would have been better on a cracker than on these cupcakes.
The cake portion of these cupcakes however, is a winner. I'd recommend you just make them naked. No frosting necessary for these flavorful treats. I think it might be a bit of a stretch to call them cupcakes. They tasted like a moist delicious banana bread. I might actually consider making them in bread form for a brunch.
I could barely taste the apples. Then again, the groom said he could barley taste the bananas. That was a mystery to me. It's actually always a mystery to me what he will think. I finally thought I had him pegged. I put my guess at his comments on a piece of paper and folded it up prior to his tasting to see if I could guess it correctly. Nope. I guess if I could predict what everyone would think there would be no point in having tastings.
The Details
The Cake
I used butter and oil instead of shortening as one of the commenters had suggested. I also used crazy ripe (liquidy) bananas and golden delicious apples. Whole Foods didn't carry organic goldens. I was bummed about that, but I really wanted to use that apple type so I went for it anyway. They are perfect for baking.
To make up for the lack of organic apples, this was the first time I used organic sugar. I'd been putting off making that switch because I use so much sugar and the organic sugar comes in much smaller bags and is much more expensive. What I learned though is that organic sugar is actually a different product from conventional sugar. It is actually evaporated cane juice. I had no idea.
The same applies to the organic powdered sugar which I've been using for a while now. I also read about how it's a darker color which explains why my icings are never quite as white as I've seen in some pictures.
The Topping
For the topping, I made my own ricotta cheese per the instructions in my blog post on
cheese
. I used a whole gallon of milk. I then added about 1 cup of powdered sugar and 1/4 cup of butter. At that point, I decided it was sweet enough. Probably because it tasted just like the cottage on pasta that I love but with a chunky play-dough kind of texture.
No need for piping here. I just piled the cheese on top of the cupcakes and sculpted it into a nice shape.
Lastly, I dusted each cupcake with cinnamon.
Anyone have a really good technique for dusting something on a cupcake? I used a mini sifter which worked well, but it was still hard to control exactly how much landed on each cupcake at once.