Apam gula hangus are Malaysian caramel cakes made using a steamer. With the addition of a salted caramel glaze, they taste just like Werther's Original candies!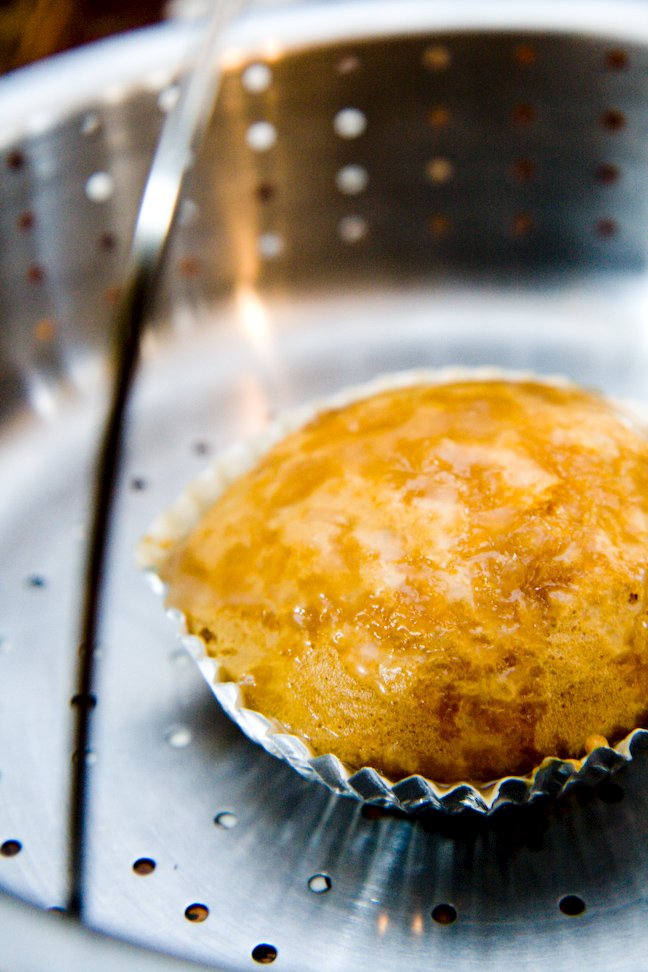 What is Apam Gula Hangus
Apam gula hangus are steamed caramel cupcakes popular on the streets of Malaysia. I added fleur de sel to my recipe to make them salted steamed caramel cupcakes – or salted apam gula hangus.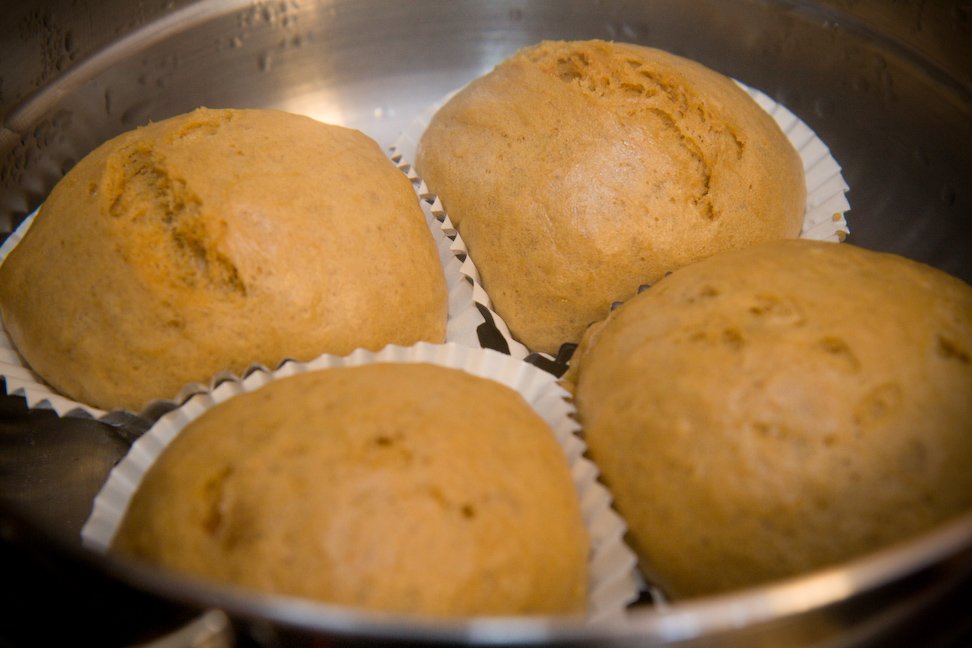 Advantages of Baking in the Steamer
1. Steamed cupcakes have a nice, spongy texture.
2. If your entire oven is in use (or if you don't have an oven), you can still make cupcakes.
Disadvantages of Baking in the Steamer
1. Unless you have a giant commercial steamer, you can only make four cupcakes at a time.
2. Because the cupcakes are not in a cupcake tin, they spread out and don't have as nice of a shape if you use paper liners. To ensure that steamed cupcakes hold their shape, I suggest using silicone liners. If that isn't important to you, make them with paper liners as you see in my images.
Is Apam Gula Hangus Frosted?
Traditionally, apam gula hangus is not frosted. However, I add a salted caramel glaze to mine.
I use the frosting in two ways:
I poke holes in the cupcakes and drizzle lots of caramel inside of them.
I also put the caramel in the fridge until it hardens more and spread it on top.
Apam Gula Hangus
A twist on apam gula hangus (steamed caramel cakes) with a salted caramel frosting!
Ingredients
Cupcake Ingredients
1/2

cup

sugar

1/3

cup

boiling water

1/2

teaspoon

fleur de sel

or any salt of your choice

1 1/4

cup

plain flour

1

teaspoon

baking soda

1/8

teaspoon

salt

1

large egg

1/4

cup

sugar

1/4

cup

butter

melted

1/3

cup

milk
Salted Caramel Glaze Ingredients
6

tablespoons

butter

3/4

cup

sugar

1

cup

heavy cream

1 1/4

teaspoon

fleur de sel

or any salt of your choice
Instructions
Cupcake Instructions
In a small saucepan on low hear, melt the sugar.

When the color turns golden brown, immediately remove from heat and pour in the boiling water. (Note: This takes 10-15 minutes)

Return to the heat and stir until the caramelized sugar dissolves in the water.

Remove from heat, stir in fluer de sel, and cool completely.

In a small mixing bowl, sift together flour, baking soda and salt. Set aside.

In a separate mixing bowl, mix cooled caramel syrup, egg, sugar, melted butter and milk. Stir well until sugar dissolves.

Combine the wet ingredients to the sifted flour mixture. Whisk gently until it is lump free. Pour the batter into cupcake liners until 3/4 full.

Steam on high for 15 minutes. (Note: Be careful not to burn yourself when removing the cupcakes from the steamer. I used tongs.) Cool completely before glazing.
Salted Caramel Glaze Instructions
Melt the butter in a large, deep heavy-duty saucepan. Stir in the sugar and and stir until golden brown. (Note: Do this on low to medium heat. The first time I did it, I did it on high and everything burnt. This should take about 10 minutes.)

Take off the heat and pour in half the cream and whisk like a crazy person until the caramel is smooth. Whisk in the rest of the cream and the salt.
Cupcake Assembly
Poke holes in the cupcakes and drizzle copious amounts of the caramel into them.Chill the rest of the caramel in the freezer for about 15 minutes. Once it is thicker, spread the caramel over the cupcakes.
Notes
I got the recipe for this cupcake from Pusiva's Culinary Studio. I have reprinted the recipe below. The only change from the original was to add the fleur de sel. A VERY important point about this recipe is that it did not state how many cupcakes it would make. As it turns out it, it only made 6 cupcakes. Definitely double it if you would like more than 6.
I got the salted caramel frosting recipe from Vanilla Garlic. He used it on Apple Cardamom cupcakes which make me drool just looking at them.
Nutrition
Nutrition Facts
Apam Gula Hangus
Amount Per Serving
Calories 612.09
Calories from Fat 316
% Daily Value*
Fat 35.09g54%
Cholesterol 133.41mg44%
Sodium 1109.64mg46%
Potassium 85.63mg2%
Carbohydrates 71.68g24%
Protein 5.05g10%
Vitamin A 1230.88IU25%
Vitamin C 0.24mg0%
Calcium 54.74mg5%
Iron 1.34mg7%
* Percent Daily Values are based on a 2000 calorie diet.