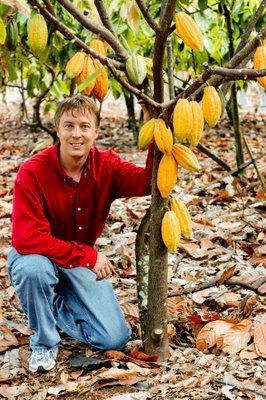 Photo by Amano Artisan Chocolate
After two sucessful interviews on Cupcake Project, one with Vere Chocolate owner Kathy Moskal, and one with Supreme Spice owner Anjali Damerla, I am now hooked on interviews!
I have started a new blog, Food Interviews, where I will be doing all of my future interviews.
If you enjoyed the interview about Vere Chocolate, you will probably enjoy the interview I'm featuring this week with Art Pollard, founder/owner of Amano Chocolate (you may remember that I reviewed Amano chocolate and I LOVED it!).
Just like the Vere interview, there will be 5 chocolate giveaways, so be sure to check it out and leave a comment each day this week.
Although Food Interviews won't always be about something cupcake related, I hope you'll enjoy it as much as you enjoy Cupcake Project.
Oh – and don't worry – I'll still be making cupcakes here!
A Quick Vere Giveaway Followup
I also wanted to let you know that I have heard back from two of the Vere chocolate winners.
Ivy posted a review of the chocolate on her blog, Little Ivy Cakes.
Tish sent me an email:
The chocolate arrived at my house all beautifully packaged and in perfect condition, so I would have no hesitation in purchasing on-line.

The quality of this chocolate was arguably the finest eating chocolate that I have
ever consumed. I know that qualitative statements like that will always start a
riot, but I prefer bittersweet dark over milk chocolate.

I had no difficulty picking up the fruity notes in the chocolate itself, and the additions such as banana and raspberry were not overpowering. Just a hint of banana. A whisper of raspberry-lemon. The sensual burn of chili. All wrapped in the caress of intoxicating chocolate.

Wow.

I really loved this chocolate. Just one small square of it is plenty to satisfy my craving. And believe me, I have a real need for chocolate every day.

Thank you so much!
I'm so glad that they both enjoyed the bounty!