Over 500 of you volunteered to join me on the Quest for the Ultimate Chocolate Cupcake.  Working my way through the list and narrowing it down to just 50 was a tremendously difficult task. Your comments have made me laugh, get enough warm fuzzies to make a giant quilt, and want to give all of you a huge group hug.
The team that I selected has a wide range of backgrounds.  Some have only baked cake mixes before, some are from-scratch bakers who are regularly called upon to bake cupcakes for family and friends, while still others are pastry school students, professional bakers, and cupcake shop owners who sell either out of their homes, farmers' market stands, or brick and mortar shops.  Some have a favorite chocolate cupcake recipe already that they plan to compare this one against.  Others have tried a few and haven't found a favorite.
What the Explorers all have in common is a passion for cupcakes and an excitement about working together to find a recipe that everyone can share!
Once the Cupcake Project Explorers decide on an Ultimate Chocolate Cupcake recipe, I will post it on Cupcake Project with confidence that you'll love it!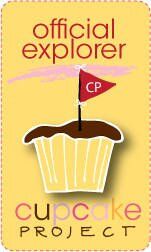 Anne Ahiers
Lisa Allen
Nydea  Aviles
Alice Barton
Amy Cardenas
Tina Corpus
Jack and Denise East
Dana Ellis
Brooke Ford
Melissa Fowler
Erin Hanson
Leslie Koch
Meredith Kroot
Natasha Kuo
Karoline Leopold
Libby Levinson
Ann Longino
Meghan Lydon
Crystal Marsh
Amy Parsons
Kori Podjan
Cyn  Richardson
Katryna Robinson
Jo Ruksenas
Patty Rusin
Sarah Sherman
Debbie  Vassil
Kimberly Waltman
Jean Weiss
Ashley Welsh
Semaira Williams
I'd like to extend a warm welcome to the new team!  If your name is on this list, look for an email in the next day or two with details and the recipe so that you can get started!
Deep and sincere thanks to all who applied.  If you were not chosen, you may still be picked for future rounds if any of the Explorers drop out.