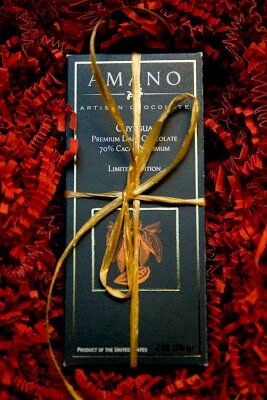 While all three bars contained the same ingredients (cocoa beans, pure cane sugar, cocoa butter, and whole Tahitian vanilla pods) and the same cacao percentage, the beans for each bar came from different places. The taste difference was huge.
After the break, my comments on each bar.
The Three Bars
Which Amano Bar Would I Recommend?
All three. I mean that literally. Don't just get one – get all three so that you can see what a difference a bean makes. It's fascinating.
Are You Writing About This to Tell Us You Are Making Another Chocolate Cupcake?
I am not writing about this to tell you I am making another chocolate cupcake. I was given three bars and wanted to use them all for a very important purpose – eating! I didn't want use these bars in a cupcake because I wanted to savor the chocolate all to itself.