These acorn cupcakes with honey buttercream frosting are made with acorn flour to give them a walnut-like, sweet, earthy taste. The honey buttercream frosting on these cupcakes is a perfect pairing.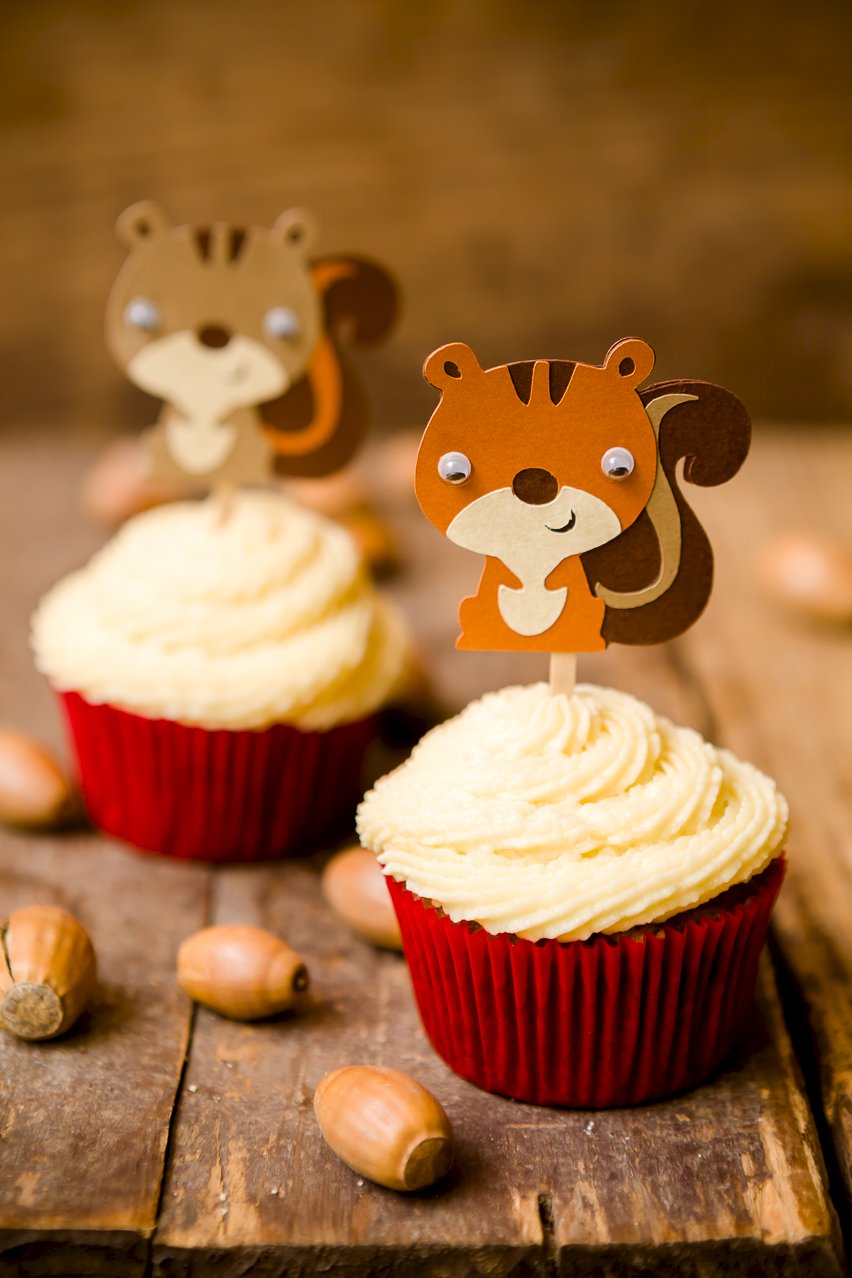 It's time to get out there and start competing with your local squirrels for some acorns; you're big, you can take them. With those acorns you can make your own acorn flour – the star of these acorn cupcakes. I used half all-purpose flour and half acorn flour in my acorn cupcake recipe to keep the cupcakes light while still imparting the acorn flavor (a walnut-like, sweet, earthy taste). My favorite honey buttercream frosting caps the acorn cupcakes so well that I feel sorry for my squirrel opponents that buttercream doesn't grow on oak trees.
I wouldn't make acorn cupcakes for kids' birthday parties or office parties. But, I could see them becoming a yearly Thanksgiving tradition – the kids bubbling with excited energy as the first acorns begin to fall and gathering acorns for weeks to ultimately turn their acorns into cupcakes for the whole family. (Maybe I'm living in a black and white TV show, but I can actually see this happening.)
I do realize that not everyone has access to acorns or time to turn them into flour. If you can't find acorns or don't want to invest the time into making homemade acorn flour, you can buy acorn flour online. You may also be able to find it at a local Korean grocery since it's used in some Korean dishes.
Shout Outs
I purchased the adorable squirrel toppers from Etsy seller Creating Your Memories.
I wasn't the first to create an acorn cupcake. A Google search revealed acorn cupcakes by The 3 Foragers. Check out their acorn cupcake recipe if you'd like an alternate option.
Acorn Cupcakes Recipe
I used half all-purpose and half acorn flour in my acorn cupcakes to keep them light while still imparting the acorn flavor (a walnut-like, sweet, earthy taste).
Ingredients
1/2

cup

honey

5

tablespoons

unsalted butter

melted

2

large eggs

1/4

cup

sour cream

1

teaspoon

vanilla

3/4

cup

acorn flour

3/4

cup

all-purpose flour

1

teaspoon

baking powder

1/2

teaspoon

baking soda

1/2

teaspoon

salt

honey buttercream frosting

see my honey buttercream frosting post for the recipe
Instructions
Preheat oven to 350 F.

In a medium-sized mixing bowl, mix honey and melted butter.

Beat in eggs, one at a time.

Stir in sour cream and vanilla.

In another medium-sized bowl, whisk together acorn flour, all-purpose flour, baking powder, baking soda, and salt.

Slowly mix the flour mixture into the honey mixture until fully combined.

Fill cupcake liners 3/4 full.

Bake for 20 minutes or until a toothpick inserted into the center of a cupcake comes out dry.

Spread or pipe honey buttercream frosting onto cooled cupcakes
Nutrition
Nutrition Facts
Acorn Cupcakes Recipe
Amount Per Serving
Calories 195
Calories from Fat 63
% Daily Value*
Fat 7g11%
Cholesterol 50mg17%
Sodium 190mg8%
Potassium 89mg3%
Carbohydrates 28g9%
Protein 3g6%
Vitamin A 260IU5%
Vitamin C 0.1mg0%
Calcium 34mg3%
Iron 1.1mg6%
* Percent Daily Values are based on a 2000 calorie diet.