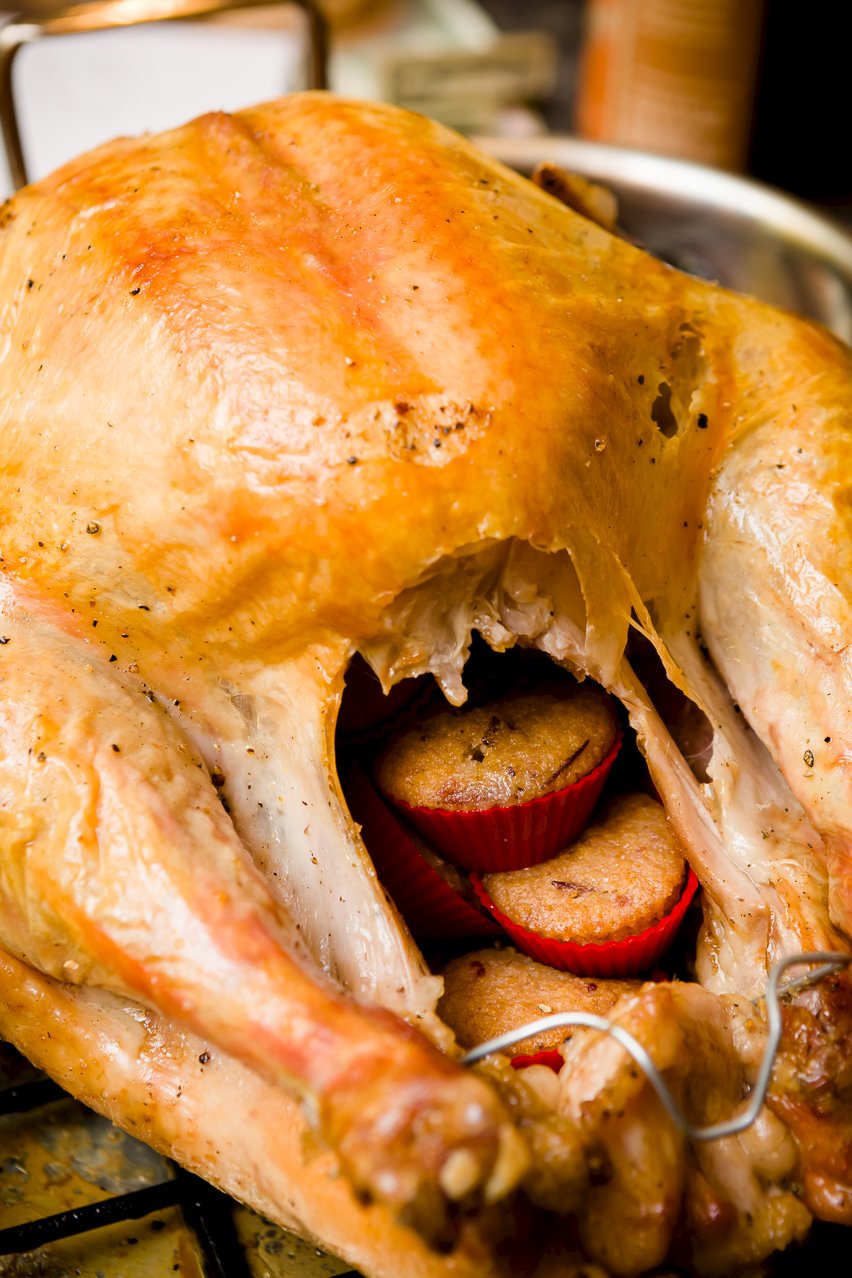 Forget white bread, croutons, and corn bread – a cupcake lover's Thanksgiving turkey should be stuffed with cupcakes.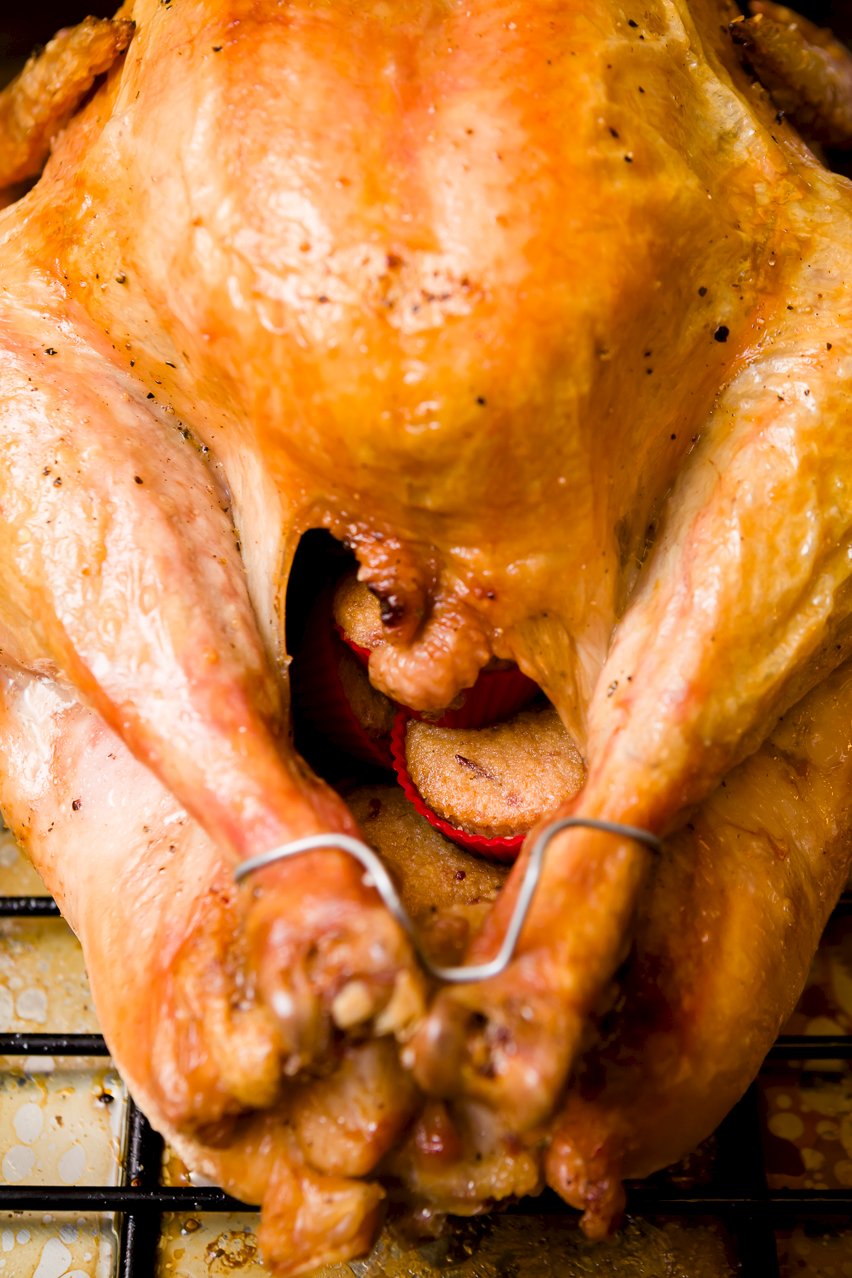 I suggest cranberry cupcakes. We all know that turkey and cranberry are meant to go together. My cranberry cupcakes finished in the turkey's cavity and exposed to juices from the bird developed a stuffing-like texture and tasted like a Thanksgiving feast of stuffing, turkey, and cranberry sauce: warm, cozy, comfort food.
I hope you'll give cupcake stuffing a chance. Let me tell you how it's done.
How to Prepare In-Bird Cupcake Stuffing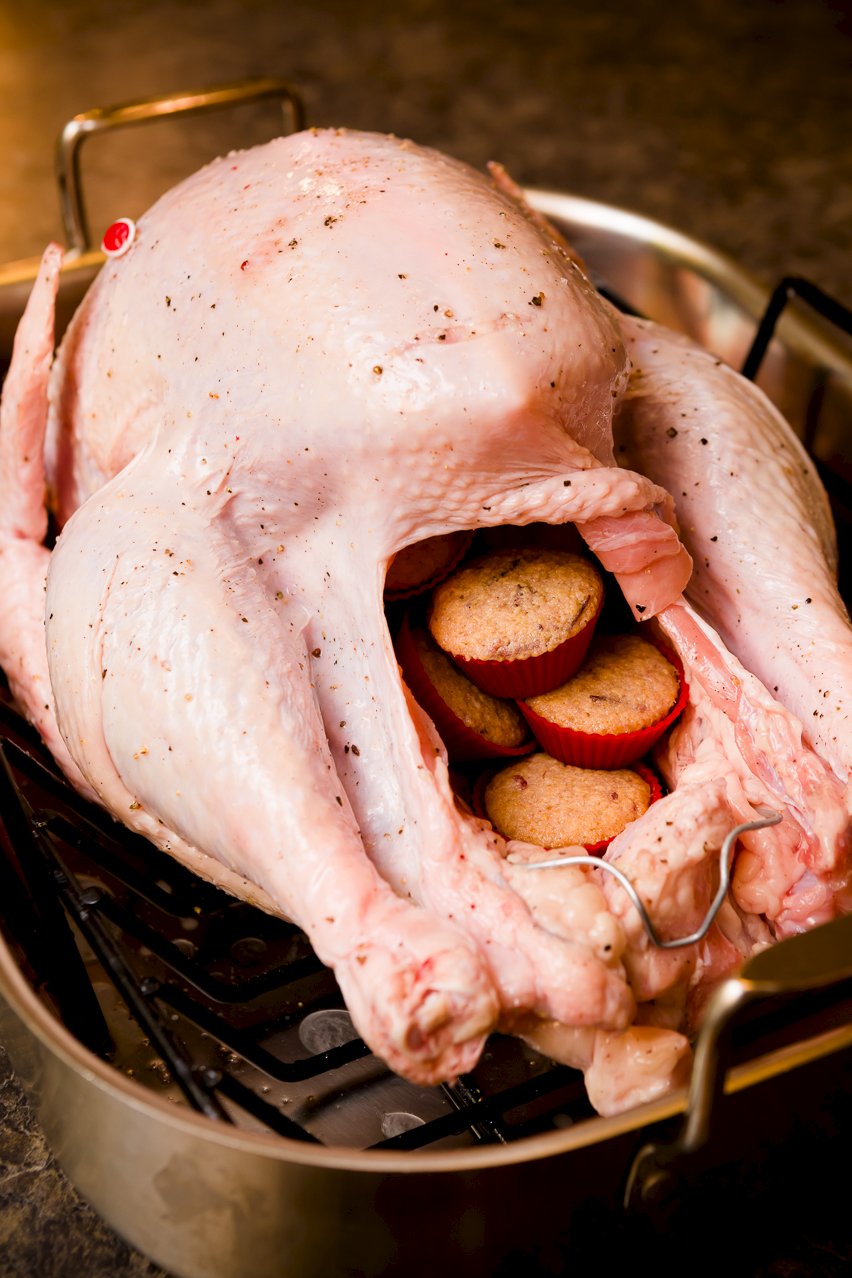 1. Buy a turkey and defrost it in your refrigerator. If you've never made a turkey before (I hadn't), you should know that this can take several days.
2. Bake cupcakes to put inside the turkey. The turkey doesn't get hot enough to actually bake cupcake batter. The cupcakes start off baked and then are steamed and infused with flavor inside the bird. The cupcakes must be made in silicone liners (paper would get soggy). I recommend mini silicone liners so that you can fit more cupcakes inside. I fit a dozen mini cupcakes in a 13 pound turkey. I share my cranberry cupcake recipe at the end of this post.
3. While the cupcakes are in the oven, begin prepping the turkey. I used Alton Brown's method for preparing the turkey; although the turkey is not the focus of this post, I will say that his method yielded a moist turkey that I was proud to serve. Remove the turkey innards. Place the turkey on a roasting pan. Liberally coat the turkey on all sides with vegetable oil, salt, and pepper.
4. As soon as the cupcakes are out of the oven, begin stuffing them in the turkey. Shove as many in there as you can. Don't be shy. Also, raise the oven temperature to 400 F.
5. Close up the turkey as best you can using cooking twine or the metal tool that comes inserted into some turkeys.
6. Bake the turkey for 45 minutes. Then, lower the oven heat to 350 F and bake for another 60-75 minutes for a 13 pound turkey. This will be longer if your turkey is much bigger. To know when your turkey is done, use an instant read thermometer to check for an internal temperature of 170 F.
7. Remove cupcakes, carve turkey, and serve immediately.
8. Be sure to refrigerate any leftovers.
Cranberry Cupcake Recipe
Cranberry Cupcakes
Whole berry cranberry sauce is a nice upgrade from dried cranberries in these cupcakes.
Servings
12
mini cupcakes for stuffing and 12 regular-sized cupcakes
Ingredients
1

cup

granulated sugar

1 3/4

cups

all-purpose flour

1 1/2

teaspoons

baking powder

1/2

teaspoon

baking soda

1/2

teaspoon

salt

1/4

cup

unsalted butter

room temperature

2

large eggs

room temperature

1

cup

whole-berry cranberry sauce

1/4

cup

canola oil or vegetable oil

1/4

cup

orange juice
Instructions
Preheat oven to 350 F.

In a medium-sized mixing bowl or bowl of a stand mixer, mix together sugar, flour, baking powder, baking soda, and salt.

Add butter and mix on medium-low for two minutes.

Mix in eggs one at a time.

Mix in cranberry sauce and oil.

Mix in orange juice.

Fill cupcake liners just over half full.

Bake for 20 minutes or until a toothpick comes out without wet batter stuck to it.
Nutrition
Nutrition Facts
Cranberry Cupcakes
Amount Per Serving
Calories 252
Calories from Fat 81
% Daily Value*
Fat 9g14%
Cholesterol 37mg12%
Sodium 161mg7%
Potassium 96mg3%
Carbohydrates 40g13%
Protein 2g4%
Vitamin A 180IU4%
Vitamin C 3.1mg4%
Calcium 31mg3%
Iron 1.1mg6%
* Percent Daily Values are based on a 2000 calorie diet.
Shout Outs
The first shout out goes to my dad who gave me the idea for cupcake stuffing. This was not at all what he had in mind, though. Read my out-of-the-bird cupcake stuffing post to see his concept.
Ray Pratt gets the second shout out. His creative mind helped me morph my dad's idea into what you see today. He also carved the turkey for us!
Thanks to Huffington Post for picking these cupcakes up and writing about them.
A Few More Pictures
Here are just a few more pictures before we part because I know that you've never seen anything like this before: