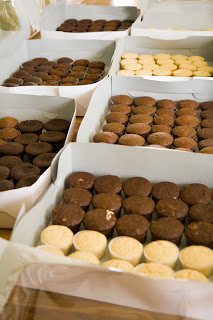 For the Statisticians:
It takes 0.46296296296296296296296296296296 minutes to bake an unfrosted cupcake.
My mom, who teaches math, is cringing as she reads this.
My Florida math minor friend is also cringing. That isn't a guess though, she is sitting next to me. "Math doesn't work that way."
Reality Check:
Even if you choose to accept my flawed statistics, you should be warned. This is me and well, it was 9ish hours and 250ish cupcakes. I did have someone do an official count, which I appreciated greatly. He gave an exact number and I heard 250ish.
Status Update:
With the exception of a few gingerbread latte cupcakes that exploded and had to become taste test cupcakes for my Florida friend, all turned out quite well.
Also today, we (yes, I enlisted some help on this part) assembly-line frosted the margarita cupcakes. I spread the frosting, my LA friend sugared/salted the rim, and my husband drink umbrella-ed them (can I made that a verb?).
Tomorrow, all that's left is frosting the gingerbread latte and the soda fountain cupcakes. Easy peasy! I hope.