I'm taking this week off to spend time with family and friends, but I wanted to take just a minute to share five outstanding Thanksgiving cupcake recipes with you.  If you are responsible for dessert at your Thanksgiving meal, check out my list of five scrumptious Thanksgiving cupcake recipes and consider making cupcakes a new Thanksgiving tradition for your family!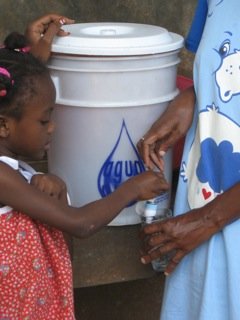 This photo is off the first of many filters that was made
and distributed because of money that we
have raised through Cupcake Project 4.0.
I also wanted to make another plea for help for FilterPure.  Though I take it for granted most days, I am so thankful to have clean water to drink.  For just one dollar (or more), you can help people in Haiti to have potable drinking water and get a sensational chocolate peanut butter cupcake recipe.  I committed to raising $4000 by the end of November, and while we have made amazing progress, we aren't quite there yet.  Instead of putting a dollar in a soda machine this week, consider drinking some free tap water and putting the dollar in the ChipIn box below.
Thanks again to everyone who has already donated!  I have been sending out the recipes every couple of days so if more than a few days have gone by since your donation, please check your spam and email me if the recipe isn't there.
Happy Thanksgiving!