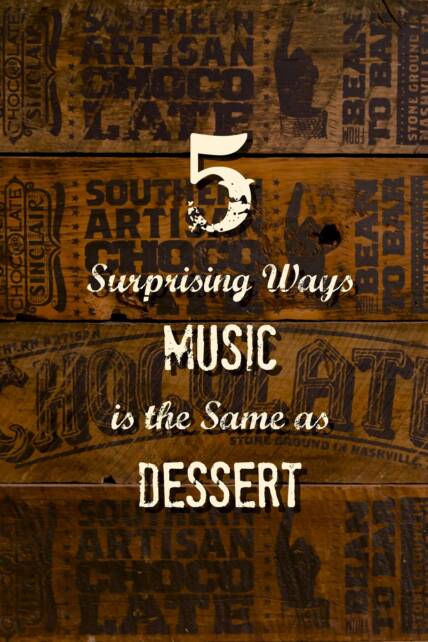 I spent the past week in Nashville, Tennessee.  Nashville is known as Music City, but heading there I was thinking about the food far more than the music.  I had plotted out the restaurants that I wanted to try and the bakeries and candy makers that I knew I had to hit.  The food scene there is hopping and I wanted to take it all in!  When I arrived in Nashville, however, the Music City's music won me over.  There was live music everywhere and it was shockingly great; the free acts that performed in our DoubleTree lobby each night were better than many bands that I have paid good money to see.  The music streaming out of the windows of honky-tonks on Broadway and 2nd Street all drew me in and had me wanting to hear more.
The more I listened to live music (an activity that I don't do nearly often enough at home), the more I began to see similarities between the ways music and dessert touch our lives.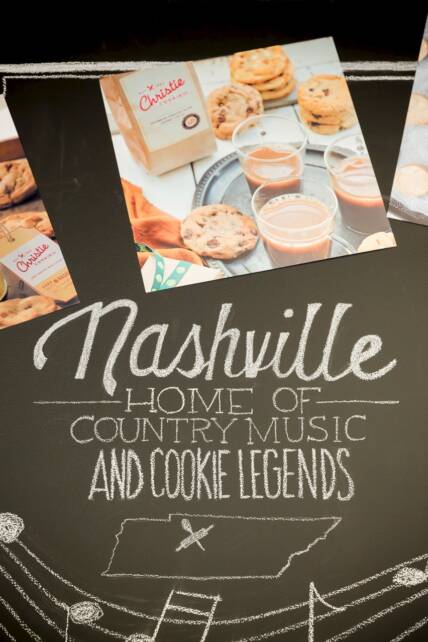 I've compiled a list of 5 surprising ways that music is the same as dessert.  Along the way, I'll share pieces of my Nashville trip with lots of photos.
P.S. By no means am I implying that you should give up on dessert.  If replacing dessert with music actually worked, I'd be onto the best dieting idea ever!  I do think, however, that it's always worth having a second "dessert" of your favorite song.
5 Surprising Ways that Music is the Same as Dessert
1.  They both feel like home
Dessert: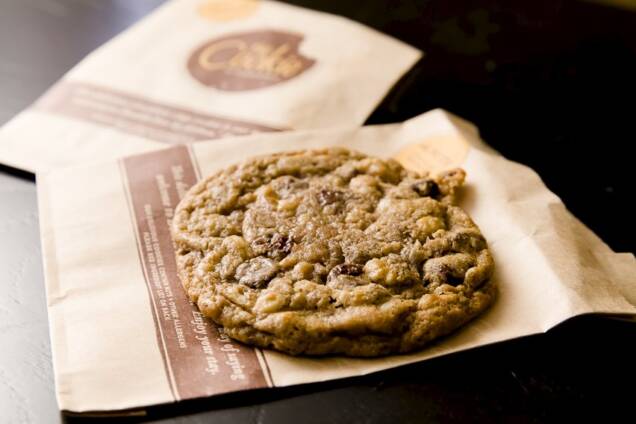 When we arrived at the downtown Nashville DoubleTree, we were greeted with hot chocolate chip cookies.  Every DoubleTree does this.  Being served a hot cookie makes you feel like you've arrived at Grandma's house where she always had a treat waiting.  This homey feeling would quickly fade if the cookie tasted industrial and artificial.  The DoubleTree pulls off the Grandma Experience by serving cookies from Christie Cookie, a Nashville bakery that churns out hundreds of thousands of cookies a day while sticking with all-natural ingredients.  DoubleTree hotels around the nation are sent Christie Cookie's cookie dough and they bake the cookies fresh on premises.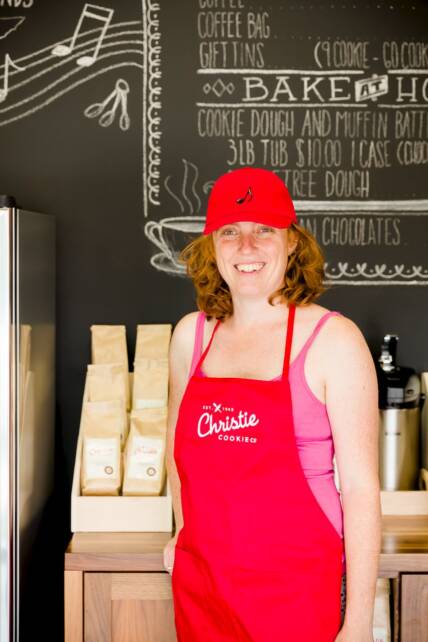 My family and I took a tour of Christie Cookie factory and shop and our biggest surprise was how fantastic the Christie Cookie brownies were.  We expected everyone to be coming in for the DoubleTree cookies, but lots of locals knew the brownie secret:  Christie Cookie makes some killer fudgey brownies!
I rarely recommend anything that isn't homemade, but Christie Cookie desserts essentially are homemade on a larger scale.  They can be shipped across the country and would be a good way to send someone a homey treat without messing around with packaging and sending your own sweets.
Music:
The first night (and every night) of our stay at the DoubleTree, there was beautiful music from talented artists playing at a volume that didn't require ear plugs.  Interestingly, if you ask our 5 year old, Myles, what his favorite part of our Nashville trip was, he wouldn't say the Zoo or the trolley tour or the eating out – he will say it was the music at the DoubleTree.  The music turned the lobby into an inviting home away from home.  It felt like a communal living room (only I couldn't wear my ripped up, over-sized PJs down to the lobby).
2.  They both can help with breakups
Dessert: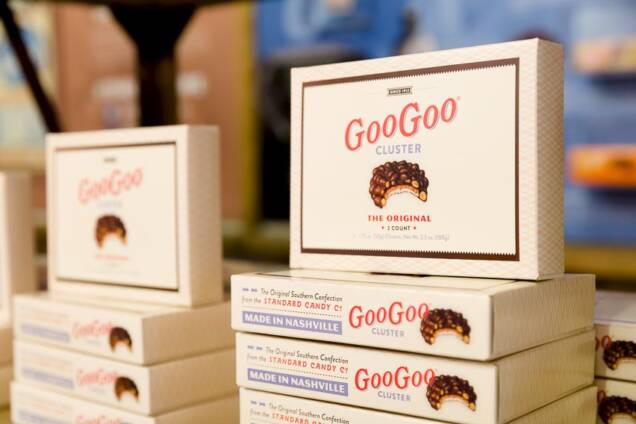 It's no secret that breakups can lead to dessert binges.  While ice cream is the stereotypical choice, might I recommend a Goo Goo Cluster?  Goo Goo Clusters have been around since 1912.  A Goo Goo Cluster is "a roundish mound of caramel, marshmallow nougat, fresh roasted peanuts and real milk chocolate; its renegade shape was more difficult to wrap than the conventional rectangular or square shapes of the day. More importantly, this was the first time multiple elements were being mass-produced in a retail confection. Previous to the advent of the Goo Goo Cluster, candy bar manufacturing consisted of bars solely using chocolate, caramel or taffy."
Although many think that Goo Goo Clusters were named for the Grand Ole Opry (note the similarity in initials), they were named for the sound a baby makes – so that you can ask for them from birth!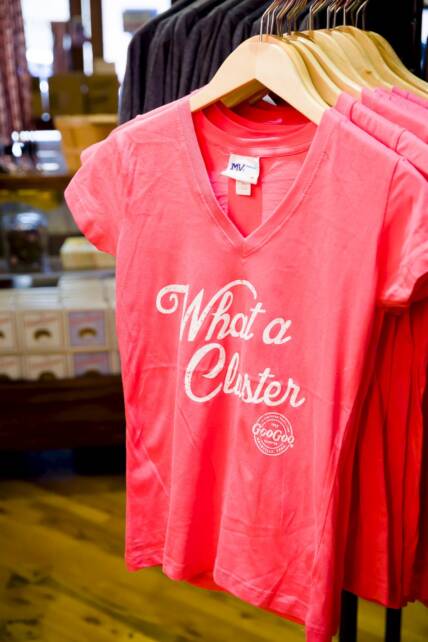 When life gets to be a cluster, and you may or may not be crying like a baby, a Goo Goo might be just the thing to grab to cure what ails you.
Music:
There is no shortage of music to help with breakups, either in a make-you-feel-stronger sort of way or a joining-you-down-in-the-dumps way.  Blues may be the genre that wins for having the best breakup songs, but country music comes in a strong second.  Jonathan and I were lucky enough to get a night out without Myles and to be able to attend a show at the country music mecca, the Grand Ole Opry.  The Grand Ole Opry is more than just another concert venue; it's a country music institution.  Artists need to be invited to play there and being asked to become a member of the Opry is akin to winning a grammy.  Mo Pitney was one of the artists that we got a chance to see live.  Here is his post-breakup song, "Clean Up on Aisle Five":
3.  They can take you back in time
Dessert: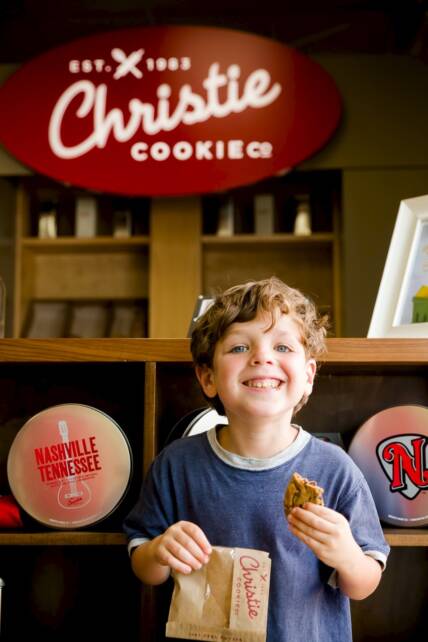 The smell on our Christie Cookie tour was phenomenal.  It made me wonder if there is a chocolate chip cookie perfume (as it turns out, there is!).  The scent of baking cookies can immediately bring you back to a time when you were a little kid hovering over the batter bowl, biding time before you could lick the beaters.  Unless, of course, you're still a kid and you are just waiting for the tour to be over so that you can eat a cookie right now!
Music:
Songs are forever tied to the place and time when we first heard them.  The artists playing at the DoubleTree on our first night did a cover of "Strawberry Wine" by Deana Carter.  Hearing that song immediately took me back to Semester at Sea, fall '97.  My roommate introduced me to the song and I listened to it on repeat throughout the semester.
The funny thing is that the song is about strawberry wine bringing on happy memories, so this section is getting a little meta!
A few cards and letters and one long distance call
We drifted away like the leaves in the fall
But year after year, I come back to this place
Just to remember the taste

Of strawberry wine and seventeen
The hot July moon saw everything
My first taste of love, oh, bittersweet
The green on the vine like strawberry wine
3.  They both have soul
Dessert: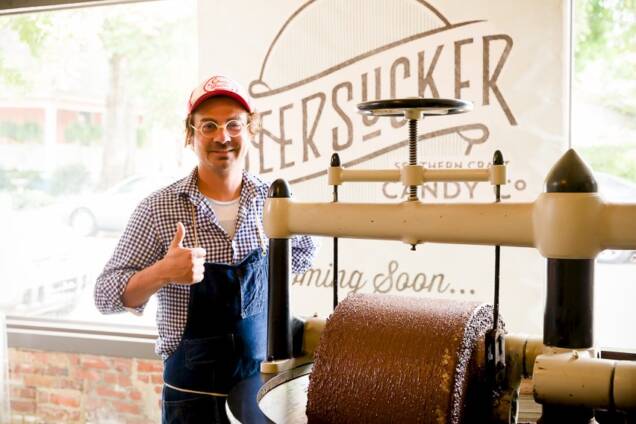 Scott Witherow from Nashville's bean to bar chocolate and gourmet candy maker, Olive and Sinclair, could use modern machinery to make his renowned chocolate, but he chooses to use vintage machines because he likes the history.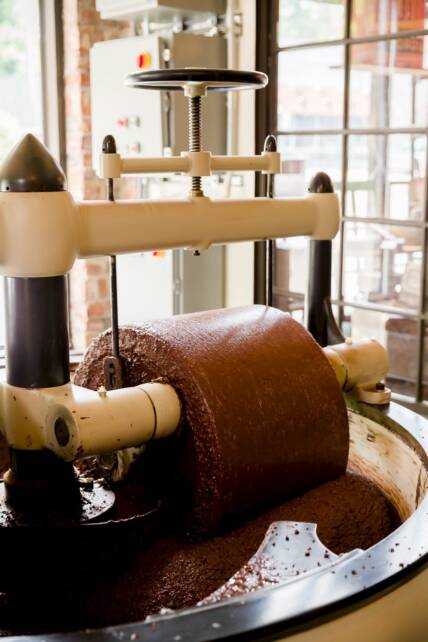 He marches to his own beat (music reference intended), making decisions that match his aesthetic both visually and culinarily.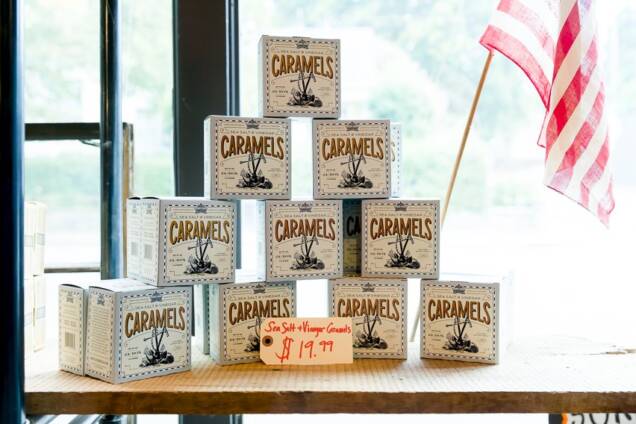 Take Olive and Sinclair's caramels, for example.  On our tour, Scott told us that everyone does sea salt caramels so he wanted to do something different by making sea salt and vinegar caramels.  They are totally unique and the vinegar cuts the sweetness and adds a whole other layer of flavor to the treat.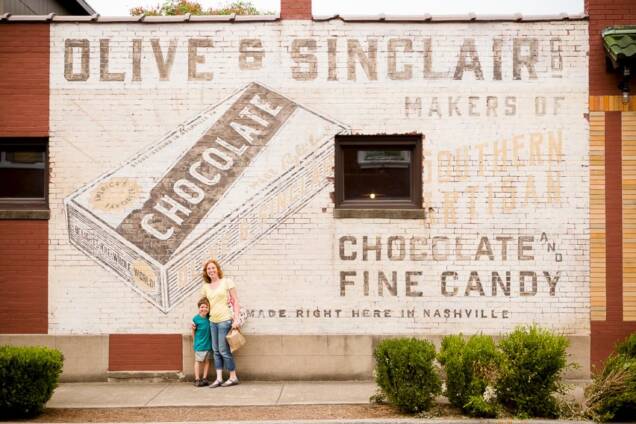 Artisan desserts like Olive and Sinclair's products feed the soul because they are crafted with passion and care.
Music: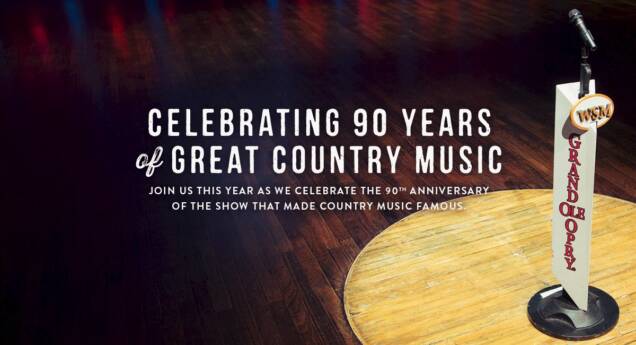 On our backstage tour of the Grand Ole Opry, we learned that when the Opry moved from its older home at the Ryman Auditorium, a circle of wood was taken from the old stage.  That original wood now sits on the current stage right where the lead vocalist is stationed.  When singers come out to the stage they stand on the same hallowed ground that all of their music heroes stood on before them.  There's magic to that, and we were told that many artists break down in tears the first time they are going on stage just thinking about it.  When they reach the stage, they sing their hearts to the ghosts of country music past.  That moment is when music touches the soul.
4.  They can both be a sweet ending to an evening or a joyful start to a morning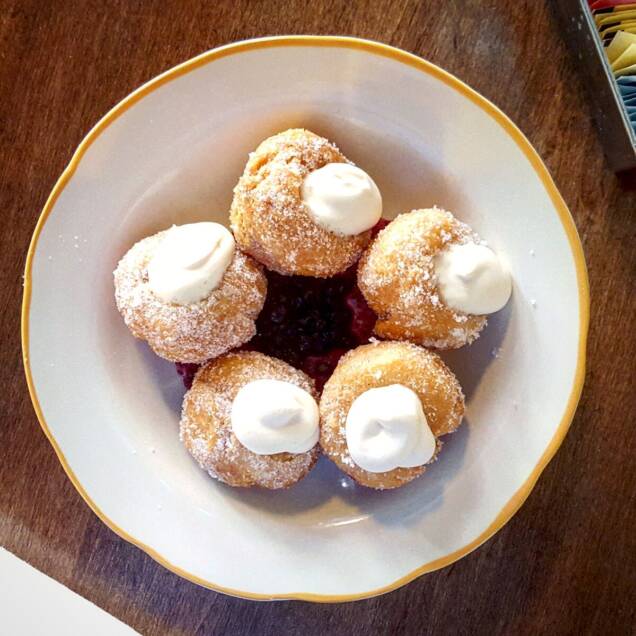 Dessert:
Everyone told us that we had to try Biscuit Love.  We're glad that we listened.  My favorite dish there was the bonuts (biscuit donuts!).  They were a wonderful way to start my morning.  I also loved how kid-friendly the place was.  They had a tub of dinosaurs for kiddos to play with.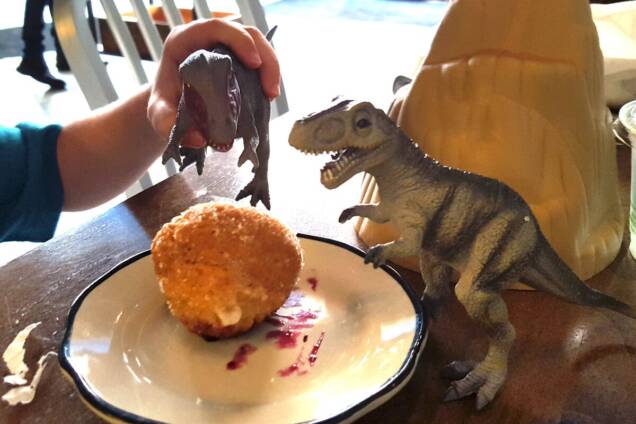 The dinos loved starting the day with bonuts, too!
Music: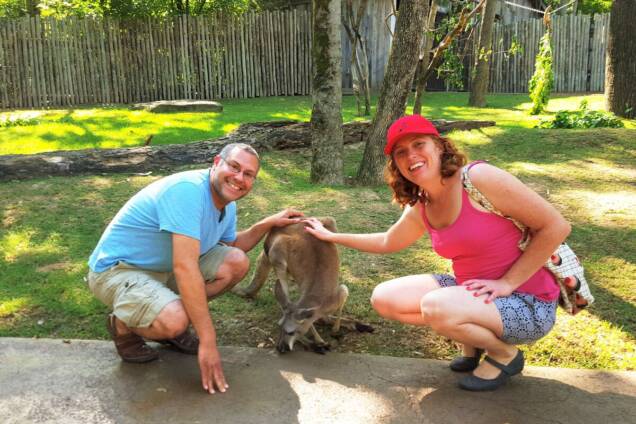 You can pet kangaroos at the Nashville Zoo!!  I've never seen this at a zoo before.  Jonathan and I were just as excited about the kangaroos as Myles was.  In addition to the animals, the zoo had music piped in.  As we walked through the zoo's jungle loop, it struck me how much the peaceful jungle music set the tone for the space and the morning, enhancing my experience.  Even the Nashville zoo's music makes Music City proud!
5.  Both are Primal
Dessert: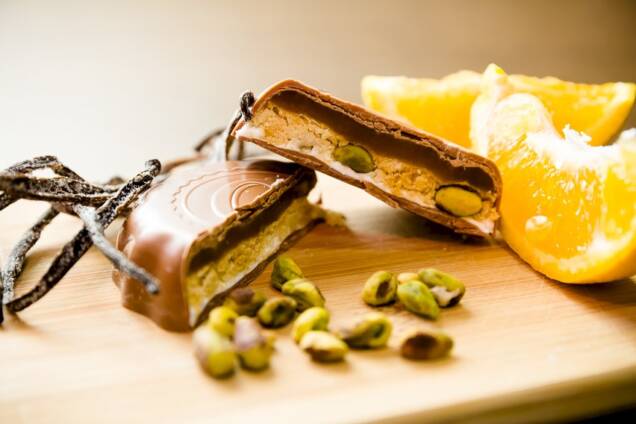 Online, you'll only find a few varieties of Goo Goo Clusters.  In the Nashville store, you can find the Chef Series.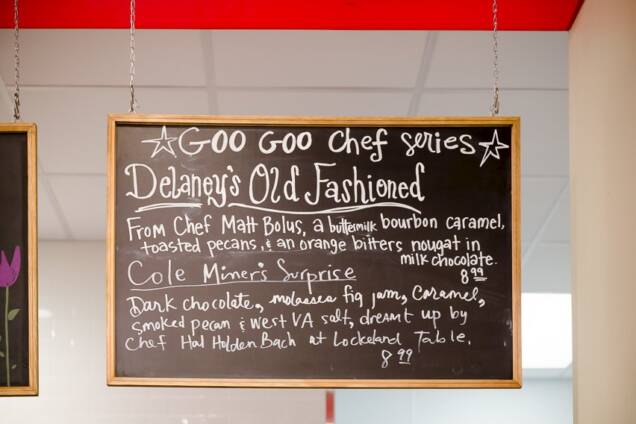 The Chef Series is designed by top chefs across Nashville.  They are larger than the classic Goo Goos and more expensive, but when we see something that good, sometimes we have to go for it.  Our primal selves take over and we dive in.  Our family devoured one like a pack of chocolate-loving baboons.
Music: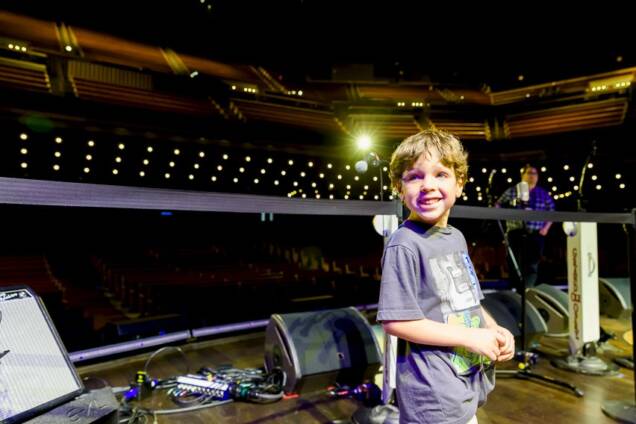 Listening to music isn't enough.  Every so often (or daily for me!) you just have to belt it out, whether or not you know the words.  The release is wonderful!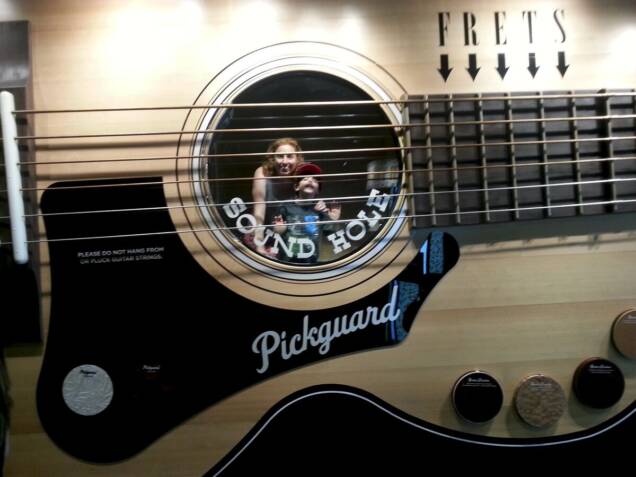 At the Country Music Hall of Fame, we loved getting to be a part of the music.  They actually had a recording studio where you could record your own song.  Below you can hear Myles's opus.  As soon as the music came on, he started singing.  I have no idea what he's saying most of the time, but that's why I love it.  He just let the words fly out!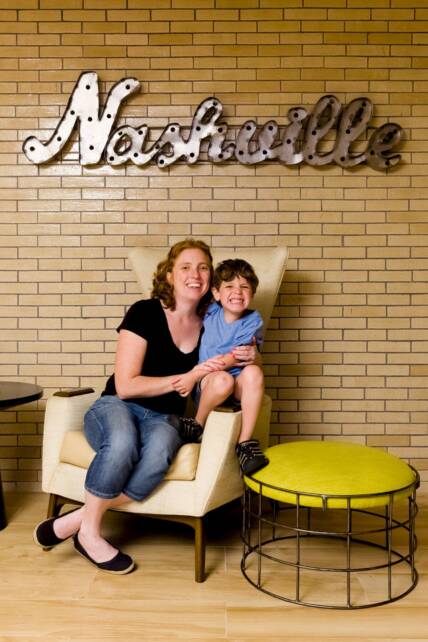 How does music feed your soul?  Tell me about it in the comments!
Note: My Nashville accommodations were provided by DoubleTree and my family and I were given free passes to Nashville attractions.  None of our meals were sponsored.