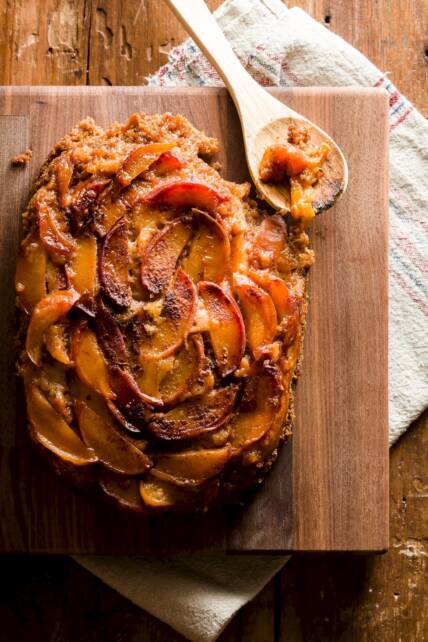 Upside-down cakes are always moist and loaded with flavor, but when they are made in a slow cooker with extra time for the fruit juices to seep into the cake, the results are extraordinary. In this peach slow cooker cake recipe that I originally developed for allrecipes magazine, the peaches caramelize with brown sugar as the cake bakes, making the house smell incredible and and the cake taste unreal.
You can make it with canned peaches or use fresh ones if they are in season where you live.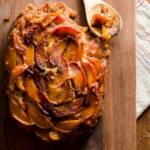 Slow Cooker Peach Upside-Down Cake
Ingredients
6

tablespoons

unsalted butter

melted

3/4

cup

light brown sugar

1/2

teaspoon

ground nutmeg

1

teaspoon

ground cinnamon

2

pounds

of fresh peaches

about 5 large peaches, cut into ½ inch slices or 3 (15 ounce) cans of sliced peaches (drained)

1

cup

unsalted butter

room temperature

1

cup

white sugar

2

teaspoons

vanilla extract

2

large eggs

2 1/2

cups

all-purpose flour

2

teaspoons

baking powder

2

teaspoons

baking soda

1

cup

whole milk

1/4

cup

lemon juice
Instructions
Pour melted butter over the bottom of a 6 quart slow cooker.

Top with brown sugar and sprinkle with nutmeg and cinnamon.

Top with peaches. You'll need to make two layers of peaches.

In a medium-sized mixing bowl, beat butter and sugar until light and fluffy.

Mix in vanilla and eggs.

In a separate small bowl, whisk together flour, baking powder, and baking soda.

In a small bowl, combine milk and lemon juice. It will curdle.

Alternately mix in the flour and the milk/lemon juice to the butter mixture, beating well after each addition.

Pour over peaches.

Drape paper towels over top of slow cooker (to absorb any condensation during baking), then cover with lid. Cook on High until a wooden skewer inserted into center of cake comes out clean, 2 to 2 1/2 hours.

Turn off the slow cooker and let the cake sit for ten minutes and then carefully invert it onto a serving plate. Lifting and inverting the cake from the slow cooker can be tricky because they are typically very heavy, so you might want to grab a friend to help.

Serve warm.
If you like upside-down cakes, be sure to try my hummingbird upside-down cupcakes and my maple brown butter upside-down apple cake!