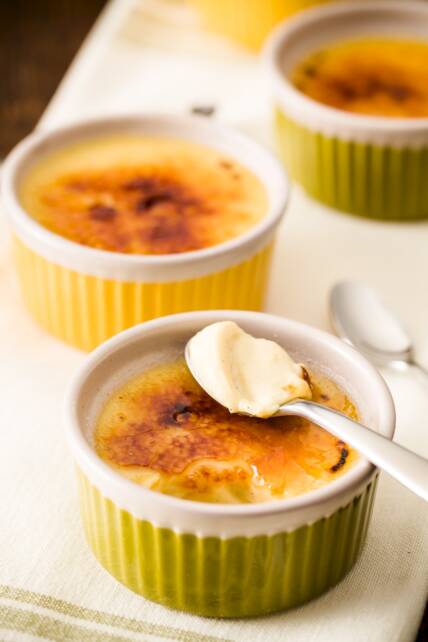 Crème brûlée may seem like a super fancy dessert, but it is actually one of the easiest desserts to make – especially when you make it in a slow cooker. It hardly uses any ingredients and it can even be made in a single bowl!
I developed this slow cooker vanilla bean crème brûlée recipe for the February/March 2017 issue of allrecipes Magazine! It's part of a whole story I wrote on slow cooker desserts. Be sure to grab a copy off of a newsstand while it is still there.
One thing that I love about writing for magazines is that they do vigorous recipe testing before sharing the recipes. The version of the recipe that I'm sharing below is not my original version, but the one we ended up with after their tester added lots of little details to make sure that it was flawless. For example, in my original recipe, I didn't strain the liquid before putting it into the ramekins (you can also skip this step, but the end result might not be quite as smooth). Likewise, their tester put a towel at the bottom of the slow cooker to keep the ramekins from sliding, which is a nice idea that I hadn't thought of.
Because vanilla bean paste can be hard to find, the magazine suggested that people use vanilla extract. I strongly recommend that you use vanilla bean paste if you can find it. It will give you real vanilla bean specks in the dessert and an strong aromatic vanilla taste.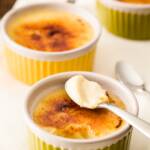 Slow Cooker Crème Brûlée
Ingredients
4

large egg yolks

1/4

cup

+ 4 teaspoons white sugar

divided

1/4

teaspoon

salt

2

teaspoons

vanilla

or 1 tablespoon vanilla bean paste

1 2/3

cups

heavy whipping cream
Instructions
Whisk together yolks, 1/4 cup sugar, salt, and vanilla in a bowl, then gently whisk in cream. Strain mixture into a liquid measuring cup.

Line bottom of a 6-quart oval slow cooker with a folded kitchen towel to create a level surface so ramekins won't slide around. Set 4 (4-ounce) ramekins on towel. Fill slow cooker with enough water to come halfway up sides of ramekins.

Pour custard evenly into ramekins. Drape paper towels over top of slow cooker (to absorb any condensation during baking), then cover with lid. Cook on Low until custard is set but jiggles slightly, about 2 hours.

Transfer ramekins to a rack to cool completely, about 45 minutes. Chill custards, uncovered, until cold, at least 3 hours.

Sprinkle 1 teaspoon sugar evenly over each ramekin. Brûlée sugar with a culinary torch and serve immediately.