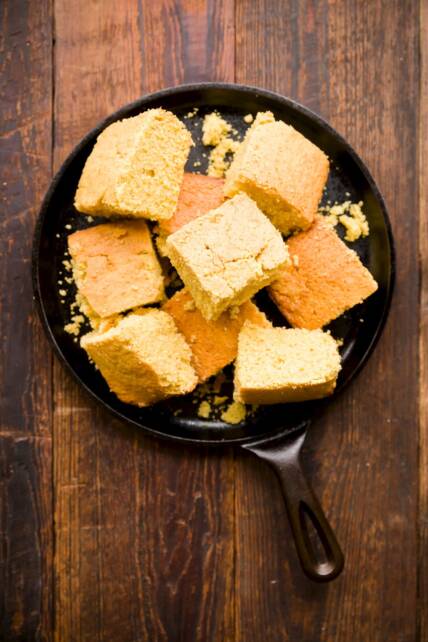 I adore cornbread.  I've been known to frequent restaurants just because they offer cornbread in the pre-meal bread basket.  Does anyone else do this?
If you haven't picked up this month's copy of Fine Cooking Magazine, go grab one.  In the issue, I share four different recipes made with my cornbread as a base – quiche with a cornbread crust, cornbread French toast, cornbread skillet apple cobbler, and chorizo cornbread stuffing.  It's my first feature in the magazine and I'm over-the-moon excited about it!
In case you ever wondered about the quality of recipes featured in Fine Cooing magazine, you should know that my recipes were highly tested by their staff before being printed.  Fine Cooking's editors came back at me with questions about the recipes and the copy and made sure everything was perfectly delicious and easy to make at home before the magazine went to print.
I'll be sharing the recipes here over the next month starting with this cornbread.  It's a sweet cornbread – don't try to tell me there is any other kind – but not so sweet that it doesn't work in savory applications. The most unique part of my cornbread recipe is that I eschew cornbread's traditional buttermilk in favor of sour cream. This produces a texture that doesn't fall apart in your hand, but easily crumbles in your mouth (as cornbread should).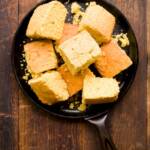 Sour Cream Cornbread
Servings
8
" square pan of cornbread
Ingredients
1 1/2

cups

finely ground yellow cornmeal

1

cup

all-purpose flour

1/3 - 1/2

cup

sugar

use the 1/2 cup if you prefer a sweeter cornbread

1/2

teaspoon

baking soda

1/2

teaspoon

salt

2

large eggs

room temperature, beaten

1

cup

full-fat sour cream

room temperature

1/2

cup

unsalted butter

melted
Instructions
Preheat oven to 350 F.

In a medium-sized mixing bowl, whisk together the cornmeal, flour, sugar, baking soda, and salt.

Fold in the eggs and sour cream with a silicone spatula until just combined.

Fold in the butter a little bit at a time until just combined.

Grease an 8x8-inch baking pan. Pour the batter into the pan, spread evenly with a small offset spatula or the back of a spoon, and bake for 25-30 minutes until the top just starts to brown and a toothpick inserted into the center comes out clean,