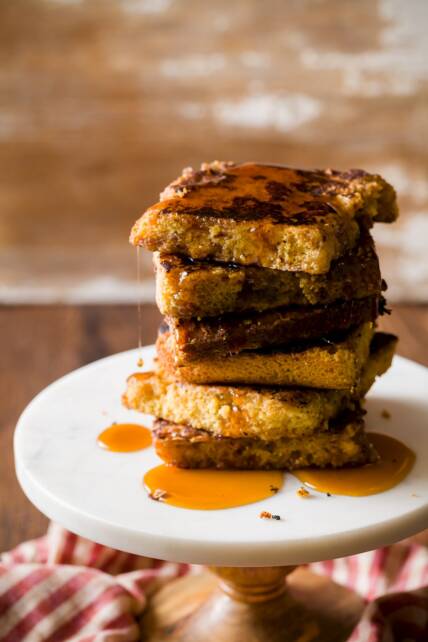 There's French toast and then there's cornbread French toast! Cornbread French toast is so flavorful on its own that you barely need maple syrup – especially when the cornbread contains bacon like mine does! (I use maple syrup anyway because I'll grab any excuse I can find to have maple syrup on my plate.)
This maple bacon cornbread French toast is part of a series of recipes that I developed for the latest issue of Fine Cooking Magazine. It uses my sour cream cornbread as a base, though you could certainly make this with any cornbread recipe.  If you aren't using my cornbread recipe, just be sure that your recipe produces a cornbread that isn't too crumbly. You need to be able to drown the bread in an eggy liquid without it falling into pieces.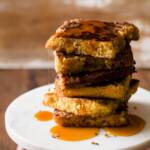 Maple Bacon Cornbread French Toast
Servings
8
pieces of French toast
Ingredients
6

ounces

bacon

6-8 slices

1

recipe cornbread batter

4

large eggs

beaten

1/4

cup

maple syrup

2

teaspoons

ground cinnamon

1

teaspoon

ground nutmeg

2/3

cup

whole milk

2

teaspoons

vanilla extract

1/4

cup

chopped candied pecans

optional

1/4

cup

coarsely chopped dried cranberries

optional
Instructions
Cook bacon until crispy in a large skillet on medium heat. Transfer to a paper-towel-lined plate to cool. Leave just enough bacon grease in the skillet to lightly coat it and pour the remaining bacon grease into a small bowl (you'll use this for frying the cornbread).

Preheat oven to 350 F.

Crumble bacon into small pieces.

Fold bacon pieces into the cornbread batter.

Transfer batter to a greased 8" square baking pan.

Bake for 40 minutes or until the top just begins to brown and a toothpick inserted into the center of the cornbread comes out clean. Set on the counter to cool.

When cooled to room temperature, use a serrated knife to cut the cornbread into quarters, then slice each piece in half horizontally. Arrange the cornbread cut side up in a vessel large enough to accommodate all of the pieces in a single layer, such as a 13x18-inch rimmed baking sheet.

In a medium-sized mixing bowl, mix together eggs, maple syrup, cinnamon, nutmeg, milk, and vanilla extract.

Evenly pour over the cornbread. Using a pastry brush, brush some of the custard that pools around the cornbread over any dry spots that were missed while pouring.

Set aside until most of the custard is absorbed, about 15 minutes.

Lightly coat a 12-inch nonstick skillet or a griddle with some of the reserved bacon fat, and heat over medium heat.

Working in batches, cook the French toast until nicely browned on both sides, 1 to 2 minutes per side, adding more bacon fat to the skillet or griddle between batches as needed.

Optionally, serve the French toast with maple syrup, pecans, and dried cranberries.