The concept of a raw food cupcake seems to go against the entire grain of cupcakes. Cupcakes are a baked product – raw food cupcakes are not baked. They are basically a bunch of raw food pressed together in the shape of a cupcake.
Did the Raw Food Cupcake Taste Like a Cupcake?
Nope! The raw cupcakes tasted nothing like cupcakes. They tasted more like Passover charoset. The good news is that I love charoset. The raw cupcakes were yummy and perfect for summer. I'm sure someone could make a raw cupcake that tastes more like a cupcake, since I've seen some great things done with raw cocoa and dates on Gone Raw. I went for the fruity, lemon poppy seed variety, though.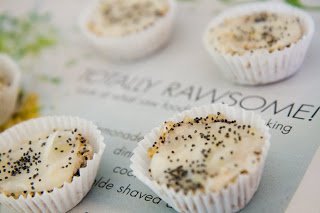 The Raw Foods Potluck
I mentioned in the post on raw frosting that I made these raw cupcakes because I was attending a raw food potluck. The reason that I was there was because Jonathan had done a photoshoot on the potluck for Sauce Magazine. Sauce wrote a story on raw food and Jonathan had the cover image – his first cover!!
We enjoyed the potluck so much that we decided to go back the next month.
The image on the right shows my cupcakes sitting on his Sauce cover. The title of the article was "Totally Rawsome!" and that also describes these cupcakes!
The people at the raw food potluck loved the cupcakes. One woman even asked for the recipe. I directed her to this site. I hope she isn't turned off by all the baked cupcakes that I have on here!
The Raw Cupcake Recipe
The Raw Frosting
I frosted the cupcakes with raw frosting made from coconut oil.