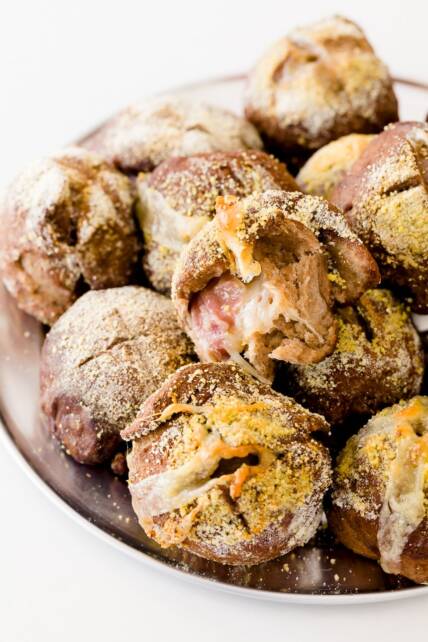 These pumpernickel pretzel bites have the same doughy, chewy interior with a harder but still chewy crust that you would expect of any soft pretzel.  Also, like all pretzels, they take a dip in an alkaline solution (baking soda + water) before baking to give them a signature pretzel flavor.  While they are completely recognizable as pretzels, they are equally recognizable as pumpernickel.  The pumpernickel pretzel bite dough contains whole grain rye flour and these beauties get a cornmeal treatment instead of a dusting with coarse salt.
This recipe for pumpernickel pretzel bites could easily be made in a more classic pretzel shape or as larger pretzel rolls.  I know I'll be trying these varieties down the road and I'd love to hear about it if you try them.  However, stuffing the pretzel bites with cheddar cheese and prosciutto like I did is a great way to go; the fillings add the salt that is missing from the pretzels.  As a bonus, if you eat the pretzels warm (and is there really any other way?), you get the joy of hot oozey cheese tumbling out of the pretzels!  These little guys were meant to be a snack food or a game day treat, but I apologetically devoured them for lunch today!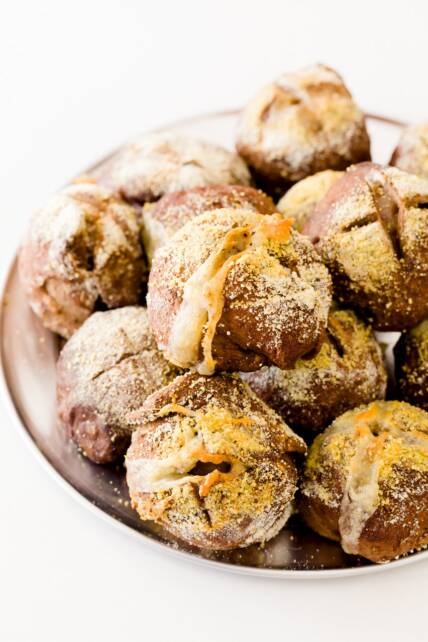 Stuffed Pumpernickel Pretzel Bites Recipe
My recipe was adapted from Smitten Kitchen's recipe for pumpernickel bread.