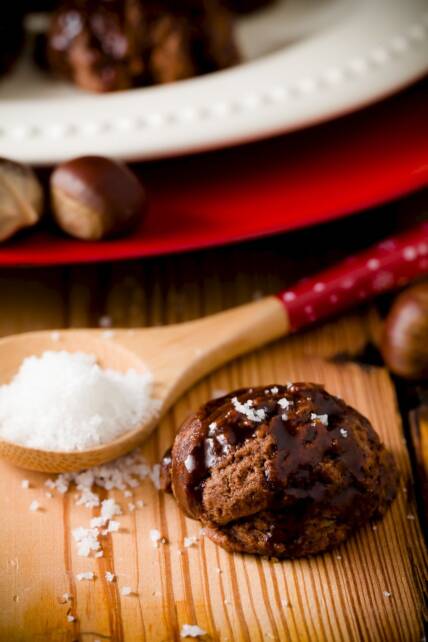 As many of you know, I grew up in New York.  While St. Louis is now my home, I still spend lots of time in the Big Apple.  There are so many incredible bakeries there to explore.  On the same street as my dad's store  in Forest Hills (Has anyone been to Instant Replay?), there is a French bakery that I could live in.  My brother's neighborhood in Jackson Heights is sprinkled with irresistible Indian sweets shops.  I've yet to try some of the more famous New York City bakeries.
Luckily, several of them have cookbooks.
Milk & Cookies (the book) has a recipe for chestnut cookies using a sugar cookie base dough but substituting chestnut flour for some of the all-purpose flour and adding a touch of honey.  It's on my list to make someday.  But, first, it got me really wanting to make chestnut cookies using roasted chestnuts.
You may have heard my rant about how we sing of chestnuts roasting on an open fire, but never eat them during the holidays – except perhaps buried in a stuffing.  Last night, I talked to a friend who thought that surely chestnuts must actually taste terrible.  Chestnuts, when roasted, are a soft, sweet nut with a taste that I can best describe as a cross between butterscotch and walnuts.
Rodger's cookies, with the flavors of cocoa and chestnut and a caramel topping with a flaky salt on top, sounded unique and super appealing.  I knew that I had to try them right away, but I cheated a little.
Also, did you notice how the caramel in my photo almost looks like chocolate syrup?  That's because I burnt it (yeah, I mess up too).  I'll admit that I decided after my fifth cookie that I kind of liked the burnt caramel.  But, I'd rather you not have to debate whether burnt caramel tastes good or not, so I'm giving you a go-to caramel recipe instead of Rodger's – mine is much harder to screw up and tastes out of this world!
Roasted Chestnut Cookie Recipe
The recipe below is Rodger Mooking's recipe, but in my own words and with the key changes noted above.