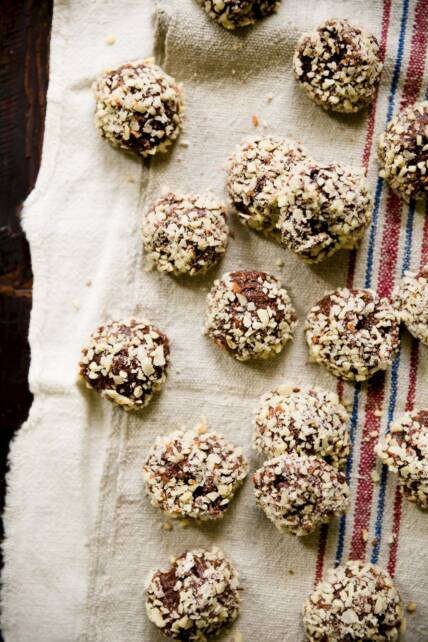 I'm not calling these chocolate cookies "the first chocolate cookies" because they are the first ones in this cookie project.  Rather, I named them as such because they are baked from a very slightly modernized version of a chocolate cookie recipe believed to be the first chocolate cookie recipe ever baked in the United States.
I found the recipe in Nancy Baggett's book.
The research put into The All-American Cookie Book is so impressive.  Each recipe isn't headed by a fluffy paragraph about how Aunt Sadie made such-and-such cookie for her basket-weaving class and how much everyone loved them. Instead, the recipes each come with true pieces of history.  Here's an excerpt from the chocolate cookie description:
Prior to the mid-1800's, chocolate cookies were largely unknown in this country.  The first chocolate cookie I've found is a sketchy receipt for rich, candy-like, chocolate-almond macaroons in an 1832 cookbook, The Cook's Own Book, by "A Boston Housekeeper" named Mrs N. K. M. Lee.
Let's pause there.  What — no chocolate cookies before the mid-1800's?  I'm sorry, people of the past!  Also, did you know that almond macaroons came before coconut macaroons?  I had never even heard of an almond macaroon before reading about these cookies.
It would be nice to credit Mrs. Lee with a great American cookie breakthrough, but I can't: she copied her recipe word for word from The Cook's Dictionary and Housekeeper's Directory, written by a British author of the same period, Richard Dolby.
And, we thought recipe theft was a modern food blogger problem. :)
Nevertheless, Mrs. Lee's introduction of a chocolate cookie to the American public was the first step in a long "chocolafication" process that has ultimately resulted in a complete cookie paradigm shift.  In two hundred years, we have gone from no chocolate cookies to nearly all our favorite cookies containing chocolate.
Chocolate for the win!
Nancy Baggett then goes on to describe the changes she had to make to modernize the chocolate cookie's ingredients and instructions, replacing melting chocolate on a tin plate with melting chocolate in the microwave and the "sweet almond paste, made as for macaroons" with our modern almond paste.  The notes she shares from old cookbooks are one of my favorite parts of her book.
…the flour should be dried before the fire, sifted and weighed; currants washed and dried; raisins stoned; sugar pounded, and rolled fine and sifted; and all spices after being well dried at the fire, pounded and sifted.
Can you imagine having to do all of that just to get the ingredients ready?!
No matter how interesting the tale, in the end it's important that the cookie tastes great.  On that point, these chocolate cookies deliver big time.  They are dense, intensely chocolately, and have an almond (marzipan-like) aftertaste.
The First Chocolate Cookie Recipe
The chocolate cookie recipe below is reprinted in my own words with permission from the author.