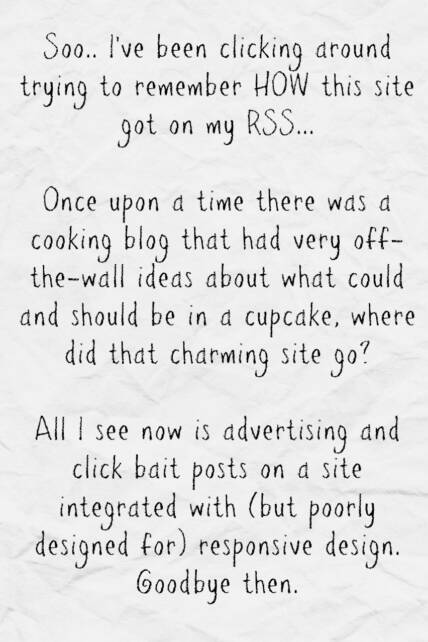 Here's my very public response to the above email that I received from former reader Lisa:
I started Cupcake Project back in 2007.  It was literally a project to master the cupcake.  I had a full-time job and never dreamed that one day my blog would be more than just a joyful, creative outlet.  Today, I'm fortunate that it allows me to work from home and spend time with my family while I earn a respectable income.
For almost six years, I only posted cupcake recipes on this site.  If I baked something that wasn't a cupcake, I always turned it into a cupcake.  If I made a pumpkin chili, you could bet that the next post would be a pumpkin chili cupcake.  Thus, there are well over 200 cupcake recipes on Cupcake Project.  After developing a recipe for the Ultimate Vanilla Cupcake, which is now used in bakeries all over the country, I spent most of 2013 perfecting the Ultimate Chocolate Cupcake – which receives equally rave reviews.  There is always more to learn about cupcakes and there are always new cupcake recipes to create, but at this point I think it's fair to say that I've mastered the cupcake.
Once I master something, I start to get antsy.
Although cupcakes are my first love, I began to dream of other desserts.  I want to master baking, not just cupcakes.  I wondered, "Did my readers really just like cupcakes?"  So, I started sneaking in more cookie recipes, pie recipes, and custards.  I played with homemade ice cream and homemade breads.  In 2014, I've shared just a handful of cupcakes and not a single reader (the one above notwithstanding) said anything about it.  Either you guys are really shy, or my suspicions are right and you like other baked goods, too.  :)
While you were in implicit agreement with my change in direction, brands were more vocal.  When all I posted was cupcakes, it limited the number of brands that I could work with.  This was especially true because I was – and still am – extremely picky about which brands I will partner with.  I have turned down sponsored work time and again for cake mix and canned frosting brands since this is a from-scratch baking site.  I have also turned down work from companies whose ethics I don't agree with or whose products I can't comfortably recommend to you.  More opportunities to work with brands I love have come about every day since I opened my blog up to a greater variety of baked goods.
It sounds like attracting brands was a calculated plan.  It wasn't.  It was simply a side effect of me getting excited about learning new baking skills.  The timing couldn't have been better.  Prior to 2013, I had a great advertising contract for the ads on the sidebar of my blog and I was able to make a nice living just from those ads.  When that contract ended, I truly needed the money from sponsored posts to avoid a huge pay cut.
So, yes, my blog now has much more sponsored content than ever before.  I can understand if that turns some of you off, but please hear me out about the care that I take with sponsored posts.
I already told you that I only work with brands that I love, but I should also tell you that I don't work with any brands that tell me what to write.  When I work with a brand, I'll use their product, ingredient, or service, tell you why I love it, and give you a fun recipe (typically one that is very original – that's my style).  I see it as a win-win: I make the money that I need to keep this blog going while you get exposure to brands you might not know about – often with a discount or giveaway.
One of my largest brand partners this year has been Craftsy.  I'm sure regular readers know about this because I write about Craftsy almost twice a month.  That partnership couldn't have been a better fit for me at a time when I was ready to branch out to other baked goods.  I was yearning to learn and they offered to pay me to do so with incredible instructors and lessons that I can review again and again.  I hope you've enjoyed hearing about their classes and the resulting baked goods as much as I've enjoyed taking the classes.  It would make me so happy to hear that I've inspired some of you to push yourselves to learn something new!
I've made a small change to the banner at the top of this blog.  It's always read "an experimental cupcake blog" and this will always be a home for cupcake lovers around the world.  Today, I have changed my tagline to reflect what this blog has become over the past year: "an experimental baking blog."
I'd like to also address Lisa's comment about click bait posts.  I assume she is referring to some of the top ten list posts that I've done recently, like 10 things only cupcake bakers will understand.  I know clicking through a top ten list can be annoying – especially on a mobile device.  So, I tried to make it worth your while with quality content.  I've received very positive feedback from those who did click through.  One of the great things about being a blogger is that I get to play with this blog's content – I have no boss.  I adore baking, but I love creative writing just as much and it's fun for me to write humor or list posts from time to time.   Through this process, I am always open to your feedback.  I'd appreciate it if the feedback were presented more gently than above, but just the fact that Lisa took the time to write at all shows me that people care.
To address Lisa's last point,  I know my responsive design (page design for mobile phones) is lacking.  I haven't had the time or money to invest into fixing that.  I'm sorry to anyone who has struggled with it – improving my mobile design is on my wish list.
It would mean SO much to me if you would comment on this post.
I want to know…
Have you noticed the shift away from cupcakes?  What have you thought of it?
How do you feel about the sponsored content?
Why do you read this blog?
What is your favorite type of post on this blog?
Is there something that you'd like to see more or less of?
I don't expect you to answer everything, but I'd love to hear something from you.  I write this blog both for me and for you and while I know that no one can make everyone happy, I'd like to try.