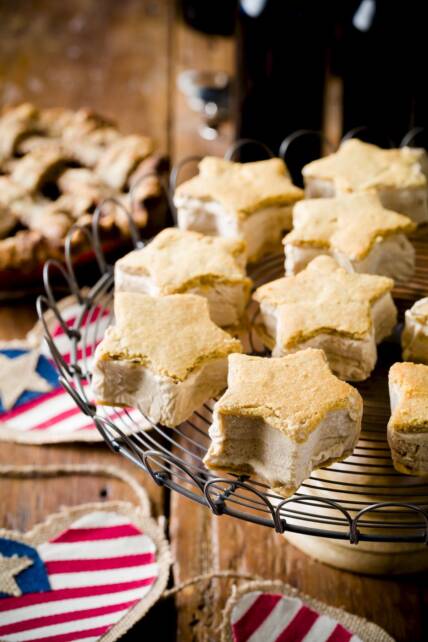 These homemade ice cream sandwiches are the ice cream sandwich version of a soda shop's vanilla Coke – classic Americana!  A tray of these homemade ice cream sandwiches made using from-scratch cola ice cream and soft, chewy vanilla cookies belongs alongside waving paper flags, sparklers and sprinklers, swimming pools, and red, white, and blue hair bows on July 4th.  Each homemade ice cream sandwich is as refreshing as a  cool drink.  You'll want to savor it, but don't be too slow or you'll end up with melted ice cream and a happy dog.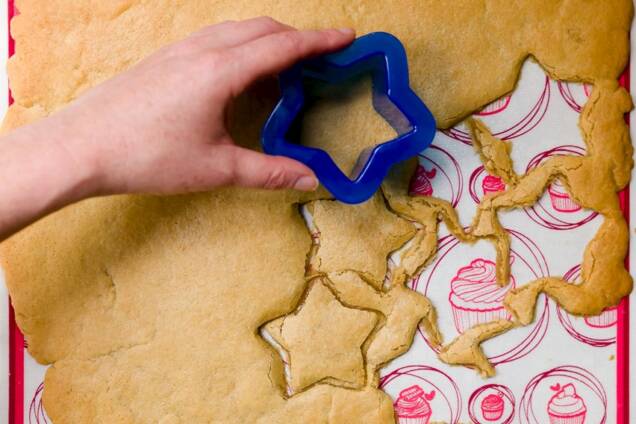 The ice cream sandwich maker includes a cookie cutter.  The secret to making perfectly-sized ice cream sandwich cookies is to cut the cookies after they bake, while they are still hot.  If you cut them before they bake, the batter will spread during baking and the stars will be different sizes.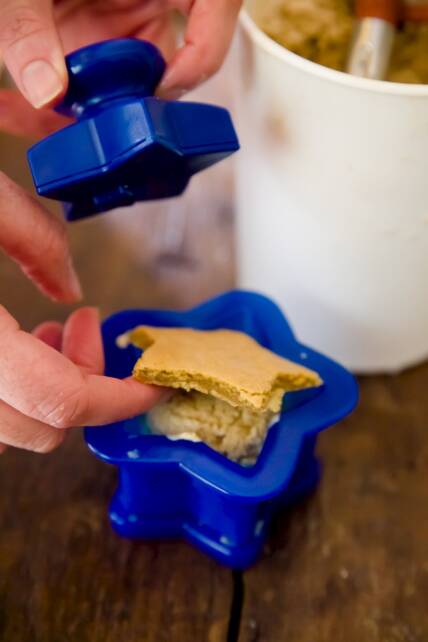 You place a cookie in the bottom of the homemade ice cream sandwich maker, pack in ice cream, place another cookie on top, and then press it all down with the included cookie press.  If you didn't have a homemade ice cream sandwich maker and tried to tightly pack the ice cream down, it would all come out the sides of the ice cream sandwich.
Homemade Vanilla Cola Ice Cream Sandwiches Recipe
For the cookies in this recipe, I used soft and chewy sugar-doodle vanilla cookies from Averie Cooks.  I couldn't resist the name, and I was happy that I chose it.  The cookies were everything the recipe's title claimed they would be.
Disclaimer: Product for this post was provided by Tovolo.