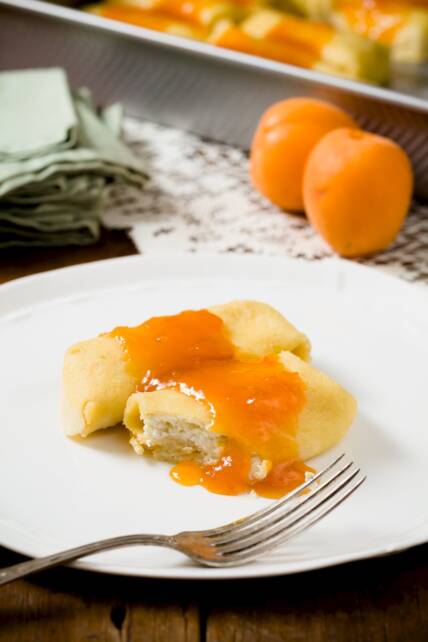 Cheese blintzes are pure Jewish comfort food.  To make cheese blintzes, you take a savory crepe cooked fully on one-side only, wrap it around a sweet, lemony mixture of ricotta and farmer's cheese (or cottage cheese) and pan fry or bake it.
My dad was the household crepe chef, but it never occurred to us to use his crepe-making skills to build from-scratch blintzes.  We missed out!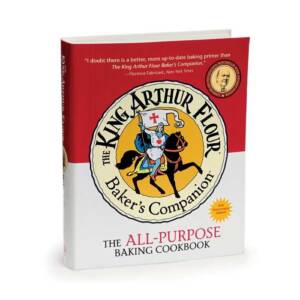 After attending the King Arthur Flour Bake for Good event, I received a copy of the King Arthur Flour Baker's Companion.  The book is a 620-page masterpiece.  Although it's not one of those pretty coffee table cookbooks loaded with eye-candy food photos, it's a book that you will use ALL THE TIME.  It's comprehensive, has well-written, clear recipes for most any baking staple you can think of, and it introduces you to many baked goods that you might not have heard of.  When I came across a recipe in the King Arthur book for homemade blintzes, I knew that I had to try it.
The King Arthur Flour cheese blintzes recipe yields cheese blintzes that are fresher and infinitely more appealing than those I grew up eating.   Topping the cheese blintzes with my homemade apricot lemon quick jam turns the cheese blintzes from a mediocre, we've-got-nothing-else-to-eat meal to an I-want-this-now meal.  The apricot lemon quick jam is lip-puckering tart, but the tartness is cut when you eat it with the blintzes' sweet dairy filling.
Cheese Blintzes With Apricot and Lemon Quick Jam Recipe
As I mentioned above, the recipe for the blintzes came straight out of King Arthur Flour's cookbook.  I'm reprinting it with my notes below.  When I followed the recipe, I found that I had a lot of leftover filling and not quite enough blintzes to fill my baking pan.  It's possible that I made my crepes a bit thicker than intended.  Just in case yours end up being thick, too, I've doubled the crepe portion of the recipe in the instructions below.  This should give you more than enough crepes to use all of the filling and still have some left over crepes in case a few tear or you end up eating some before they become blintzes.  (I don't know how anyone can resist tasting at least one.)
I used King Arthur Flour's European lemon zest for this recipe.  If you've ever had to run to the store just to buy a lemon for zesting, you can see how convenient it is to have a bag of lemon zest sitting in your refrigerator to use at a moment's notice.  If you ever see a bunch of lemons for sale and have some time to zest, you can also make your own dried zest to have around for this purpose.  I love making my own, but sometimes shortcuts are nice.
The apricot lemon quick jam recipe is my original recipe.
Disclaimer: The cookbook and recipe ingredients for this post were provided by King Arthur Flour.  They also recently gave me lodging, a free baking class, and meals for a weekend.  That said, I loved King Arthur Flour even before they showered some love on me.  They are a company that truly cares about getting baking products and recipes right.