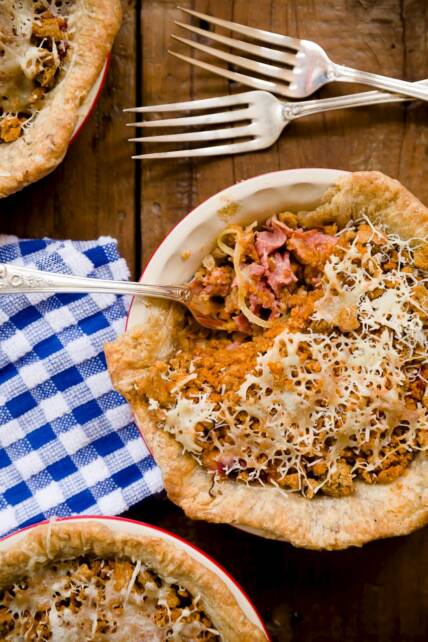 Pie crust, even on savory pies, is always the same; it's flaky and tastes like butter or is made of crushed up graham crackers or Oreos.  This pie crust breaks the mold.  It is made with rye flour and caraway seeds and tastes like flaky rye bread.  Inside the rye crust, you'll find corned beef and sauerkraut in a Swiss cheese and Russian dressing sauce.  The whole thing is topped with crunchy rye bread crumbles and more cheese.  This, my friends, is a Reuben pie – a hearty, meaty, unforgettable meal for anyone who loves the classic deli sandwich.
My Reuben pie recipe is adapted from Teeny's.  I modified her whole wheat crust recipe to create my rye crust, switched the mustard in her pie to a more traditional Russian dressing made with ketchup and mayonnaise, and altered the rye topping to get even more of a Russian dressing flavor.
Helpful Pie Products
I'm now itching to make more sandwich pies.  Which sandwich would you want to see as a pie?