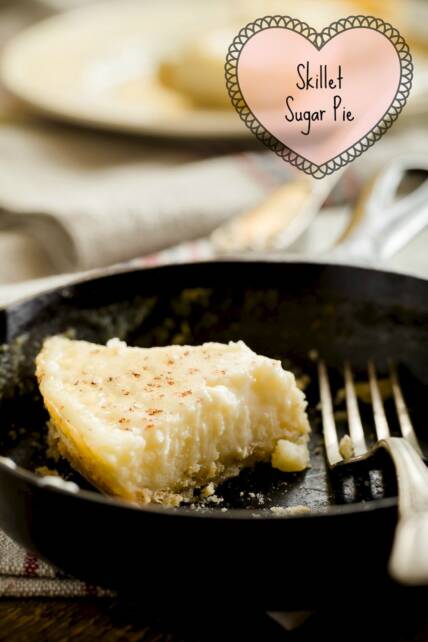 Sugar pie (sometimes called sugar cream pie) tastes like crème brûlée in pie format.  It's rich and decadent and the filling requires just six ingredients (sugar, butter, half and half, vanilla, nutmeg, and cornstarch).  Tasting sugar pie, you might assume that it is loaded with eggs like a traditional custard – but it's the cornstarch that gives this dessert its thick texture.  I'm a sucker for cheesy romantic plans and I love the idea of serving sugar pie to my sugar pie on Valentine's Day.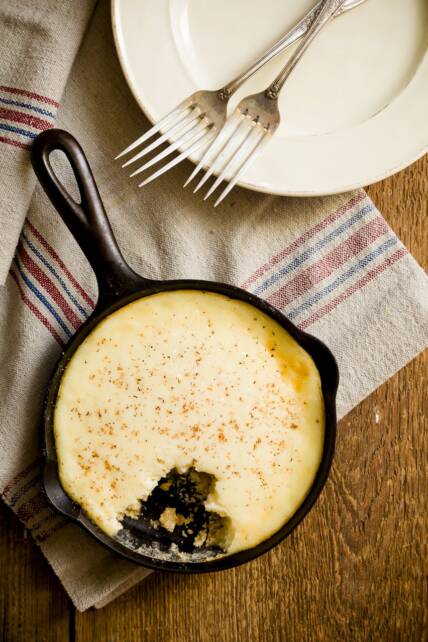 Sugar pie is typically served with a basic butter crust.  However, I think everything is better with shortbread so I baked mine with a shortbread crust and only put the crust on the bottom of the pie (not up the sides).
Skillet Sugar Pie Recipe
The sugar pie filling recipe that I used for my skillet sugar pie is from AllRecipes.  I've rewitten those directions below in my own words and included instructions for baking the pies in skillets with shortbread crust.