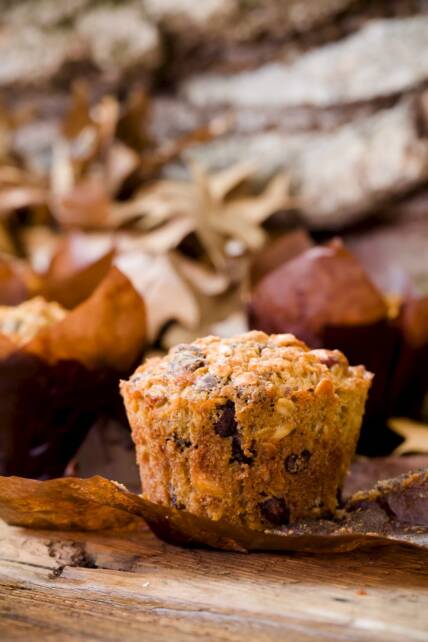 Gorp is the hiker's snack.  Whether or not you see yourself as a serious outdoorsy type, I assure you that these gorp muffins are for you.  Gorp muffins are for mom and/or dad out with the scout troop, a short day hike with friends, a stroll around a city sculpture park on your lunch break, the trip to the parking garage, or even the perilous trek across the kitchen to open the oven.
Gorp (for those who haven't encountered the term) is another word for trail mix.  I've always heard that it stands for "good old raisins and peanuts."  However, according to Wikipedia, others say that it stands for "granola, oats, raisins, and peanuts," "grapes, oranges, raisins and peanuts," or "gobs of raw protein."
These gorp muffins are packed with peanuts, raisins, oats, and chocolate chips – you can't take a bite that doesn't have at least two of the four.  The muffins taste exactly like the beloved trail mix!
I received the Tate's Bake Shop cookbook from Desi of SteakNPotatoesKindaGurl as part of the Food Blogger Cookbook Swap hosted by Alyssa of Everyday Maven and Faith of An Edible Mosaic.  Desi sent me a sweet note along with the book saying that she could tell that I was a "dessert kinda girl" and she hoped I would enjoy the book.  I did!  It's not a book filled with wild and crazy dessert ideas, but it does have recipes for many of the basic desserts you might want to make.  I read the Amazon reviews and people seem to rave about the chocolate chip cookies – I'll have to give those a try some time.  Thanks, Desi, for sending the book along!

In fact, if you are looking to discover some great new cookbooks and blogs, check out all of the participants in the cookbook swap:
A Baker's House ● An Edible Mosaic ● avocado bravado ● Blue Kale Road ● Blueberries And Blessings ● Cheap Recipe Blog ● Confessions of a Culinary Diva ● Create Amazing Meals ● Cucina Kristina ● Culinary Adventures with Camilla ● Dinner is Served 1972 ● Done With Corn ● Eats Well With Others ● Everyday Maven ● Flour Me With Love ● From My Sweet Heart ● girlichef ● Great Food 360° ● Healthy. Delicious. ● I'm Gonna Cook That! ● Je Mange la Ville ● Karen's Kitchen Stories ● Kitchen Treaty ● Olive and Herb ● OnTheMove-In The Galley ● Our Best Bites ● Paleo Gone Sassy ● poet in the pantry ● Rhubarb and Honey ● Rocky Mountain Cooking ● Shikha la mode ● Shockingly Delicious ● Sifting Focus ● Spiceroots ● Spoonful of Flavor ● Tara's Multicultural Table ● The Not So Exciting Adventures of a Dabbler ● The Suburban Soapbox ● The Whole Family's Food
Gorp Muffin Recipe