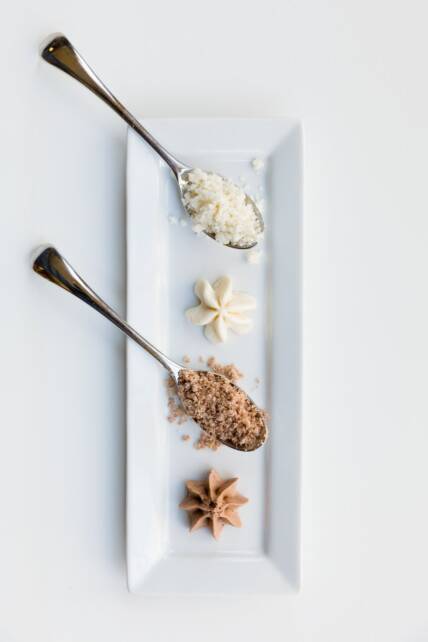 Imagine a frosting that comes in powdered format.  When you eat it, it dissolves in your mouth and tastes just like buttercream.  When Jonathan tried it for the first time, he screamed and called it "black magic."  I've named the frosting of the future something a bit more friendly: magical frosting dust.
Magical frosting dust came to be when Heather Saffer asked if I would join the virtual book tour for her new and fabulous book, The Dollop Book of Frosting.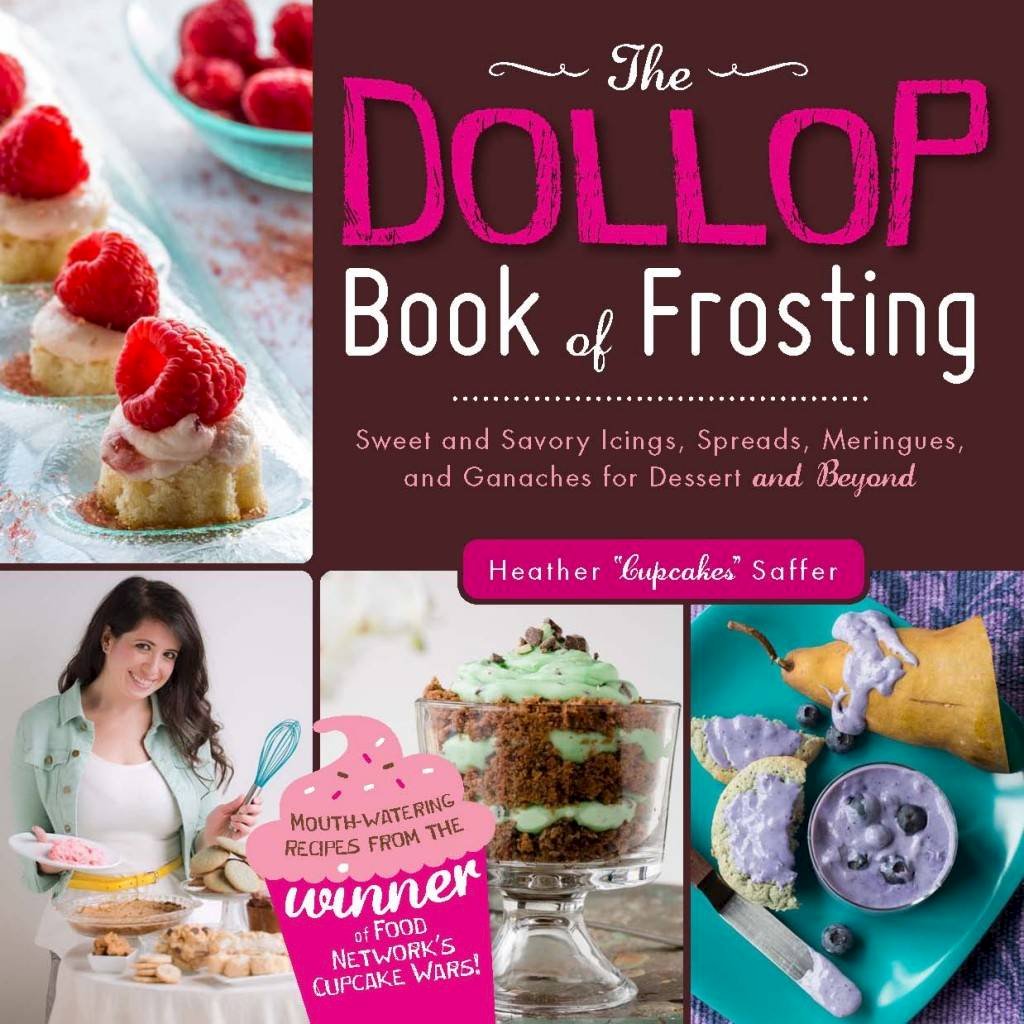 Heather asked if I could create a giftable frosting for the tour.  I don't think this is what she had in mind: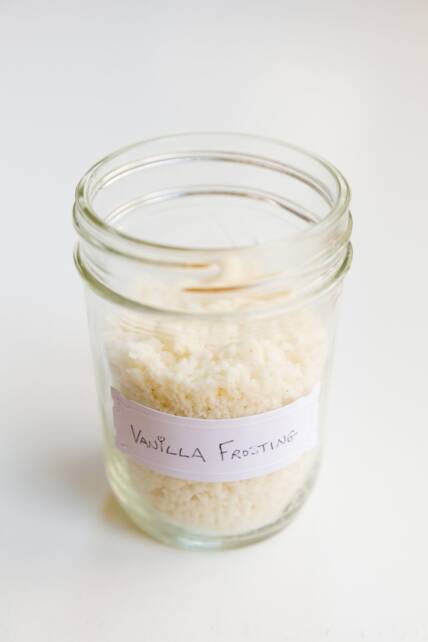 I took the vanilla and mocha frosting recipes from her book and powdered them to make them as giftable as a tin of cookies.
I know you have a lot of questions.  So, let's start to tackle them.
What Can You Do with Magical Frosting Dust?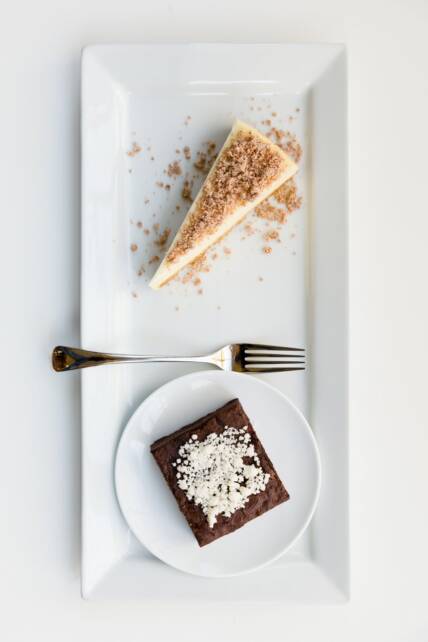 I suggest using magical frosting dust wherever you would dust something with powdered sugar.  It serves the same purpose, but it's SO much better!  I used magical mocha frosting dust on cheesecake and magical vanilla frosting dust on a brownie.  I'd love to try strawberry frosting dust on pancakes, or a magical dust version of Heather's pistachio coconut frosting on a lemon meringue pie.  How about chocolate chili frosting dust over ice cream?  You can even use frosting dust on top of piped frosting for a double hit of frosting!
Can You Turn Magical Frosting Dust Back Into Fluffy Frosting?
I tried this, but couldn't get it to work.  Think of frosting dust as a totally separate entity.
Can You Spread Frosting Dust?
You can't spread frosting dust.  It's a powder.
Can You Make Frosting Dust into a Really Fine Grain?
Can You Melt Frosting Dust?
I did two different experiments on melting frosting dust.  First, I put some on a piece of toast and toasted it – not recommended!  The frosting dust spread a little, got chewy, and ended up looking like circles of mold growing on the toast.  Next, I tried baking some frosting dust into a cookie recipe.  In that case, the frosting dust did melt, but it just tasted like I had put way too much butter in the cookies.  I'd stick to using frosting dust on already-baked desserts.
How Long Does Frosting Dust Last?
It lasts about a week.  However, you could freeze it to extend the life.  If you are using a frosting that you would normally keep refrigerated, I would suggest refrigerating the frosting dust as well.
Can You Turn Any Frosting into Frosting Dust?
I haven't tried them all, but as long as your frosting has fat content, you should be able to turn it into frosting dust.
And now… the one you have been waiting for….
How Do You Make Magical Frosting Dust?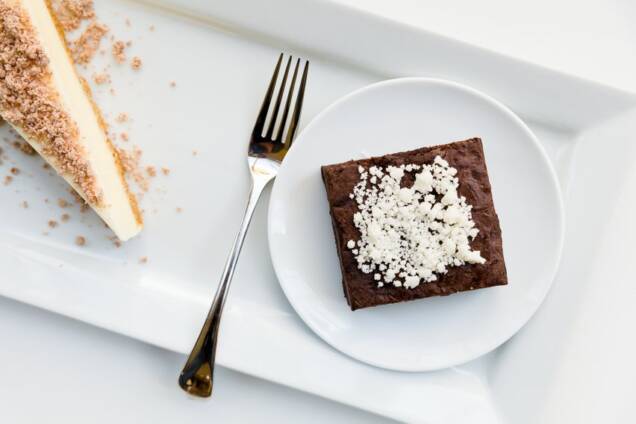 My instructions below are based off of an article on converting high-fat liquids into a powder on Molecular Recipes.
Ingredients
Your favorite frosting
2.6 ounces of maltodextrin for every 1/2 cup of butter in your frosting. If you have other fat in your frosting recipe, such as cream or milk, you'll need to add additional maltodextrin to keep a ratio of 40% maltodextrin to 60% fat in the end product. Don't want to do the math? You can always just add a little bit at a time until it works.
Instructions
Use a double boiler or a metal mixing bowl over a pot of boiling water to heat the frosting until it becomes a thick liquid. Stir regularly during this process.
Remove frosting from heat.
Using a spatula, mix in maltodextrin (I found that when I used an electric mixer, it made the powder too clumpy).
The frosting will magically turn into frosting dust.
Use on everything!
Notes
Frosting dust lasts about a week. However, you could freeze it to extend the life. If you are using a frosting that you would normally keep refrigerated, I would suggest refrigerating the frosting dust as well.
http://www.cupcakeproject.com/2013/11/magical-frosting-dust.html
Special Thanks
Thanks to everyone in the Facebook community who helped me decide what to name magical frosting dust.  Special thanks to Cathleen Wessely Helin who came up with the name "frosting dust" and Gail Hernet Springsteen who used the word "magic".
Also, thanks to Heather for including me in her book tour.  Follow along with the rest of her tour to get some fantastic frosting ideas, and be sure to pick up a copy of her book, The Dollop Book of Frosting – she has so many creative frosting recipes in there!