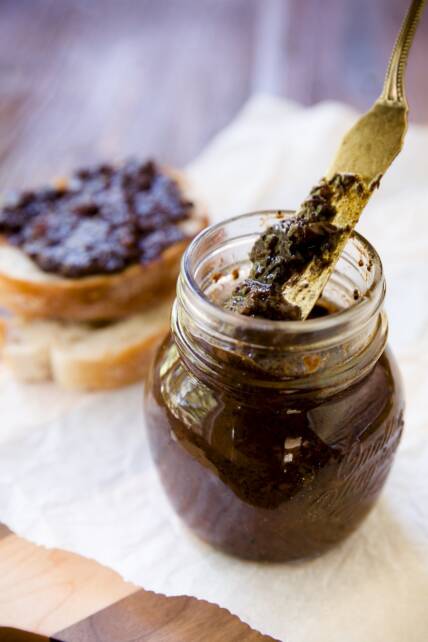 Bacon jam is the dark and moody cousin of bright, cheery fruit jams.  Slather bacon jam on burgers, crackers, toast, sandwiches, over maple ice cream, or use it the the surprise dessert recipe that I'll be posting soon.
There are many bacon jam recipes online and most follow the same formula.  Cook the bacon, cook some onions in bacon grease, add some liquid and something sweet – typically coffee, water, vinegar, and maple syrup – simmer on low heat for hours, and blend or food process a little bit.
My chocolate bourbon bacon jam recipe is most closely adapted from Allison Eats' chocolate bacon jam recipe.  She uses her chocolate bacon jam as a filling for macarons –  I must try this sometime!  For my version, I added more chocolate (why not?), switched the maple syrup out for molasses for a heavier feel, and swapped the coffee for bourbon.  If you are eating bacon jam, you may as well make it as sexy as possible.  This bacon jam recipe takes about four hours to make, but most of that time is spent doing nothing but stirring the pot every 30 minutes or so.
Products Related to Chocolate Bourbon Bacon Jam