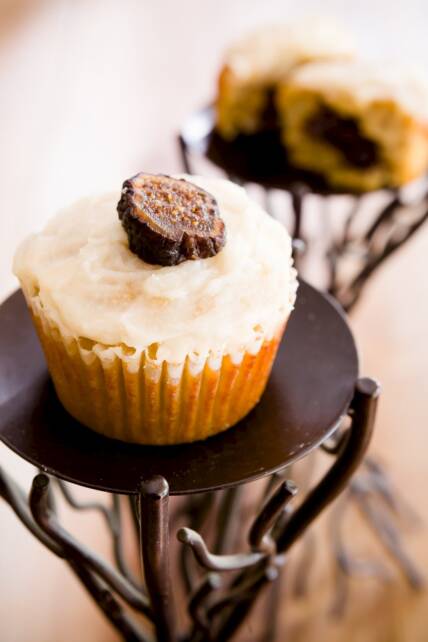 After creating paleo diet fig newtons, I had to turn them into cupcakes!  These figgin' fantastic fig newton cupcakes start with a dense vanilla cake.  To make the cupcakes both paleo and gluten-free, the cake is made with almond meal and coconut flour instead of all-purpose flour.  Then, there's an agave-sweetened fig paste baked right into the center of each cupcake.  The whole thing is topped with a honey coconut oil glaze and a dried black mission fig.
Products Related to Paleo Diet Fig Newton Cupcakes
Paleo Diet Fig Newton Cupcake Recipe
The cupcake portion of these fig newton cupcakes is a recipe for paleo vanilla pound cake that I found on Paleo Effect.  I barely changed the recipe (I just left off the arrowroot powder – one less thing to buy), but I am reprinting it below so that it's clear how to use it in the context of these cupcakes.