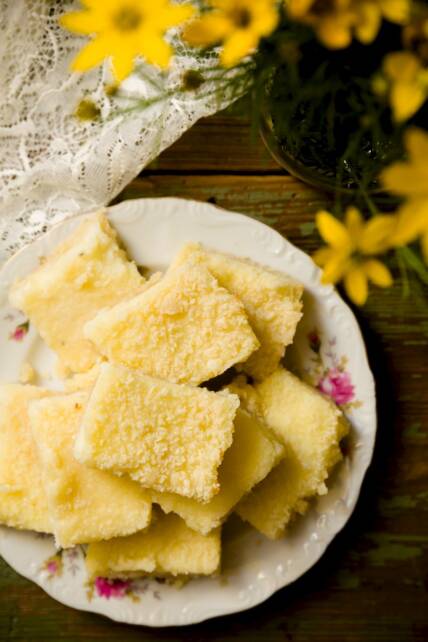 Think of these sweet and savory Parmesan grits bars as a hand-held Southern grits breakfast.  Although this is a recipe I developed, it feels like it should have been around when the massive oak trees I saw in Charleston providing Sunday supper shade were just saplings.   Both the bars' base and topping contain cooked grits – the bottom being just solid enough to support the looser top (think cheesecake consistency here).  Parmesan cheese covers the top of the bars like a field of cotton, adding tang to the rich, buttery grits.  Serve warm with milk, sweet tea, or, better still, sweet tea cupcakes.
Before I share the recipe, I must share how these bars were born.
The Back Story / Food Blog Prop Swap
As a food blogger, I've become a food photography prop collector: barn wood in many colors, plates and bowls galore, single forks, knives, and spoons long lost from their peers, and enough fabric swatches that someone might mistake me for an interior decorator.  When I heard that Alyssa of Everyday Maven and Faith of An Edible Mosaic were hosting a food blogger prop swap, I was all over it!  I entered my name in the pool, and I was told to send my box to Faith (I got paired with one of the hosts – no pressure there!).  Everyone participating in the swap is posting today, so if you head to An Edible Mosaic, you'll see her post about what I sent her way.  Also, since she is the event host, she'll be sharing links to everyone who participated in the swap.
If you've never been to An Edible Mosaic before, you'll be impressed by Faith's artful food photos and appealing recipes.  I've got my eye on her Savory Rosemary Shortbread Cookies + Creamy Whipped Feta with Rosemary (I didn't even know you could whip feta!).
Faith, however, was not the person who sent me my box; it wasn't a simple trade.  I wouldn't know who my box was coming from until it arrived in the mail.  It turned out Jennifer at Kitchy Cooking sent props my way.  I adore blogs that introduce me to new ingredients and Jennifer's blog has done just that.  I'm totally fascinated by her post on Gomme Syrup (who's heard of it?).
Jennifer is a huge fan of vintage and she even choose to send me some vintage magazines along with my prop box.  So fun!
Here are the complete contents of the box she sent me.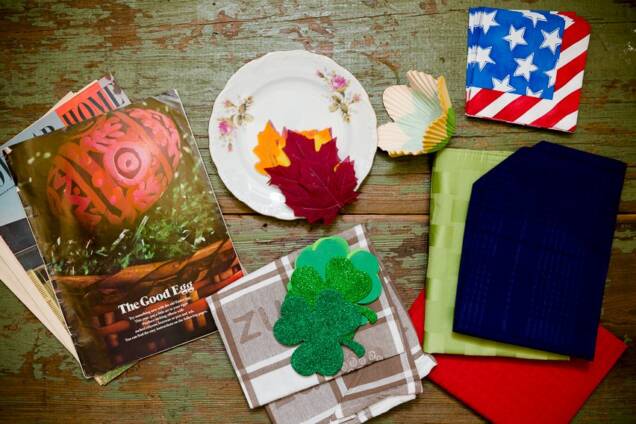 It was so sweet of Jennifer to think to include cupcake liners!  Surprisingly, they weren't the first prop I decided to use.  Do you recognize the plate from the photo at the top of this post?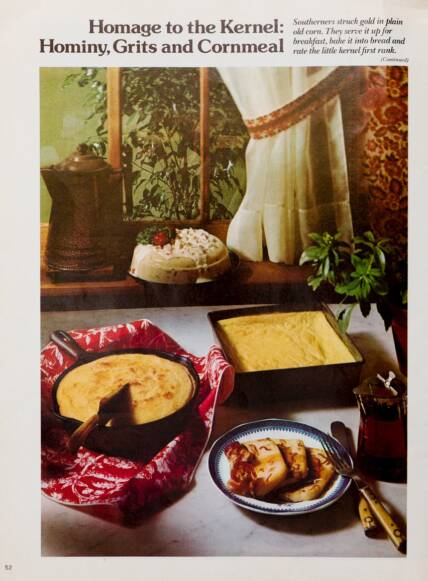 Sphere's homage to the kernel inspired me to try my hand at baking with grits.  In case you wondering, my best guess from the list of recipes that follows is that the items in the photo are: skillet egg bread (made with cornmeal), Virginia spoon bread (made with grits), Bacon-fried grits, and my personal favorite, grits ring with creamed chicken.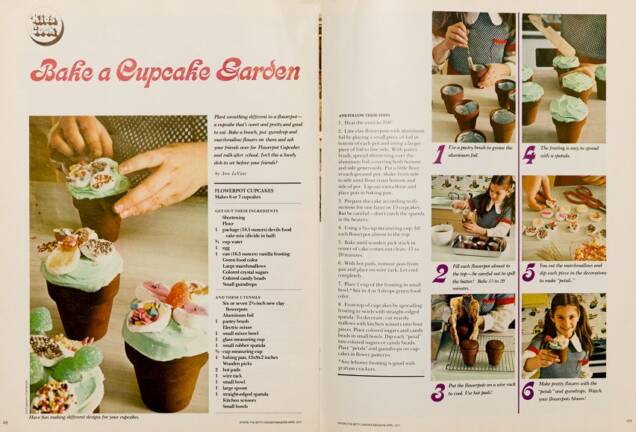 Although I didn't choose to do the project, the same magazine also had a whole spread on baking a cupcake garden.
Products Related to Sweet and Savory Parmesan Grits Bars Recipe