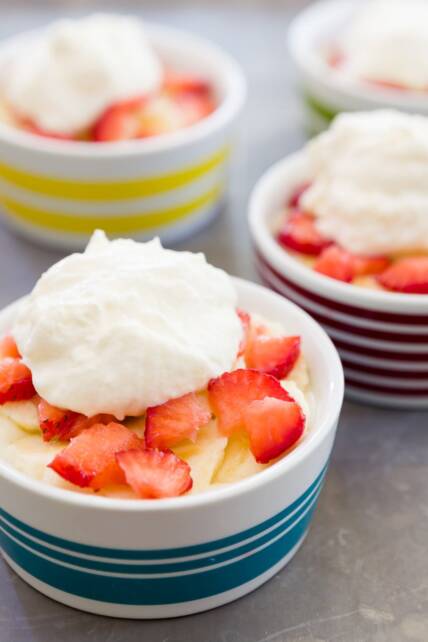 Strawberry banana pudding is the dish to serve when your hot, sticky, and tired family walks in the door.  It's an instant mood changer.  In addition to giving blah banana pudding a cheery exterior, strawberries actually brighten banana pudding's flavor, making it more alive, fresh, and summery.  Try swapping the strawberries for any fresh berries for the same effect.
Banilla wafers serve as the base of my strawberry banana pudding.  The wafers are topped with homemade vanilla pudding (store-bought would work in a pinch).  On top of the pudding layer, there's a layer of sliced bananas and strawberries, and the whole thing is topped with a happy little scoop of whipped topping made from whipped cream, sweetened condensed milk, and cream cheese.
Products Related to This Banana Pudding Recipe
Strawberry Banana Pudding Recipe
The homemade pudding part of this banana pudding is from a recipe on Hilah Cooking.  I've ever so slightly modified it to give it more of a vanilla punch.