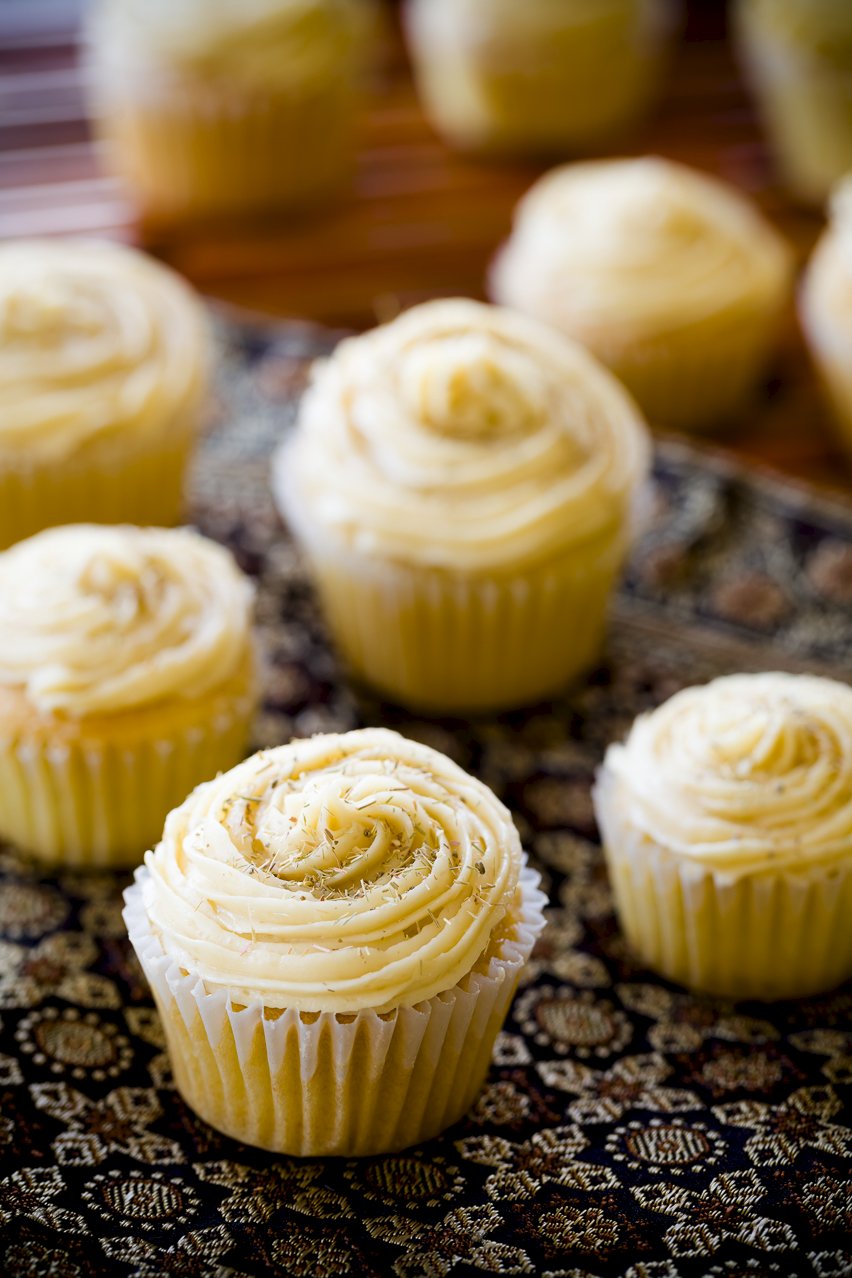 There is nothing mild about these Thai-inspired cupcakes.  As soon as you are within grabbing length of these cupcakes, the unexpected aroma of fish sauce caramel buttercream hits you.  Once you place the scent, let it take you to your last Thai meal.  You'll recognize the smells from the tom kha soup you or your neighbor enjoyed.  A peel of the wrapper reinforces the setting.  The cake practically breathes coconut milk, lemon grass, and kaffir lime.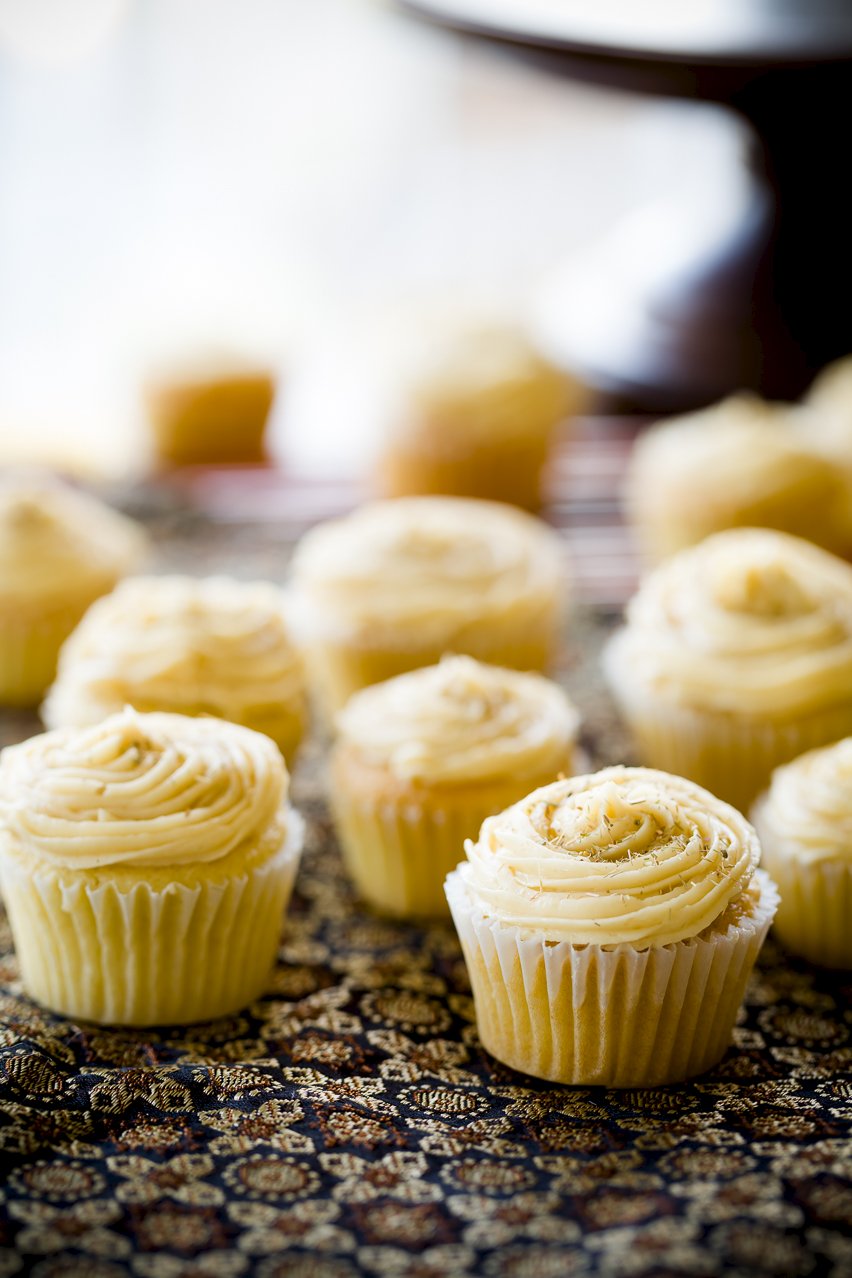 Bite into the featherweight Thai-inspired cupcake and you'll see that the smell translates flawlessly to taste.  Each bite is filled with a flavor intensity typically reserved only for hard candies.  As such, I recommend baking these Thai-inspired cupcakes as minis and treating them as Thai cupcake candy – quick snack shots of Thai-inspired sweet goodness.
Thai-Inspired Cupcake Recipe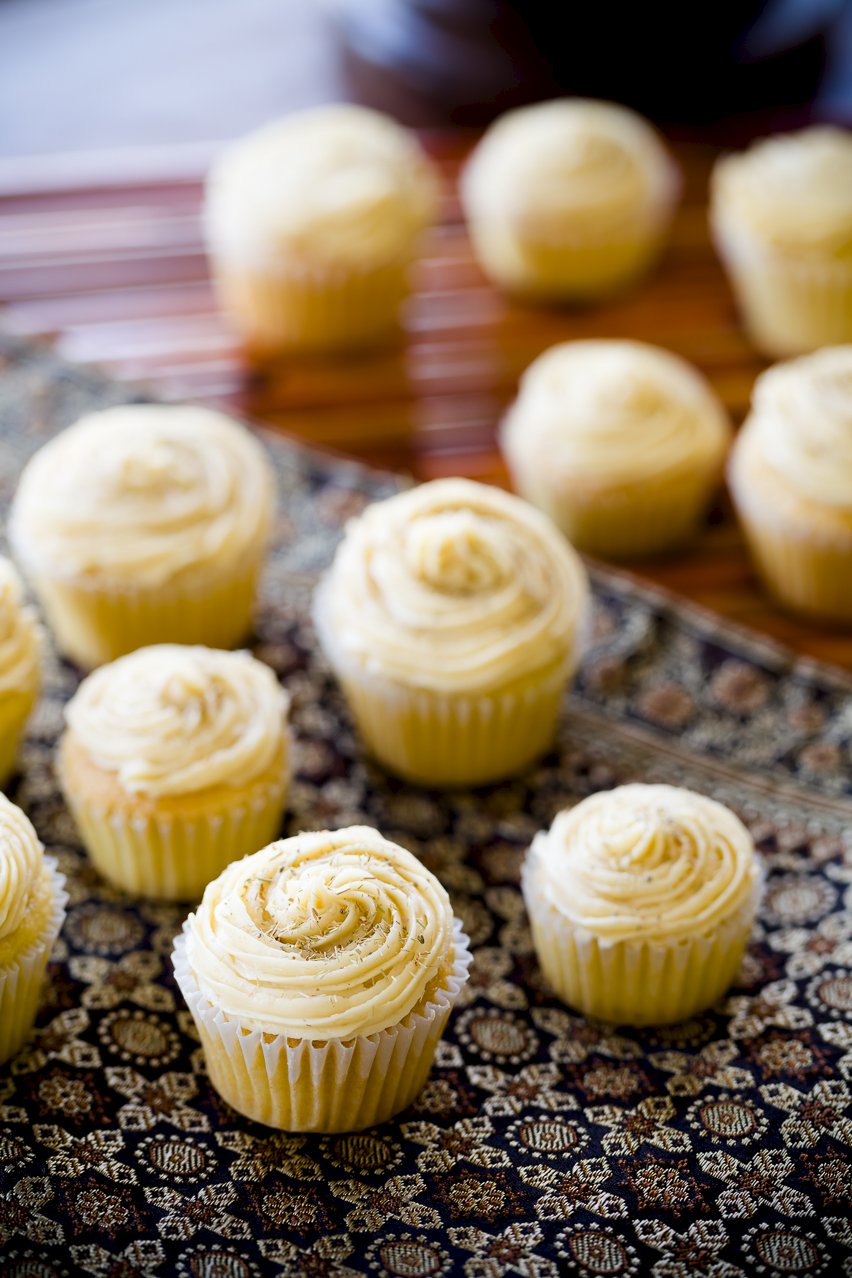 Thai Inspired Cupcake Recipe
Ingredients
Cupcake Ingredients

3/4 cup unsalted butter, room temperature
3 kaffir lime leaves
1 teaspoon ground dried lemongrass
1 1/2 cups sugar
3 eggs
2 1/2 cups cake flour
3/4 teaspoon baking soda
2 teaspoons baking powder
3/4 teaspoon salt
13 1/2 ounces coconut milk

Fish Sauce Caramel Ingredients:

6 tablespoons unsalted butter
1 cup brown sugar
1 tablespoon + 1 teaspoon fish sauce
1/4 cup + 1 tablespoon heavy whipping cream

Fish Sauce Caramel Buttercream Ingredients:

2 cups unsalted butter, room temperature
4 cups powdered sugar
fish sauce caramel from above
Instructions
Cupcake Directions:

In a small saucepan, melt the butter on medium heat until just melted.
Add the kaffir lime leaves and lemongrass.
Continue heating the mixture for about 5 minutes on low heat.
Remove from the heat and allow to stand for another 5 minutes.
Remove kaffir lime leaves.
Let the butter cool to room temperature before using it in the cupcake batter.
Preheat oven to 350 F.
In a medium-sized mixing bowl, mix infused butter with sugar until fully combined.
Mix in eggs one at a time.
Mix in cake flour, baking soda, baking powder, and salt.
Mix in coconut milk.
Fill mini cupcake liners 3/4 full with batter.
Bake for 14 minutes or until a toothpick inserted in the center of a cupcake comes out clean.

Fish Sauce Caramel Directions:

Melt butter in a small saucepan on medium heat.
Add brown sugar and stir continuously until just boiling.
Add fish sauce and stir well.
Stir in heavy whipping cream until just combined.
Remove from heat.
Cool to room temperature.

Fish Sauce Caramel Buttercream Frosting Directions:

In a medium-sized mixing bowl, beat butter until light and fluffy (about three minutes on high speed).
Mix in powdered sugar a little bit at a time until fully combined.
Mix in fish sauce caramel until fully combined.
Spread or pipe on cooled cupcakes.
http://www.cupcakeproject.com/2013/03/intensely-thai-cupcakes.html