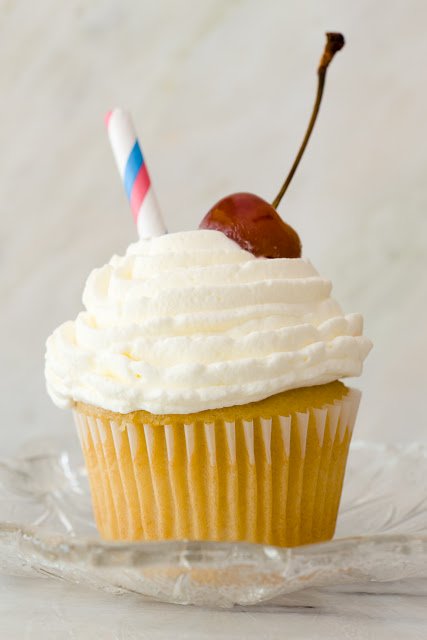 Jonathan ordered a vanilla malt with his green chili burrito at Southwest Diner (a new retro-style diner in St. Louis).  When our sever dropped the cool vanilla malt in front of him along with the metal canister dripping from condensation, Jonathan saw vanilla ice cream mixed with milk and malt powder – the drink he'd been craving for weeks. I saw an opportunity to steal half of his drink (malts are meant to be shared, right?) and my next cupcake idea.
I made my vanilla malt cupcakes by doctoring my Ultimate Vanilla Cupcake recipe to include malt powder.  It's the same cupcake you know and love, but a bit more dense (I used all butter instead of butter and oil) and loaded with malt powder for that soda shop taste.  I topped them with fresh whipped cream and homemade maraschino cherries.
Head over to Paula Deen's website to get the full vanilla malt cupcake recipe!