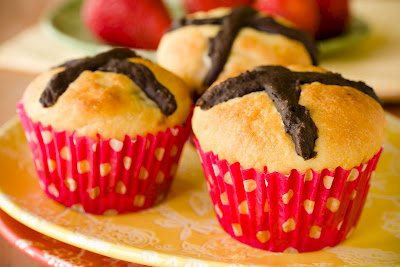 The chocolate cross on these hot cross buns provides just a small hint of what's inside.  Take a bite into the hot cross buns and you'll be surprised by the melted chocolate and chopped fresh strawberries you'll find in the center.  These hot cross buns are far from traditional, but they could easily become a new tradition.

The hot cross buns' pastry is airy and light – almost like a croissant – and not overly sweet.  I will be using this recipe as a starting point for other sweet rolls in the future with a variety of fillings and mix-ins.  I encourage you to play with the recipe and make it your own.
I baked my hot cross buns in cupcake liners – this is a cupcake blog after all – however, you could also roll the dough into balls and bake them on a cookie sheet.
Hot Cross Buns Recipe
I created this hot cross buns recipe as a guest contribution to Paula Deen's website and you'll find the recipe there.