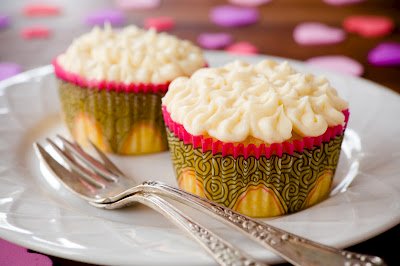 I have to give credit where credit is due.  Jonathan came up with the idea for these passion fruit cupcakes for Valentine's Day with white chocolate frosting.  I mentioned that I was trying to think of something different for Valentine's Day this year and he said, "Passion fruit!"  I wasn't sure about the idea at first – perhaps because I hadn't thought of it (yeah, I'm like that sometimes).  But, the idea grew on me until I had to get into the kitchen and bake them.
The passion fruit cupcakes are unique and tropical and they express more than just a friendly, hand-holdy kind of love. These are the cupcakes for the Valentine you are passionate about.
I created this passion fruit cupcake recipe for Paula Deen.  Head over to her site to learn more about them and to get the recipe!