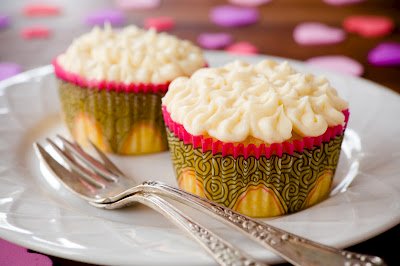 I have to give credit where credit is due.  Jonathan came up with the idea for these passion fruit cupcakes for Valentine's Day with white chocolate frosting.  I mentioned that I was trying to think of something different for Valentine's Day this year and he said, "Passion fruit!"  I wasn't sure about the idea at first – perhaps because I hadn't thought of it (yeah, I'm like that sometimes).  But, the idea grew on me until I had to get into the kitchen and bake them.
The passion fruit cupcakes are unique and tropical and they express more than just a friendly, hand-holdy kind of love.
Passion Fruit Cupcakes for Valentine's Day with White Chocolate Frosting
This Valentine's Day, take a trip to the tropics with these passion fruit cupcakes made with frozen passion fruit pulp and coconut milk, paired with a white chocolate buttercream. When you arrive, you'll be met with an incredibly moist, spongy cake packed with an intense passion fruit flavor. Before returning to reality, be sure to take time to savor each bite, noticing the comforting, mild sweetness of the white chocolate frosting. Bon Voyage!
Ingredients
Cupcake Ingredients

1 cup coconut milk
7 ounces passion fruit pulp, room temperature (you can find frozen passion fruit pulp at international grocery stores)
1 teaspoon vanilla extract
1 ½ cups all-purpose flour
1 teaspoon baking soda
¼ teaspoon salt
½ cup unsalted butter, room temperature
1 cup sugar
4 eggs

Frosting Ingredients

1 cup unsalted butter, room temperature
8 ounces white chocolate, melted but cool enough to touch
½ teaspoon salt
1 cup powdered sugar
Instructions
Cupcake Directions

Preheat oven to 350 F.
In a small bowl, combine coconut milk, passion fruit pulp, and vanilla. Set aside.
In a medium-sized bowl, whisk together the flour, baking soda, and salt. Set aside.
In a large mixing bowl, beat butter and sugar until light and fluffy.
Add eggs to the sugar mixture one at a time, beating well after each addition.
Alternately add the flour mixture and the passion fruit mixture to the egg mixture, beating well after each addition.
Fill cupcake liners 3/4 full.
Bake for 20 minutes or until cupcakes bounce back when lightly touched.

Frosting Directions

Whip butter in a large mixing bowl on high speed until light and fluffy, about three minutes.
Mix in melted chocolate and salt.
Mix in powdered sugar a little bit at a time until fully incorporated.
Pipe onto cooled cupcakes.
http://www.cupcakeproject.com/2012/02/passion-fruit-cupcakes-for-valentines.html