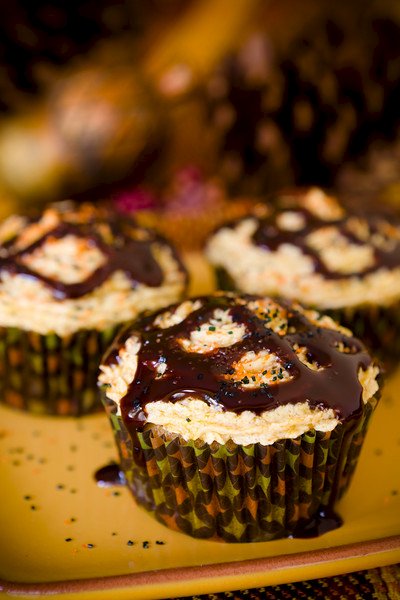 Regular readers know that I periodically develop recipes for Paula Deen's website. This month, I created these pumpkin mudslide cupcakes inspired by my must-try frozen pumpkin mudslide cocktails.  I'll just share two quick facts about these cupcakes and then I'll send you over to the queen of all things butter to see my recipe.
First, when my friend Adam tried these cupcakes, he said they were so amazing that they actually gave him goosebumps.  That's the kind of review that I like to hear!
Second, some boozy cupcakes just hint at the alcohol content.  Although you won't get drunk from these pumpkin mudslide cupcakes, these cupcakes are designed for an adult palate and you will definitely taste the Baileys Irish Cream and Kahlua (try making homemade Baileys Irish Cream and homemade Kahlua for an extra-special treat).
Now, I bid you bon voyage on your recipe reading journey.  Click the image below (currently found on Paula Deen's homepage) to set sail.