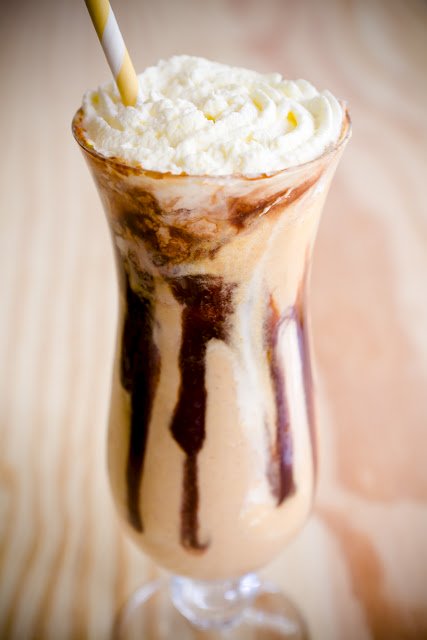 Halloween doesn't have a drink.  On Christmas, we know that we should be drinking eggnog and on New Year's Eve, we've got to toast using champagne.  But, on Halloween, our party drink is left to chance.  Many Halloween parties resort to punch with varying levels of quality and varying levels of alcohol.  These punches are frightening because you never know what is going to be in them (I always expect the worst) – and who really wants to drink something with eyeballs floating in it?
This Halloween, I suggest frozen pumpkin mudslides as the drinks to sip on while little witches, princesses, and ninjas run around your block knocking on doors.  Frozen pumpkin mudslides transform the frozen mudslide (a cocktail containing Baileys Irish Cream, Kahlua, vodka, and vanilla ice cream that I refer to as an adult milkshake) into a fall drink that will be the star of your Halloween party – only upstaged by the woman who shows up in lingerie calling it a "costume."
Pumpkin, I discovered, goes so well in frozen mudslides that I may make frozen mudslides this way from now on – Halloween or not.
Frozen Pumpkin Mudslide Recipe
Frozen Pumpkin Mudslides – The Halloween Drink
Ingredients
2 ounces (1/4 cup) vodka
2 ounces (1/4 cup) Kahlua (Try using homemade Kahlua made with your favorite coffee beans.)
2 ounces (1/4 cup) Baileys Irish Cream (You can use store-bought Baileys, but it's so easy to make homemade Baileys!)
8 ounces (2 cups) vanilla ice cream
8 ounces (1 cup) pumpkin puree
1 teaspoon pumpkin pie spice
whipped cream, to taste
chocolate syrup, to taste
Instructions
Blend all ingredients except the whipped cream and chocolate syrup.
Drizzle chocolate syrup along the inside edges of the glasses you'll be serving the drinks in.
Pour the frozen pumpkin mudslides into the glasses.
Top with whipped cream and more chocolate syrup.
http://www.cupcakeproject.com/2011/10/frozen-pumpkin-mudslides-halloween.html
Coming Soon
Pumpkin mudslide cupcakes are coming soon!
Thanks
Thanks to everyone in the Cupcake Project Facebook community for helping me choose the photo for this post.  If you are curious about the one that didn't win, check it out on Facebook.