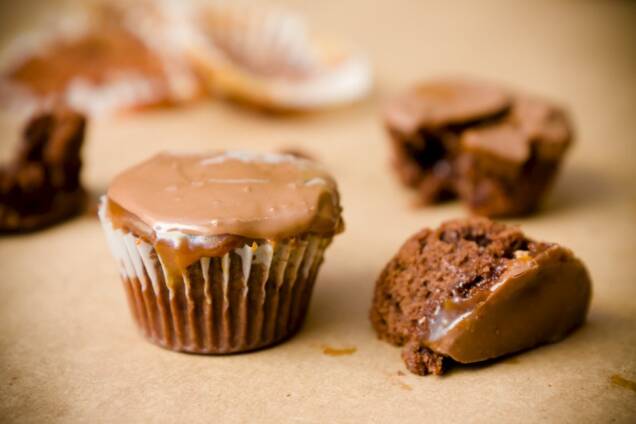 Milky Way cupcakes are the first cupcakes that I have made which feature two layers of frosting.  Like Milky Way bars
, Milky Way cupcakes are topped with a layer of luscious, chewy caramel and a layer of creamy milk chocolate.  Does double frosting equal double pleasure?  You bet!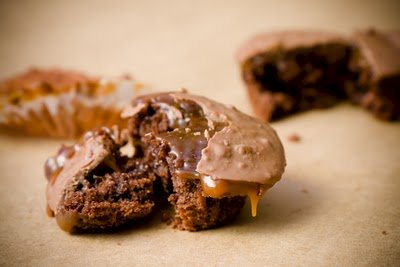 The cake part of the Milky Way cupcakes is a chocolate malt cupcake with homemade chocolate malt nougat mixed into the batter.  If you don't have the time to make homemade chocolate malt nougat, you can leave it out and the Milky Way cupcakes will still be superstars (stars in the Milky Way galaxy, of course).  I opted to make the Milky Way cupcakes as minis so that the cake to topping ratio would be closer to the nougat to topping ratio in an actual Milky Way bar.  This worked really well, but if you prefer, you could certainly make them as full-sized cupcakes.
Why Milky Way Cupcakes?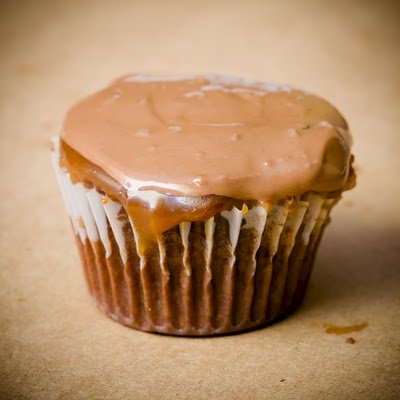 Remember when we raised over $3000 for FilterPure?  Wasn't that awesome?!  Well, as part of that fundraiser, I had said that anyone who donated over $200 would get a custom cupcake flavor designed especially for them.  Jonathan (not my husband – another Jonathan) donated $200 and gave the custom cupcake as a birthday gift to his sister, Sarah.  People with the name Jonathan are the best!  Sarah said that she'd love a Milky Way cupcake.  The only Milky Way cupcakes she'd ever seen just had crushed Milky Way bars on top of a basic cake – lame-o!  I hope she enjoys these.  Happy Birthday, Sarah!
One last thing about Sarah: when I was emailing with her, I learned that she lives in London and is good friends with my cousin.  Isn't it such a crazy small world?  Maybe she'll bake these Milky Way cupcakes and share them with him and his family.  I've never had a chance to bake him cupcakes so this would be a funny first way for him to try one of my creations.  Sarah, if you do this, I must see a photo of the Milky Way cupcakes with my baby cousin Alice!
Milky Way Cupcake Recipe
For the chocolate malt cupcake, I used a modification of David Lebovitz's devil's food cake recipe.  Here is the recipe with my modifications.
Ingredients
9 tbsp unsweetened cocoa powder
1 1/2 C cake flour (not self-rising)
1/4 tsp salt
1 tsp baking soda
1/4 tsp baking powder
1/2 C unsalted butter, room temperature
1 1/2 C sugar
1 C malted milk powder (plain malt flavor - not chocolate)
2 large eggs
1/2 C cream soda (If you do not have cream soda, you could use coffee or water.)
1/2 C milk
2 C crumbled chocolate malt nougat (optional)
Instructions
In a medium-sized bowl, mix cocoa powder, cake flour, salt, baking soda, and baking powder.
In another medium-sized bowl, beat together the butter, sugar, and malt until smooth and creamy.
Add the eggs to the wet mixture one at a time until fully incorporated.
In a small bowl or liquid measuring cup, mix together the cream soda and milk.
Stir half of the dry ingredients into the butter mixture, then add the soda and milk. Finally, stir in the other half of the dry ingredients.
Fold in the nougat.
Divide batter evenly between 48 mini cupcake liners (you could also use 24 regular cupcake liners).
Bake at 350 F for 15 minutes (it would be about 30 minutes for full-sized cupcakes). The cupcakes should bounce back when lightly touched.
Notes
See Caramel Recipe for Frosting
Update 7/18/11: Warning - While I loved these cupcakes, you'll see in the comments that many people have had trouble with the cupcakes sinking and just generally not coming out right. The recipe has worked for some people and I can't pinpoint the problem. Bake at your own risk.
http://www.cupcakeproject.com/2011/01/milky-way-cupcakes.html
Caramel Recipe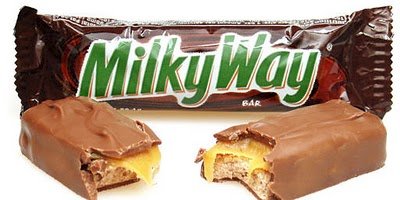 Not all caramel recipes are alike.  My favorite caramel recipe is the one that I used on my Southern caramel cupcakes. That one is harder (a little bit crunchy) than this one and has more of a pure sugar flavor.  I also really enjoy my earthy, salty miso caramel.  That caramel is on the other end of the moisture spectrum; not only does it not crunch, it drips (in a leaky faucet way, not an oozey, gooey way).
The caramel recipe that I used for the Milky Way cupcakes is not my top caramel, but it is the one and only caramel to use for Milky Way cupcakes.  It is just like the caramel in Milky Way bars.  It's the chewy kind of caramel that you see on every candy bar commercial – the kind that pulls like taffy if you break the bar in half.  I found the recipe on Candy Bar Lab and only made one change to it, which I note below.
Ingredients
1/3 C heavy cream
1/2 tsp salt (The original recipe called for 1/2 tbsp. I wasn't sure if this was a typo or if it was intended to be a really salty caramel. I only put in 1/2 tsp.)
1 C sugar
1/2 C corn syrup (I use light corn syrup, which is not high fructose corn syrup.)
1/2 C water
4 tbsp unsalted butter, room temperature, cut into 1 tbsp pieces
Instructions
In a small bowl, mix the heavy cream and salt.
In a small heavy-bottomed sauce pan on low heat, mix the sugar, corn syrup, and water with a whisk until the sugar is completely dissolved.
Raise heat to high and boil mixture up to 315 F on a candy thermometer. Do not stir during this time. But do watch your pot VERY closely. I burnt my first batch by not paying attention. This prompted me to get a Maverick candy thermometer that beeps when the correct temperature is met. I haven't tried it yet, but it sounds like the best thing ever!
Remove from heat and swirl the pot gently. You'll notice the mixture start to darken a bit. The residual heat will bump the temperature to 320 F, the point of caramelization for sucrose.
Drop the butter pieces into the pot and whisk vigorously until the butter is incorporated. Wear an oven mitt to protect your hands and forearms during this and the next step because the butter and cream both have water so they will cause the caramel to bubble up and release very hot steam.
Pour in the salted cream and again whisk until blended.
The caramel will thicken as it cools, but it should remain soft and gooey at room temperature.
Spread onto room temperature cupcakes.
Notes
Milk Chocolate "Recipe"
The milk chocolate on top of the caramel needs no recipe. It's not a ganache or any kind of fancy chocolate frosting. It's milk chocolate that is melted (I melt mine in the microwave) and then spread on top of the caramel. Easy peasy! Start by melting about 6 oz of milk chocolate and melt more only if you need it.
http://www.cupcakeproject.com/2011/01/milky-way-cupcakes.html