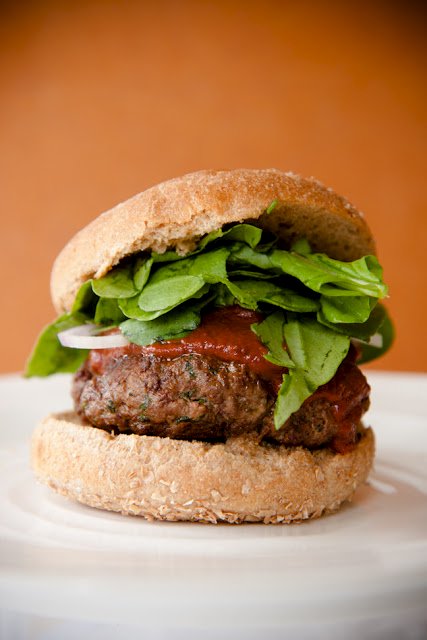 This lamb burger recipe with a touch of chocolate and homemade ketchup is the first of Jonathan's (my husband and personal chef) recipes that I have ever posted.  While Jonathan is best known on this site for taking the gorgeous food photos in every one of my posts, he is just as (if not more) comfortable in the kitchen as I am.  I bake.  He cooks.

The main reason I haven't posted any of Jonathan's recipes is that Jonathan doesn't use recipes.  He's the type of cook who never makes the same thing twice because he doesn't remember what he did.  He just throws things on the stove and like magic, he conjures up a gourmet meal.  I'm one lucky gal!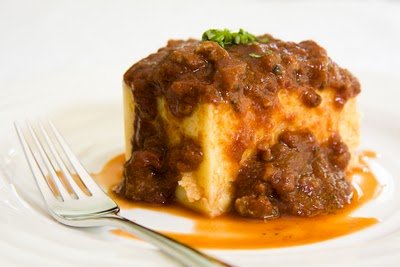 Exhibit A: I posted my polenta recipe but didn't tell you
about what went into the tomato meat sauce.
That was because Jonathan made
the meat sauce with no written recipe.
Last year, when I was preparing my entry for the Scharffen Berger Chocolate Adventure Contest, I encouraged Jonathan to create an entry as well. For the chance at ten thousand dollars, I thought that he could write his recipe down.  As it turned out, I wrote the recipe down – following him around the kitchen and taking copious notes while he cooked.
The lamb burger recipe didn't win (my Black Thai cupcakes didn't either), but the good news for me and you is that the lamb burger recipe is now recorded for us to enjoy time and again!
Scharffen Lambergers Recipe
Lamb Burger Recipe with Chocolate
Ingredients
1 oz bittersweet chocolate
1 lb ground lamb
1 tbsp mint leaves, finely chopped
1/2 tsp smoked salt
1/4 tsp white pepper
1 tsp smoked paprika
1 tsp sumac
1/4 tsp dried cayenne pepper, ground
1/2 tsp garlic powder
1/2 tsp cumin seed
1 tbsp canola oil
4 whole wheat hamburger buns
1 C arugula
Instructions
Chop chocolate into small pieces and melt completely in a double boiler or microwave.
In a large bowl, combine chocolate, lamb, mint, and spices. Mix thoroughly.
Divide the seasoned ground lamb into four patties.
Heat canola oil in a non-stick skillet over medium-high heat.
Add patties to the oil and cook thoroughly, approximately 5 minutes per side.
Lightly toast hamburger buns.
Place each patty onto the bottom half of a bun. Spread homemade ketchup (below) on top of the patty, to taste. Garnish with arugula and cover with the top of the bun.
http://www.cupcakeproject.com/2010/12/lamb-burger-recipe-with-chocolate-and.html
Homemade Ketchup
If you have never tried homemade ketchup before, you are in for a treat!  You don't need to make lamb burgers to try this ketchup.  Use it anytime/every time instead of the stuff in the bottle.
Ingredients
1 oz bittersweet chocolate
15 oz (1 can) tomato sauce
3 tbsp apple cider vinegar
1/2 tsp garlic powder
1/2 tsp onion powder
1/4 tsp smoked salt
1/2 tsp sumac
Instructions
Combine all ingredients in a nonreactive medium saucepan.
Heat on medium-high until the mixture comes to a slow boil, stirring regularly.
Lower heat and simmer until reduced by half.
Remove from heat and cool to room temperature.
Store in the refrigerator until ready to use.
http://www.cupcakeproject.com/2010/12/lamb-burger-recipe-with-chocolate-and.html
Facebook Reminder
Don't forget to check the Cupcake Project Facebook page for a sweet chocolaty giveaway.