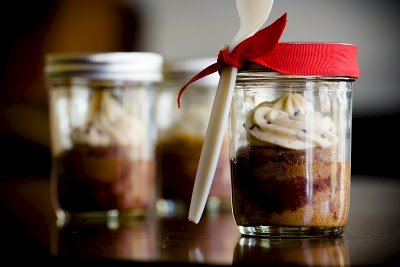 It is notoriously hard to ship cupcakes.  When trying to ship cupcakes, there is that pesky problem of keeping the cupcakes from turning upside-down and the gift arriving as a frosted box rather than frosted cupcakes.
So How Do You Ship Cupcakes?

So how do you ship cupcakes?  The answer is to use half pint mason jars
as your cups! The mason jars are oven safe – you can bake your cupcakes directly in the jars.  Put 1/4 cup of batter in the jar – leaving room for plenty of frosting – and place the jar directly onto your oven rack (make sure the lid isn't on!).  Bake just as you would your regular cupcakes.
When the cupcakes are out of the oven, wait for them to cool and frost them (most frostings will work, although I wouldn't recommend using whipped cream because it doesn't freeze as well). Then, seal the jars and freeze them.  Once they are frozen solid, decorate the jars however you like (ribbons and gift tags work well), pack them well (broken glass is worse than smooshed frosting), and ship them next day air.  If you are shipping them somewhere warm, you might also want to include an ice pack in the box to ensure that they stay cool during their travels.
Do you have another way to ship cupcakes?  Please share it in the comments!
The Specific Cupcakes in the Photo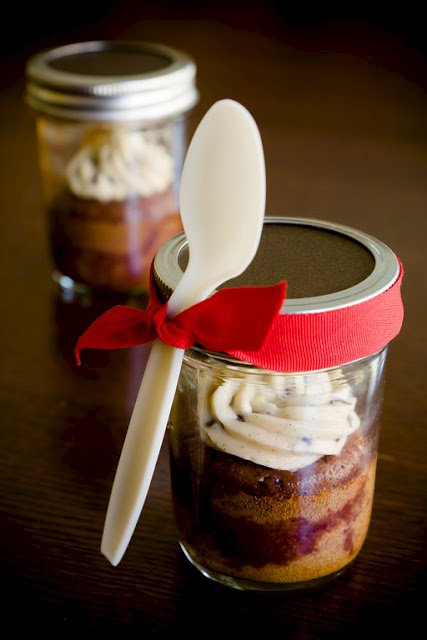 The cupcakes in the photo are brandied cherry cupcakes that I created for Paula Dean.  Because I baked them in the jars, I was able to make them extra moist without fear of the wrappers falling off.  They are loaded with brandied cherries and then drizzled with extra cherry syrup.  They would make an outstanding holiday gift.  Get the recipe on Paula Deen.
Shout Out
A special shout out to CakeSpy and Beantown Baker for the shipping in jars inspiration.