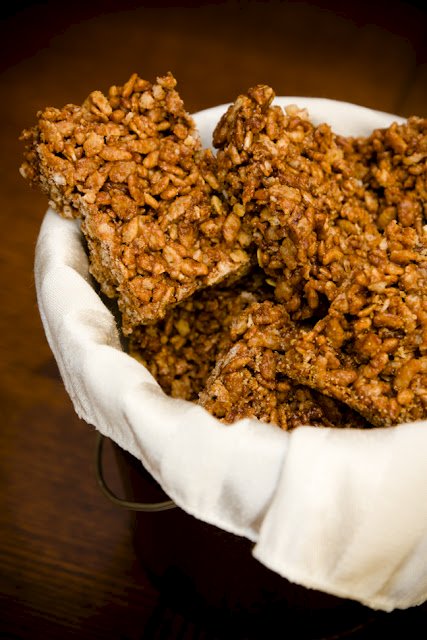 Rice Krispie treats are on a short list of kid-friendly, three ingredient, always popular things to bring to a holiday party without resorting to a store-bought snack.  Most people will smile pleasantly when you show up with them, the host will put them out on the dessert table, and they will get eaten. However, they will be the Dasher or Prancer of desserts – definitely not the steal-the-show-and-save-Christmas Rudolph.
Arrive at your affair with these honey Nutella Rice Krispie treats and heads will turn as if Santa himself had just walked in the door.  It's your choice whether you share the secret that honey Nutella Rice Krispie treats are just as easy to prepare as the original Rice Krispie treats – just three ingredients and a microwave. If you'd like, you can tell people that little elves worked on them all day (they'll never have to know that the elves were your kids and that most of the working was licking the Nutella-filled spoon).
How to Make Honey Nutella Rice Krispie Treats
You'll notice when you read the ingredients below that I didn't actually use Nutella or Rice Krispies. Is this a case of false advertising? Not really. I just thought that if I called the recipe Honey Justin's Nut Butter Erewhon Crispy Brown Rice Cereal Treats people wouldn't be very excited about it; not to mention the fact that I'm not even sure how to say the word "Erewhon".


Honey Nutella Rice Krispie Treats
Ingredients
Instructions
In a medium-sized microwave-safe bowl, combine honey and Nutella and microwave for 30 seconds.
Stir. The honey and Nutella should be hot and thoroughly combined. If not, continue to microwave for ten seconds at a time and stir until they are. (If you don't have a microwave, heat in a medium-sized saucepan on medium heat for five minutes.)
Mix Rice Krispies into the bowl and stir, coating all of the Krispies.
Spread mixture into an 8x8 glass baking dish.
Refrigerate for at least three hours.
Cut into squares and eat!
http://www.cupcakeproject.com/2010/12/honey-nutella-rice-krispie-treats.html
Coming Soon
Coming soon, I've got more fun with Rice Krispie treats, and a related cupcake.