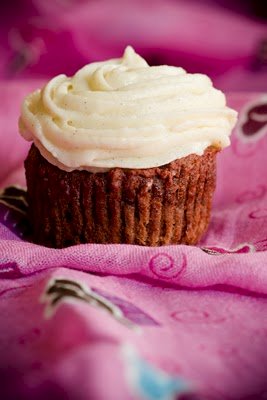 Gluten-free red velvet cupcakes that don't taste gluten-free and are red without the use of food coloring were not easy to achieve.  It took hours of web research and four batches of cupcakes, but I did it!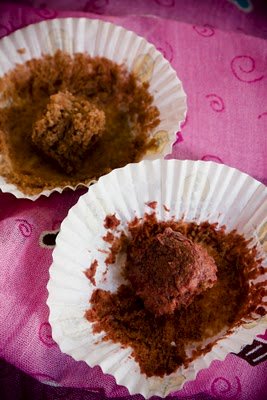 My red velvet cupcakes don't look fake bright red,
 but you can see clearly in this photo that they are much
 redder than a plain chocolate cupcake (the wrapper at the top)
My friends said that they never would have guessed that these red velvet cupcakes were gluten-free.  Even more exciting for me is that they loved the gluten-free red velvet cupcake's taste! Days after inhaling one of these red velvet cupcakes, my friend Sara revealed that she was still thinking about how good the cupcake was (and she does not have Celiac disease).
The Back Story
I made the gluten-free red velvet cupcakes as thank you gift for Julia.  Julia donated $200 to FilterPure as part of Cupcake Project 4.0.  Her $200 donation entitled her to a custom cupcake – and she knew just what she wanted: "First, I have celiac disease, and I'm looking for a good gluten-free recipe. If you don't think you can do one that's gluten-free, I understand. What I would LOVE is a a gluten-free red velvet cupcake recipe. I'd LOVE it!"  The astute reader will note that Julia didn't say anything about not using food coloring (I put that requirement on myself).  Julia, if what you really like about red velvet cupcakes is the bright red color, you can use the same recipe and replace the beet powder with 2 ounces of red coloring (I'll never have to know).
Remember, it's not too late to donate to FilterPure. A donation of just $1 gets you the recipe for the ultimate chocolate peanut butter cupcakes, but if you are feeling generous, consider a $200 donation to receive a  custom recipe created just for you!
Gluten-Free Red Velvet Cupcake Ingredients
Before we get into the recipe, let's talk about some of the ingredients.
The Flour
Many gluten-free recipes call for a mix of different kinds of flours.  To make things easier, several companies have come up with gluten-free multipurpose flours.  I spoke with Linda of Free Range Cookies to find out if she could recommend one.  Of course, Linda doesn't use a mix.  But, she said that I should try King Arthur.  I ended up using King Arthur gluten-free multipurpose flour
in the gluten-free red velvet cupcakes and I was very happy with it.  It's not quite the same as working with wheat flour, but it was a really nice substitute.
Xantham Gum
The cupcakes won't be ruined if you don't use xantham gum, but the xantham gum does help quite a bit with the texture. As explained on Wikipedia, "Since the gluten found in wheat must be omitted [in gluten-free baking], xanthan gum is used to give the dough or batter a "stickiness" that would otherwise be achieved with the gluten."
Beet Powder
I found many recipes for all-natural red velvet cupcakes that used beets for food coloring.  My first two attempts to make my gluten-free red velvet cupcakes used this method.  Unfortunately, I found that when I used enough beets to make the cake red, the beet flavor was detectable and overpowered the cocoa. Further research led me to beet powder.  Because it's a powder, it allowed me to modify a traditional red velvet recipe without all of the added moisture of cooked beets or beet juice.
Gluten-free Red Velvet Cupcake Recipe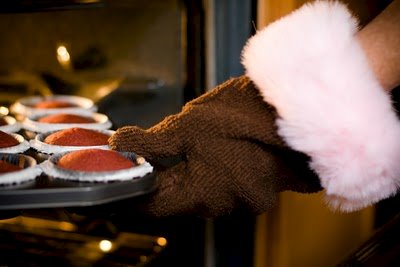 Check out my new baking glove (I've got more info about it at the bottom of this post)


While this is an original recipe, I owe thanks to three sources: Hannah Kaminsky's Red Velvet Cupcakes on BitterSweet (for her enlightening discussion on the chemistry of beets and cocoa), Stephanie Jolly from Suite 101 (for the idea of using beet powder), and the red velvet cupcake recipe by McCormick on AllRecipes (for being a good starting point for experimentation).
Gluten-Free Red Velvet Cupcake Recipe with No Food Coloring
Ingredients
1 tsp xantham gum
3 tbsp +1 tsp unsweetened cocoa powder
1/2 tsp baking powder
2 tbsp beet powder, sifted
6 tbsp unsalted butter, room temperature
2/3 C sugar
2 eggs
1/2 C milk
1 tsp vanilla extract
Instructions
In a medium-sized bowl, mix gluten-free flour, xantham gum, cocoa, baking powder, and beet powder.
In another medium-sized bowl, beat butter and sugar until light and fluffy.
Mix the eggs into the butter/sugar bowl.
Mix in the milk and vanilla extract until thoroughly combined.
Gradually mix the flour mixture into the wet ingredients.
Fill cupcake liners 3/4 full.
Bake at 350 F for 25 minutes or until cupcakes bounce back when lightly touched.
http://www.cupcakeproject.com/2010/11/gluten-free-red-velvet-cupcake-recipe.html
Vanilla Bean Cream Cheese Frosting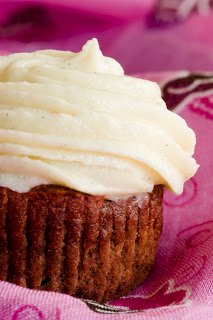 Vanilla Bean Cream Cheese Frosting
Ingredients
8oz cream cheese, room temperature
1/4 C unsalted butter, room temperature
2 C powdered sugar (add more if you like your frosting stiffer)
2 tsp vanilla bean paste (you can also use vanilla extract, but I highly recommend the vanilla bean paste)
Instructions
Mix cream cheese and butter until light and fluffy.
Gradually mix in powdered sugar until thoroughly combined.
Mix in vanilla bean paste.
http://www.cupcakeproject.com/2010/11/gluten-free-red-velvet-cupcake-recipe.html

Scarf and Baking Gloves from KelliBelle
Photo from KelliBelle
Go back and take a closer look at the photo at the top of this post.  You'll see that my cupcake is sitting on top of a cupcake scarf.  The scarf is super cute and was a gift to me from KelliBelle.  While I like KelliBelle's scarf, what I really love are the Baking Beauties that she sells (those are the the baking gloves with the fuzzy pink trim that you saw in the photo near the cupcake recipe).  I find baking gloves with fingers to be so much easier to use than pot holders and the baking beauties are the classiest baking gloves that I've ever seen.  Check out KelliBelle's site to see all of the available options.  If you make a purchase, write "FilterPure" in the comments and KelliBelle will donate 20% of the proceeds to FilterPure!
Looking for More Gluten-Free Recipes?
Gluten-free Girl and The Chef have compiled a fantastic collection of gluten-free recipes for Thanksgiving.  They also have a gluten-free cookbook
.  I don't own it, but it has received great reviews on Amazon.
Are You a Facebook Fan Yet?
I've got a few fun giveaways coming up just for Facebook fans.  Head over to Facebook and like my page to be sure that you don't miss out on the fun!