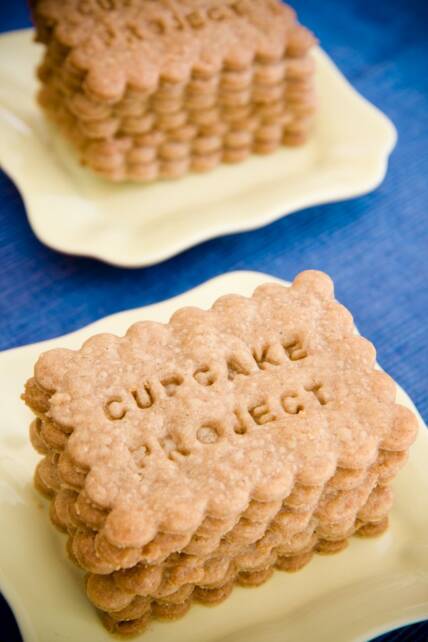 Homemade Biscoff Cookies / homemade specculoos are simple to make and hugely rewarding. They are even more fun when you write a custom message on them!  Biscoff cookies are a simple cinnamon/sugar biscuit-type cookie with an ingredient list that doesn't contain any funky chemicals or high fructose corn syrup!  Biscoff stands for "biscuit" plus "coffee" (it's served with coffee – it's not not coffee flavored).  I decided that I had to make some myself.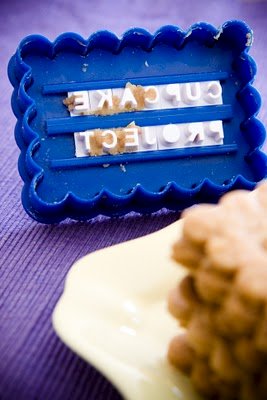 To brand my homemade Biscoff cookies, I used Williams Sonoma's Message-in-a-Cookie Cutters.  The cookie cutters come with letters that you slide into the cutter to write any message.  They were super easy to use.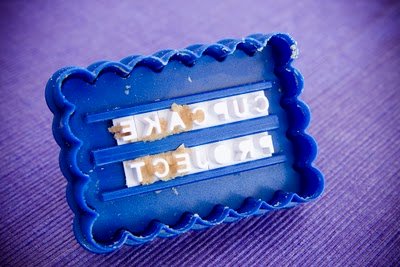 The only hard part for me was figuring out how to write "Cupcake Project" mirrored so that it would look correct after being pressed into the Biscoff dough.  The cookie cutter set also came with a heart which would be so perfect for custom Valentine's Day cookies.
The Biscoff Cookie Recipe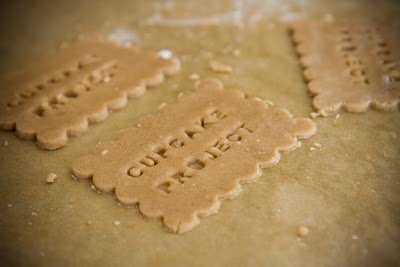 Here is my reprinted version of Matzo & Rice's Biscoff (speculoos) cookie recipe with a few notes.  The only change I made was to omit sprinkling sugar on top of the cookies.  I didn't think that was necessary.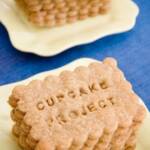 Biscoff Cookies – From Scratch Recipe
Ingredients
2

C

all-purpose flour

2

tsp

ground cinnamon

1/4

tsp

ground nutmeg

1/4

tsp

ground ginger

1/4

tsp

ground allspice

1/4

tsp

ground cloves

1/2

tsp

salt

1/4

tsp

baking soda

1/4

tsp

baking powder

1

C

unsalted butter

room temperature

1/2

C

sugar

1/4

C

firmly packed brown sugar

1

tsp

vanilla extract
Instructions
Preheat oven to 350 F.

In a medium-sized bowl, mix together flour, spices (cinnamon, nutmeg, ginger, allspice, and cloves), baking soda, baking powder, and salt.

In a separate large bowl, cream together butter, sugar, and brown sugar with an electric mixer on low speed. Mix in the vanilla extract.

Gradually blend the flour mixture into the butter mixture until it is well combined.

Roll out dough to 1/4 inch thickness. From here, you can either bake it as a large sheet of cookies to cut later, or, you can use cookie cutters to make cookie shapes. (I used my awesome Williams-Sonoma cookie cutters! I had a bit of trouble rolling the dough and found that if I chilled it for a bit, rolling was easier.)

If you choose to bake it as a large sheet, bake for 20-25 minutes. Cut out cookies to shape as desired.

If you choose to bake it as shapes, place dough shapes onto parchment paper and bake for 12-15 minutes.

Cool on cooling rack before serving. These are best once they have cooled.
Final Note