Dulce de leche directions:
Dulce De Leche Step 1: Take one or two cans of sweetened condensed milk, remove the labels, and put them in your crock pot.
Dulce De Leche Step 2: Completely submerge the can(s) in water.
Dulce De Leche Step 3: Set to low and wait eight hours.
Dulce De Leche Step 4: Wait for the cans to come to room temperature and open the cans.

The Dulce De Leche Backstory
When I last made dulce de leche, I boiled milk and sugar on the stove top. You, my readers, flooded me with suggestions on alternate ways of making dulce de leche. Many of you suggested that I use a pressure cooker to make dulce de leche. That's a great idea, but I don't own one (it's one of the few kitchen gadgets that I don't own).

Rosie suggested that I use a slow cooker: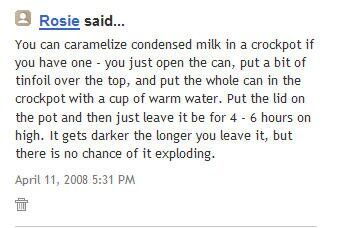 I happen to have a slow cooker so I decided to give that a go. But, I didn't quite use her method. I turned to the expert on all things slow cooker related, Steph at A Year of Slow Cooking.
Instead of slow cooking the dulce de leche on high for 4-6 hours, she makes dulce de leche on low for 8 hours – allowing you to go to bed and wake up to dulce de leche (arguably better than waking up to coffee).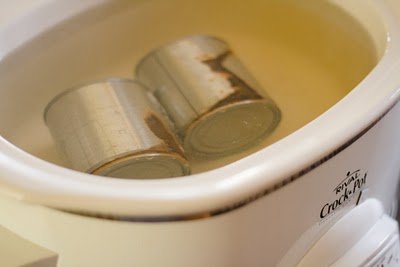 Instead of opening the can, Steph leaves the can intact. As long as the can remains fully submerged, it shouldn't explode (I say this with some confidence after reading her post – including all of its comments – and trying it myself).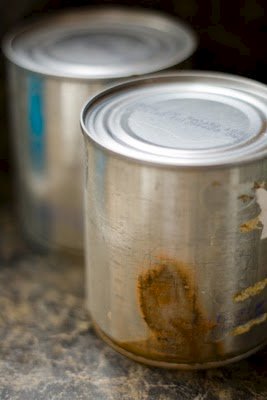 The downside, as you can see, is that the cans rust and get rust on the crock pot. You can easily remove the rust from the crock pot with a little Bar Keepers Friend.
The stovetop milk plus sugar dulce de leche tasted slightly better than the crock pot version, but the ease of the crock pot far outweighs any taste differences. I'll be using this method from now on.