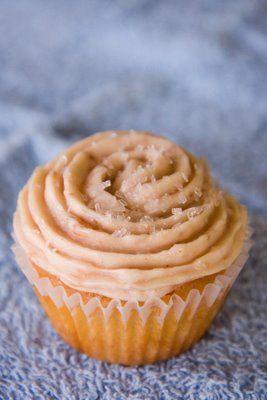 Prickly pear cupcakes bring my week of prickly pear eating to a close. While I strongly preferred my prickly pear lemon bars to the prickly pear cupcakes, one friend said that I was doing something akin to comparing a sandwich to ravioli – they are too different to compare. Other friends couldn't weigh in on whether they liked the the prickly pear cupcakes better or worse than the the prickly pear lemon bars because I hoarded all of the lemon bars for myself! They did have some very positive things to say about the prickly pear cupcakes, though:
"Heaven!"
"I would definitely buy one if they were for sale somewhere."
"The only thing that would make this better would be chocolate."
OK – those last two quotes were from the same person I talked about in the first paragraph – but they were good quotes. I had to use them.
The other quote that multiple people had, including myself, was that the prickly pear cupcakes were:
If I hadn't mentioned the fact that they contained prickly pear, people would not have been able to identify what the fruit flavor was.


The Prickly Pear Cupcake Recipe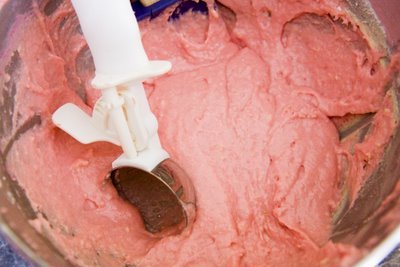 The coolest thing about the prickly pear cupcake recipe was the bubblegum-pink batter. It was so fun! Too bad the cupcake didn't stay that color after baking. This is a Cupcake Project original recipe.
Ingredients
2 C flour
1 1/2 t baking powder
1/2 t baking soda
3/4 C butter, room temperature
1 C + 3 T sugar
2 eggs
2/3 C plain yogurt
1/4 t lemon extract
1 t vanilla extract
1/3 C prickly pear juice (You can easily make prickly pear juice with a prickly pear and a food processor or blender. Simply Recipes has a great tutorial on how to make prickly pear juice.)
1/4 C lemon juice
Instructions
With a fork, whisk flour, baking powder, and baking soda in a bowl.
Beat butter and sugar in a large bowl for 1 minute until light and fluffy.
Beat in eggs, yogurt, and extracts until blended.
Combine prickly pear juice and lemon juice in a small bowl.
Alternately mix in the flour mixture and juice to the sugar/butter mixture in three additions, beginning and ending with flour.
Fill cupcake liners 3/4 full.
Bake at 350 F for about 25 minutes or until a toothpick comes out of the cupcake clean.
http://www.cupcakeproject.com/2009/04/prickly-pear-cupcakes.html
Lemon Cream Cheese Frosting with Prickly Pear Lemon Bars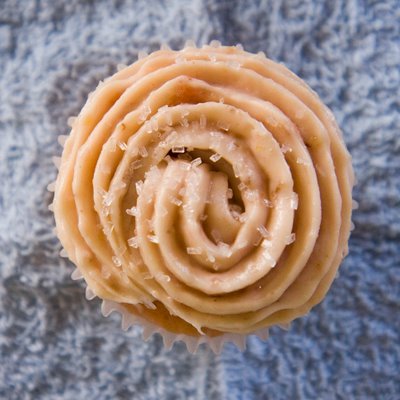 You could top the prickly pear cupcakes with a basic lemon cream cheese frosting. That would be perfectly tasty. But, if you just happen to have some extra prickly pear lemon bars laying around, you can blend them and mix them into the frosting for added zing! That's what I did, and as you can see in the photo, the prickly pear lemon bars integrated into the frosting so well that no one even knew they were there.
Lemon Cream Cheese Frosting with Prickly Pear Lemon Bars
Ingredients
1 8oz package of cream cheese, room temperature
1/4 C butter, room temperature
4 C powdered sugar, sifted
1/2 t lemon extract
1 1/2 t prickly pear juice (Optional. I only added this to give the frosting a mild pink color. It did not affect the taste at all. You could use food coloring or skip this entirely.)
1 C pulverized prickly pear lemon bars (Optional.)
Instructions
Mix butter and cream cheese until light and fluffy.
Add in powdered sugar one cup at a time. You can add more or less to get your desired level of sweetness and stiffness.
Add lemon extract and, optionally, the prickly pear juice.
If you choose to do so, mix in the prickly pear lemon bars. It could also be fun to sprinkle them on top.
http://www.cupcakeproject.com/2009/04/prickly-pear-cupcakes.html
Other Cupcakes With Prickly Pear and Lemon
I want to give a quick shout out to Keesha – The Prissy Cook. Keesha is a fellow prickly pear lover and cupcake baker. Around this time last year, Keesha made lemon cupcakes with prickly pear frosting. She was able to find a prickly pear syrup that made her frosting a gorgeous pink color. Be sure to check out her prickly pear cupcake post for a different take on the prickly pear lemon cupcake and also to read about her amusing tale of transporting cupcakes by bike.